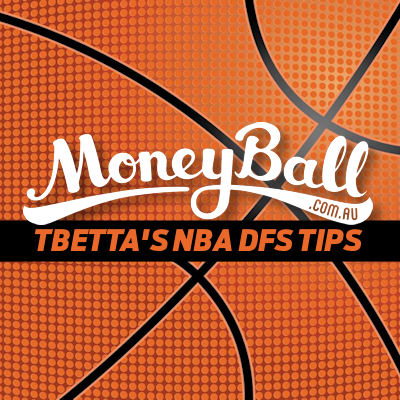 G'day Moneyballers! If you were here for the AFL season, this article will need no introduction. If you're tuning in for the NBA action, welcome to your first port of call for your DFS tips this summer! Before we get into the good oil, a quick reminder that Moneyball have adjusted their scoring system this year:
Playing is easy, you can sign up here and play in minutes! Now that we've taken care of the housecleaning, let's get into the good stuff – the tips!
• Mouse in the House?
Smalls vs Phoenix
Phoenix have been a DFS target team all year, but they're looking particularly thin in the backcourt without their star scorer Devin Booker on the court. It's a flogging of the "next man up" mantra for the aggressively rebuilding Suns, but when they have to hit the waivers to replace some of Booker's minutes, you know it's rough sailing.
Austin Rivers ($5,800 PG) and Milos Teodosic ($4,900 PG) are the nominal guards for this Clippers team who have serious personnel concerns of their own, missing leading scorers in Blake Griffin, Lou Williams and Danilo Gallinari with various ailments. Despite a rough shooting night against the Spurs where he cashed just 4 of 15 attempts, I'll be looking closely at Rivers again on Thursday in search of that elusive upside. As much as I think he's a G-League player at heart, there's no denying he has a healthy stat set for fantasy. The combination of his Father being the coach plus a bevy of injuries to his teammates will ensure his minutes and usage is right up once again versus the Suns.
SF's vs Detroit
Name the starting Small Forward for Detroit? Exactly. Many teams in this league spend their salary on talented ball handlers and dominant big men then fill in the rest with glue guys and bit pieces, and Detroit is firmly in that basket. Harrison Barnes ($7,100 SF) will see his usage-heavy 34-plus minutes once again on Thursday and he'll have the on-court equivalent of witches hats guarding him for the most part. I see a 20-point night being the baseline for Barnes, which is significant given that he's averaged 37 MB in the 11 games where he's exceeded that mark this season.
Bigs vs LA Lakers
The Lakers are the worst team on this 12-game slate at defending the big man positions, a strong indication that you should stand under my Clint Capella ($7,400 C). Ella, ella, ay ay ay. Shitty Rhianna puns aside, the Houston giant has been absolutely crushing it lately, averaging 19.8 points, 12.3 rebounds, 2.75 blocks and a tasty 43.2 MB points over his past four outings. Pace, form, price, positional trends and even opposition injuries with Brook Lopez questionable – it's all coming up Milhouse for Clint this Thursday.
Bigs vs Orlando
I've often talked up guards against Orlando in this article, but when you're on a 5-game slide without your phenom Power Forward, the big guys start coming into play too. Aaron Gordon's absence has been critical for the Magic, and it's now blindingly obvious that his athleticism and effort has helped to cover up some serious defensive deficiencies from Nikola Vucevic. The Montenegrin might be notching healthy swat numbers lately, but that's because he's gambling and letting more easy one through than what he's stopping.
Anyway, this is the perfect opportunity for me to talk about Nikola Mirotic (7,000 PF), whose play over the past week has proven him to be clearly Chicago's best player. You'd think that scores of 36.6, 48,3 and 36.6 MB would help cement his place in the starting line-up, but this is the Bulls we're talking about and so the answer is obviously whatever you'd do on opposite day… meaning that Mirotic slid over to the bench once Lauri Markkanen ($6,200 PF) was declared healthy. The bad news? He played just 26 minutes. The good news? He single-handedly won Chicago this game, and there'll surely be a fan-forced riot if Fred Hoiberg keeps this guy off the court for too long.
• Tasty Pacey
LA Lakers vs Houston (225 O/U)
The Lakers rank #1 in the NBA for Possessions Per Game, while the Houston Rockets boast two of the best passers and raw assist machines in the league – the perfect recipe for some seriously inflated fantasy scores. The previously implied James Harden ($11,000 SG) and Chris Paul ($9,900 PG) are the obvious premium plays and don't need much spruiking, but you should also be looking at the shooters around them.
Eric Gordon ($4,900 SG) was the big beneficiary earlier this month against the Lakers, pouring in 22 points in a belting and is in short-term form coming off a 37.5 MB outing against the stingey Jazz. A riskier play is Trevor Ariza ($5,400 SF), who's played 41+ minutes for the Rockets for three straight games now, giving him an interesting ceiling if he can enter fireball-slinging mode during his lengthy on-court exposure.
Indiana vs Atlanta (213.5 O/U)
While the pace is up for both teams, you know which team you're stacking here, right? Indiana have a lot of fantasy relevant options in their rotation, and Atlanta's high pace/low talent combination gives them a good chance of approaching their ceilings in unison. If I need to talk up Victor Oladipo ($9,300 SG) in this article once again, then you're beyond help. He's the obvious target here for upside, having produced 40 MB or better (and often MUCH better) in 12 of his past 18 outings. He's a multi-category beast and he'd be close to the Fantasy MVP in many season-long leagues this year based on draft position and current output.
As for his Pacer teammates, I'm not going to name every option, but I will say this: Atlanta is extremely thin in the PF and C slots at the moment with players either injured or recently back from significant lay-offs. Myles Turner ($7,900 C) had a 11.8-point shocker against Boston in significant minutes, but I'll forgive him for that thanks to his 50-point upside. Thaddeus Young ($6,200 PF) is the perfect kind of high-variance player you should be targeting here for the increased chance you hit him on an upswing, much like the 53.5 MB monster he produced a week ago.
• The Replacements
Aaron Gordon (calf, DTD)
While Gordon's calf itself is hard to predict, the beneficiaries of it keeping him out of action isn't. Jonathon Simmons ($6,600 SF) is close to my first-picked if AG misses, having produced scores of 45.9, 39.2 and 40.7 MB in his last three games without him – it's no coincidence that these makes up three of his best four performances for the year. Mario Hezonja ($4,000 SF) is the cheaper alternative having pumped out two scores of 42 MB or better within his last three starts. Buyer beware – he's your typical streaky shooter type so keep him to GPP's and out of your cash line-ups where possible.
Of course, while I roasted his defensive capabilities earlier, Nikola Vucevic ($9,800 C) is someone worth targeting for what he accomplishes on the offensive end. With a lowest score of 47.1 MB over the past six, his basement is rock solid with the potential to go huge.
Rudy Gobert (knee, OUT) and Derrick Favors (eye, DTD)
If both remain out for the Thunder clash, we'll see defensive specialist Ekpe Udoh ($4,700 C) earn another start. He's been awesome as a stop-gap solution for the Jazz, particularly against the Cavs where he produced gaudy numbers of 9 points, 7 rebounds, 6 blocks and 3 steals for a whopping 48.9 MB. His price remains low enough to stream, but I'd probably only commit if Favours is missing and only in tournaments.
More importantly though, Gobert's absence has been especially beneficial to opposition centres over the course of the season to date. Without going too deep into the historical data, Capella just threw down a casual 24/20 game and if the Cavs had a legitimate Centre on their list, the form line would look even better. Steven Adams ($6,700 C), if he navigates through the concussion protocol, is a sure bet against the Gobert-less Jazz with 45-point upside.
Brook Lopez (ankle, OUT)
The MRI came up positive for Lopez's ankle which means that the carousel of big men in LA has been whittled down from a frustrating quarter to a more manageable trio. All three of Kyle Kuzma ($5,400 PF), Julius Randle ($5,300 PF) and Larry Nance Jr. ($4,900 PF) benefit from the extra minutes and usage, but historically, Kyle Kuzma has performed the best when called upon in an injury scenario. Randle with the clear path to 30-plus minutes is also very interesting.
Dennis Smith Jnr (hip, DTD)
It's looking like DSJ might actually get up for Thursday's slate, but if he's deemed unfit for action, you have to go back to the well on Yogi Ferrell ($4,800 PG). He's scored 41.2 and 24.7 MB in his past two games, but more importantly, he played 39 and 43 minutes in those games to be the clear sponge soaking up Smith Jnr's injury value. JJ Barea ($5,300 PG) is the contrarian play here, as he's clearly behind Ferrell with his minutes – but we all know how coaches like to ride the hot hand, so it's possibly he outperforms Yogi and earns the extra minutes (and the tasty Moneyball points that come with it).
Greg Monroe (old age, DTD)
This is slightly tongue-in-cheek, but the moment we all knew was coming is finally here: Phoenix have decided their stock-boosting play of Greg Monroe is done, and they're finally throwing a whole bunch of minutes into developing their centre of the future in Alex Len ($5,400 C). Over the last two Suns games, Monroe has been nailed to the bench with consecutive DNP-CD's, while Len has flourished with averages of 13 points, 17 rebounds, 1 block and 42.3 MB in just 28 minutes of action. This is your official notification that Len should be in your plans moving forward.
Always remember to gamble responsibly. If you're having problems with your betting, you can get help at Lifeline or talk to someone at Gambling Help Online.