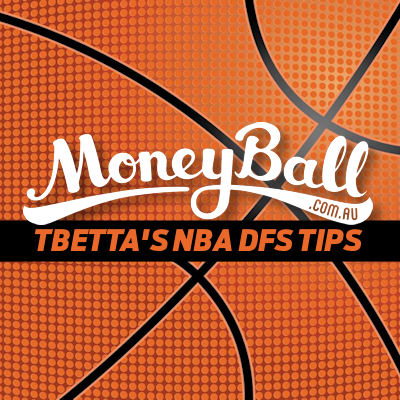 G'day Moneyballers! If you were here for the AFL season, this article will need no introduction. If you're tuning in for the NBA action, welcome to your first port of call for your DFS tips this summer! Before we get into the good oil, a quick reminder that Moneyball have adjusted their scoring system this year:
Some of the featured contests for the big Thursday slate this week:
Playing is easy, you can sign up here and play in minutes! Now that we've taken care of the housecleaning, let's get into the good stuff – the tips!
• Mouse in the House?
Bigs vs Chicago
While the numbers say that Chicago are the overwhelming leaders in fantasy points conceded to Bigs over the past fortnight, I'd be careful before loading up as those numbers have been boosted by a couple of monster individual performances. Disclaimer aside, this is the perfect time to have a nibble at someone like Myles Turner ($7,100 IND) to chase his inflection point – he's averaged just 26.5 MB from his last seven starts, but he's too talented for that to continue long term. He's got 50-point upside here, a mark he's reached twice already this year.
SF's vs LA Clippers
The Clippers had a hole at Small Forward even before their franchise player went down, and that was covered offensively by Griffin doing herculean things from both the paint (where he's supposed to dominate) and his shooting from deep (where he's not) alike. Now that he's gone, the hole has ripped into a chasm and opposition teams are capitalising.
Jimmy Butler ($8,400 MIN) has been a darling of this article even went he wasn't travelling so flash, and I see no reason to stop praising him now that's he's dominating with a 50.5 MB form line. I think he's a bargain at that price, and he's a much bigger priority for me than LeBron James ($12,000 CLE) and Giannis Antetokounmpo ($12,400 MIL) at ridiculous prices in the same position. Andrew Wiggins ($6,500 MIN) is another Timberwolf that benefits from SF trends, and hopefully he can produce something like the 46.1 MB he pumped out after copping a mention in last week's article.
Guards vs Orlando
For the third week in a row, we're milking the cash cow that is Orlando's inability to stop smaller opposition humans (relatively speaking) from scoring fantasy basketball points. Ranked 12th in the league in usage is Dennis Schroder ($8,400 ATL) and is the obvious target, especially given the success we've had in streaming him through DFS line-ups whenever he earns a favourable match-up already this year. Marco Belinelli ($4,900 ATL) is your boom-or-bust candidate here and is worth a long hard look in GPPs having hit the 30 MB mark on 6 occasions this year. He's a 3-point flurry away from giving your line-up a massive boost on any given night, but Orlando's defense is particularly juicy.
• Tasty Pacey
Golden State vs Charlotte (219.5 O/U)
The Warriors are one of my least favourite teams to stack in fantasy due to the inherent blow-out potential that comes with being the greatest assembled team in the known universe, but Steph's injury closes the gap and puts them back into consideration as a potential target. Kevin Durant ($10,400 GSW) is the obvious GSW target for his usage bump, but I wouldn't sleep on a couple of Charlotte guys either. The Warriors don't really have a match-up for Dwight Howard ($7,400 CHA) and have shown a propensity to leak points to opposition centres, so I'd be taking out shares in him if you're multi-entering. Kemba Walker ($7,800 CHA) is coming off a 53.9 MB gem and has to be considered at that price.
Denver vs New Orleans (218.5 O/U)
With so many big names out (see Replacements section below) in this game, I'm not as excited about this healthy Vegas pace prediction as I might have otherwise been. Still, it could be a good excuse to layer some volatile guys through your line-ups and hope you hit gold – someone has to generate DFS value, after all.
Jamal Murray ($5,600 DEN) managed just 9.3 MB in 30 mins against the deplorable Bulls recently, then backed that up with 42.8 MB in 33 mins in the very next game. That's pretty much all you need to know about the Blue Arrow. Will Barton ($7,300 DEN) is much more reliable, chewing up all of Jokic's vacated usage to produce scores of 49.9, 36.2 and 44.6 MB in his past three – but you've gotta pay for it.
• The Replacements
Steph Curry (Ankle, OUT)
Recent history says you need to look very closely at Pat McCaw ($3,500 SG) for not just Thursday, but in the short-term while Curry deals with this ankle. The last time Curry missed was last week against the Kings, where McCaw went bonkers in 33 minutes to finish with gaudy numbers of 16 points, 7 assists, 4 swipes and a swat for 43.1 MB points.
On the negative side, McCaw did receive a whack to the schnozz in their last battle and is listed as questionable – if he was to miss, you absolutely have to load up on Shaun Livingston ($3,500 PG). He's been the go-to Curry replacement for the past two years and this is exactly what he's on the team for; quality minutes when the superstars are off the floor.
Anthony Davis (Groin, DTD)
If The Brow is deemed unfit to play, then you know the drill: unleash the usage-machine in DeMarcus Cousins ($11,000 C). He averages a monstrous 62.8 MB points in the four games that Davis has missed this year, thanks chiefly to massive bumps in usage (30.1 to 36.7) and fantasy production (1.34 MB/min to 1.62 MB/min) when Davis is off the floor.
Outside of the obvious, you should be looking at Rajon Rondo ($5,700 PG) to nudge 30 mins for the first time this year and to see a boosted Hollinger Usage in that time. He's already averaging 36.9 MB in his past few which all include assist-laced double-doubles and it looks like Rondo's opportunity to claim his team back has arrived. Jrue Holiday ($6,700 SG) will also have the green light to shoot whatever he wants and boasts three scores of 40 MB or better over his past five games.
Nikola Jokic (Ankle, OUT) and Paul Millsap (Wrist, OUT)
Kenneth Faried ($5,500 PF) is absorbing most of these minutes and utilising them okay-ish with three-game averages of 13 points, 11 rebounds and 29 MB points… But his creeping price bothers me, particularly if he's still only earning 25 minutes a night.
Unfortunately, this is one of those situations where the minutes are soaked up by one or two guys, but the usage (and therefor, the fantasy value) is distributed elsewhere. The aforementioned Will Barton is the biggest beneficiary here and needs to be targeted, but the other Denver starters all see a slight bump in value.
Blake Griffin (Knee, OUT)
The Clippers are a mess right now, but you can't fault the play of former 6th Man of the Year in Lou WiIlliams ($8,100 SG). Over the course of the year, Sweet Lou sees bumps of 9% in MB/min and 25% in usage whenever Griffin is on the sidelines, which has gone a long way to seeing him producing premium-tier scores lately (and earning a pricetag that matches). Despite being the one to break Blake Griffin (massive dick move and possibly calculated, if you ask me), Austin Rivers' ($6,400 PG) Coach-Daddy is spoon-feeding his talent-sparse offspring minutes, and he's putting up some decent DFS numbers as a result.
Tim Hardaway Jnr (Leg, OUT)
He might play a different position, but it was Michael Beasley ($5,000 PF) who started for TJH against Indiana and has to be on the radar despite just 11.6 MB in 14 minutes. The game was a blow-out and all the starters were limited in the second half, not to mention the natural cap that B-Easy put on himself with the 3 fouls in quick succession. Beasley has logged three games with 21+ minutes for the Knicks this year and averages 29.3 MB from those games – I'm on board. Damyean Dotson ($3,500 SG) may also earn extra mins after he came alive with 27.9 MB in that blow-out but my confidence level on him is negligible.
Always remember to gamble responsibly. If you're having problems with your betting, you can get help at Lifeline or talk to someone at Gambling Help Online.