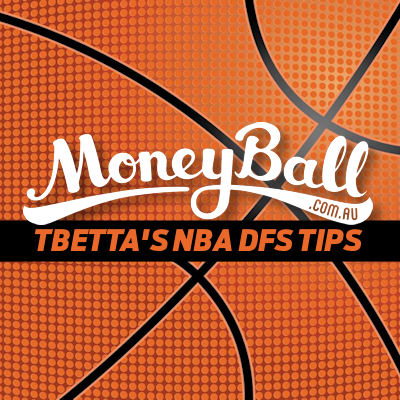 G'day Moneyballers! If you were here for the AFL season, this article will need no introduction. If you're tuning in for the NBA action, welcome to your first port of call for your DFS tips this summer! Before we get into the good oil, a quick reminder that Moneyball have adjusted their scoring system this year:
Some of the featured contests for the big Thursday slate this week:
Playing is easy, you can sign up here and play in minutes! Now that we've taken care of the housecleaning, let's get into the good stuff – the tips!
• Mouse in the House?
Bigs vs Phoenix
The C slot should be the easiest decision you make this Thursday, with the red-hot Andre Drummond ($8,900 C) walking into a Suns outfit that straight up gifts points to opponent centres. Ignoring the blow-out against Cleveland (where all starters had their minutes limited), Drummond has been humming along at 50.1 MB in his past four starts, courtesy of sexy averages in the vein of 19 points, 17 rebounds, 4.5 assists and the crucial cash counters of 1.75 blocks and 1.5 steals.
Tobias Harris ($6,500 PF) plays smaller than most Power Forwards, but he'll eat either way against a Phoenix team that can't even spell 'defense', let alone play it. He'd been lukewarm over the past few weeks, but a 40.6 MB performance against the best defense in the league (the Celtics) could easily kick-start him back into the form that saw Toby hitting 40's every other game over the early part of the season.
SF's vs New Orleans
Small Forward is the only glaring hole in the Pelicans' roster, and they certainly haven't filled it with defense as they concede more fantasy points to SF's than any other team in the league. Makes sense – so much of their salary is wrapped up in Cousins and Davis, and those blokes are defensively focused on defending opposition big men or rotating over to help with driving guards. Effectively, wings are the poison they choose.
That puts Jimmy Butler ($8,200 SF) right towards the top of my priority list, and his value increases even further if Jeff Teague is deemed unfit for duty once more. He's pumped out 48.3 and 42.4 MB in his last two, so it's safe to say that Jimmy Buckets is feeling it. Andrew Wiggins ($6,100 SG) is often loosely considered a wing in the sense that he does zero of a guards' regular expected duties to an acceptable level, so consider him for tournaments also. 7 of his past 11 scores have exceeded 34 MB, so he's hitting value more often than not.
Guards vs Orlando
We talked about this trend last week and we're going back to the well again here with Orlando on a gutting 9-game losing skid. Russell Westbrook ($10,800 PG) is an absolute no-brainer here for a multitude of reasons; a) The Magic have conceded the most Moneyball points to opposition Guards over the past fortnight, b) he's on fire individually in fantasy, averaging 61.6 MB over his past 4 games, and c) OKC are very much not on fire collectively, which means Russell will continue to enter Tunnel Vision mode. He's close to my highest priority pick on this slate.
• Tasty Pacey
Golden State vs LA Lakers (? O/U)
With Steph and Durant questionable, the Vegas Line hasn't been released at the time of writing but you can be sure it'll be a whopper. Aside from the injury repercussions (which we'll chat about below), this is an excellent game to stack, either for a close result or even in anticipation of a blowout.
If it's close, you're looking equally closely at Lonzo Ball ($7,200 PG). Luckily he doesn't need to score the basketball to produce in fantasy (given he's coming up against the World Champions), as his rebounding, passing and theft rate usually hold him in good stead.
But who plays heavy minutes if this game gets out of hand? That's where I'd be looking closely at the Lakers' back-ups who could all see minutes approaching 30 instead of their usual high-teens/low-twenties. Jordan Clarkson ($4,800 SG), Julius Randle ($4,900 PF) and Kyle Kuzma ($5,500 PF) all have significant ceilings and fit the bill in a blow-out anticipatory line-up build.
Phoenix vs Detroit (218 O/U)
Mediocre teams against Phoenix? Welcome to the fantasy goldfields. We've mentioned Drummond and Toby already, but make sure you keep a close eye on Reggie Jackson ($5,600 PG) and Avery Bradley ($5,300 SG) for a timely offensive explosion. Both have been bordering on deplorable lately, but the best way to bring a fantasy player out of a coma is a Phoenix-powered shot of adrenaline to the jugular.
Brooklyn vs Dallas (? O/U)
High O/U with a lowish Line offering? On paper, that's a DFS coach's stacking dream…. But as both these teams flat-out suck, you have to be slightly more selective here. Even if they can't hit a shot to save themselves, they'll play at a hasty pace which'll ensure that the fantasy points are flowing – if you know where to tap the keg.
Spencer Dinwiddie ($7,500 PG) has been tearing it up over the past fortnight, but I think he's finally hit a price where it's smarter to fade him than pick him. I'm a big Caris LeVert ($4,500 SG) fan and he's been known to return big value when he gets the minutes – Crabbe and Hollis-Jefferson's questionable statuses leading into this match could ensure he approaches 30. Trevor Booker ($4,800 PF) is still being seen as the right answer at the 5 by the Brooklyn coaching staff, and he's given that he's producing at 1.22 MB/min in his last few, he's worth another look in GPP's.
Dallas is a nightmare for fantasy thanks to a lack of actual talent and concrete big-man rotations, but if you absolutely need to try and cash in on Brooklyn's defensive shortcomings, then Harrison Barnes ($6,600 SF) is your man – purely for his upside. He's hit 42 MB on a few occasions already this year and he's always a strong shooting night away from the next.
• The Replacements
Steph Curry (hand, DTD) and Kevin Durant (ankle, DTD)
The fantasy hierarchy seemed pretty clear at Golden State previous to the Sacramento slip up; If Durant is out, you look at Omri Casspi ($4,000 SF), right? Well, apparently a lot of Casspi's value is dependent on having incredibly gifted players spoonfeeding him open shots, and as such he struggled with just 15.3 MB in 30 minutes.
If Steph Curry was to miss, Shaun Livingston ($3,000 PG) was always, almost like clockwork, the beneficiary in the past – until Pat McCaw ($3,000 SG) played double the minutes and whipped together a monster 43.1 MB offering instead.
Surely the numbers sky-rocket for Klay Thompson ($7,000 SG) and Draymond Green ($8,100 PF) while their fellow All-Stars enjoy some well-earned rest? Nope, neither exceed 35 MB against the worst team in the competition.
It's a coin flip with the Warriors at the moment, and I'm staying right away from them with a murky distribution of medical assistance, minutes, and fantasy value – not to mention the blow-out potential. Buyer beware.
John Wall (knee, OUT)
Tim Frazier ($3,000 PG) might be the nominal starting PG for the Wizards squad, but someone might want to let them know that he's a real-life player and not a witch's hat. You'd assume that he takes over ball-handling duties with Wall missing, but that simply hasn't been true – Bradley Beal ($7,600 SG) has been dominating the ball instead.
The streaky shooter is a much better Wall-free selection than Frazier in my opinion, regardless of his 21.4 MB dud against the Timberwolves on Wednesday. He boasted a lowest score of 31 MB in the nine games previous, so let's just write this one off as a poor 2/11 shooting performance and wipe the slate clean for Beal. He'll be great here.
Kemba Walker (shoulder, DTD)
If Kemba can't go (he's listed as doubtful currently), Coach Steve Clifford has already declared than former rookie phenom Michael Carter-Williams ($3,400 PG) will receive the starting gig. Now, as we know, starting doesn't necessarily guarantee that he earns a huge bump in minutes, but it's certainly promising – and even more so at that price. Over the past 3 years, when MCW has reached 28 minutes, he's averaged a hefty 35.4 MB… I'll be searching for that upside by weaving him through a lot of GPP line-ups if Walker can't take to the court.
Mike Conley (knee, OUT) and Mario Chalmers (ankle, DTD)
Want to know exactly how good Andrew Harrison ($3,000 PG) is at basketball? Mario Chalmers starts ahead of him. Not a great sign. Regardless, he's the only player who can remotely be considered for ball-handling duties while Tyreke Evans ($7,300 SG) is off the floor, so he should walk into enough minutes for us to actually consider him if Chalmers joins Conley in the sick bay as expected. Massive disclaimer: he's yet to exceed 16.6 MB this season, so don't hunt me down with pitchforks me if he stumbles on the big stage once again.
• Bargain Bin
Kyle Lowry ($8,200 PG)
Right now, Lowry is producing Steph Curry numbers at a Seth Curry price. Well, not quite – I just wanted to sound poetic, but you get the point. A shockingly slow start by Lowry's lofty standards has had the long-term effect of tainting his price growth, which means there's still time to cash in on his 43 MB trajectory over his past 7 games.
As an owner in season-long fantasy, it's clear that the missing piece for Lowry was a more aggressive mindset. Over his first 12 outings this year, the normally ferocious driver somehow averaged just 1.8 free throw attempts per game (after averaging a top-20 rated 6.1 last season). Since then, he's back on track with 5.4 per game and, surprise surprise, his numbers are synergistically all up across the board.
Dwight Howard ($7,900 C)
How is Dwight so cheap? Did they forget to update him in the price-changing algorithm? Do the accountants at Moneyball just straight up hate this dude? In a scoring system that doesn't punish poor free-throw prowess (beyond the obvious missed point for every brick) Dwight is a monster and I'm surprised he's not priced as such.
4 of his past 5 scores have been 40 or upwards, which is instant 5X value with the scope to exceed that greatly against a frontcourt that prefers to have Siakam on the court over guys like Ibaka and Valanciunas. Toronto's big-man situation is a mess and that opens up the door for Superman to fly on Thursday once more.
Lance Stephenson ($4,600 SF)
Hate the bloke, but love the fantasy potential in Lance. From the School Of Punchable Heads alongside classmates J.R. Smith and Draymond Green, Stephenson has been killing it lately and might have won himself some permanent additional court time even though Oladipo is back active. He's ticking along at 1.05 MB/min over his last four games, and has proven he's still a GPP option in his normal 22-23 minutes of action. Any more time than that and it's simply a bonus for us in fantasyland, so keep him in your tournament player pool tomorrow.
Always remember to gamble responsibly. If you're having problems with your betting, you can get help at Lifeline or talk to someone at Gambling Help Online.