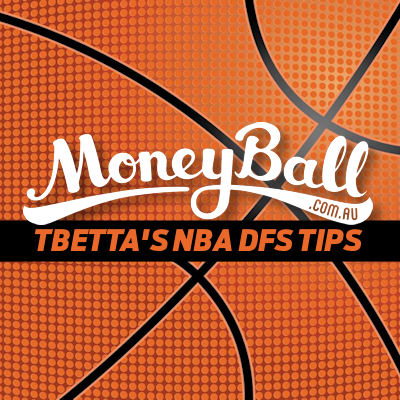 G'day Moneyballers! If you were here for the AFL season, this article will need no introduction. If you're tuning in for the NBA action, welcome to your first port of call for your DFS tips this summer! Before we get into the good oil, a quick reminder that Moneyball have adjusted their scoring system this year:
Some of the featured contests for the big Thursday slate this week:
Playing is easy, you can sign up here and play in minutes! Now that we've taken care of the housecleaning, let's get into the good stuff – the tips!
• 

Mouse in the House?
Bigs vs Brooklyn
Brooklyn have basically given up on their Centres, preferring instead to play Booker (ankle) at the 5, seemingly in a bid to become the first team to play "small ball" 100% of the time. I'm not sure whether it works for them, but it certainly does wonders for the fantasy output of their bigger-bodied opponents.
Kevin Love ($7,500 C) is in a great position here to capitalise on a lack of vertically-gifted match-ups, and is dirt cheap for what he can produce when the wind blows in the right direction. Even LeBron James ($11,600 SF) will find scoring in the paint even easier than it usually is for a man of his talent. Those guys are both strong cash and tournament plays, while Channing Frye ($3,500 C) could be worth a gamble in the $30,000 Thursday Monster Special thanks to the upside in his streaky 3-point shooting. He's been active for 20-plus minutes in 3 of his past 4 starts (avg 18 MB) and Coach Ty Lue has publically committed to finding him a bigger share of the clock.
PGs vs Chicago
From a volatile rotation to a volatile Bobby Portis throwing haymakers at teammates, Chicago are a mess and that manifests in extra fantasy goodness for their smaller opponents. Grant, Holiday and Dunn are many things, but no one has ever accused them of playing great defense – let alone on a back-to-back set.
Donovan Mitchell ($6,600 SG) has been a popular DFS play over the past fortnight or so and he finds himself with another great match-up here – although the value is starting to dry up as he approaches a $7k price tag. He's well and truly earned the starting job with averages of 34 mins and 34.7 MB over his past five and he's boosted by the fact that his errant shooting doesn't hurt him in the Moneyball scoring system. If you're looking for a POD, Ricky Rubio ($6,300 PG) is working back from Achilles soreness but Chicago's defense might be exactly what he needs to nudge 40 MB – a mark he's reached 5 times already this year.
Smalls vs Orlando
Despite boasting a gifted team offensively, Orlando has been a sieve on the defensive end, ranking 4th in the league for conceding points to opposition Guards. They also rank in the bottom 6 for Opponent Assists Per Game and Opponent Field Goals Per Game, which are both stats that can help even an ordinary guard pump out extraordinary numbers.
Jimmy Butler ($8,300 SF) has 4 scores of 41 or better within his past 6 games, and is modestly priced thanks to a slow start to the season; I can see myself plugging him into both cash and tournament line-ups without a second thought. If you're looking for that smokey though, Jeff Teague ($7,000 PG) and Andrew Wiggins ($6,200 SG) are worth a gander… especially Wiggins, who puts up big totals whenever he has a strong shooting night.
• 

Tasty Pacey
Brooklyn vs Cleveland (228.5 O/U)
I've talked about Love and LeBron above, and this breakneck pace only increases their chances of returning big value. If this game remains close, I'll bet my left aggot that they'll have monster nights. This is also a good opportunity to plug in others from the supporting cast; Dwyane Wade ($6,200 SG) busted out a 50 MB in a similarly soft match-up against the Clips recently (and has earned a big pay jump because of it), while Jeff Green ($3,700 PF) has been known to randomly go mental – he even pumped out 38.7 MB against the Nets last time they played.
Of course, high pace benefits both teams, so feel free to plug in any of LeVert, Crabbe, Carroll and Hollis-Jefferson into your Cleveland stacks for maximum synergy.
Milwaukee vs Phoenix (220.5 O/U)
My general rule is to smash out stacks when a piss-poor team plays Phoenix, so maybe an ordinary start from Milwaukee achieves the same effect. With a lowest score of 41.1 MB, Giannis Antetokounmpo ($12,000 SF) is a bona fide cash game pick, but I'll probably fade him in tournament line-ups at that price due to the blow-out risk.
This is the perfect game to mix-and-match the streaky types. Eric Bledsoe ($6,300 PG) has multiple 41 MB games within his last three starts and is strictly too cheap for his talent level. Devin Booker ($7,600 SG), Khris Middleton ($7,100 SG) and Malcolm Brogdon ($5,200 SG) are always a hot shooting night away from sending your line-ups towards the top of a leaderboard. TJ Warren ($7,300 SF) is averaging 37.7 over his last five and is almost a lock in your Phoenix-based stacks.
Houston vs Denver (???)
The Over/Under wasn't released at the time of writing, but when two of the most offensively-minded teams – who are also famous for piss-weak defense – square off, it's going to be juicy. This is a bruise-free game, perfect for targeting beasts like James Harden ($11,800 SG) and Nikola Jokic ($9,300 C) because the only thing stopping them from having a monster game is themselves and not anything you could really call "defense".
Outside of those beacons of fantasy elitism, I like the snipers in this game as both teams rank in the bottom 8 for Opponent 3-Point Percentage at 37.7%. Eric Gordon, Will Barton and Gary Harris are your main targets for a trey-based explosion, but neither side is short on shooters here so almost everyone is worth looking at for GPPs.
• 

The Replacements
Mike Conley (Achilles)
We've been riding him for a week or so, but Mario Chalmers ($5,400 PG) is looking at 30 minutes once again and has to be considered. I'm uneasy about his climbing price and lack of overall talent, but then again, Dallas spoonfeeds opposition point guards. He'll eat here.
Jeremy Lin (knee) and D'Angelo Russell (knee)
I left out Spencer Dinwiddie ($6,900 PG) in the 'Brooklyn vs Cleveland' section above to chat about him here. This is your classic crisis = opportunity type scenario, as Brooklyn have unearthed an NBA-quality player here when you wouldn't have dared to hope for that once both starting guards went down.
Dinwiddie is averaging 40.8 MB in 32 minutes over his past three games so his form is lightning, and don't forget that he torched the Cavs last time for 38 MB in his fantasy infancy. His price has ballooned lately but it matches his form, so make sure you have some shares in Spencer if you're entering multiple GPP line-ups.
Paul Millsap (wrist)
Millsap is a usage sponge, so his absence means that all of Jokic, Barton and Murray see an uptick in offensive responsibility and could be worth chasing even harder than you might've originally.
There's also 33 big-man minutes that need to be distributed, and that's where it gets trickier. Kenneth Faried ($3,000 PF) earned the start last time and once again churned out over 1 MB/min – unfortunately, as per usual, his minutes were underwhelming with just 19. Juancho Hernangomez ($3,000 SF) and Mason Plumlee ($3,500 C) were both reasonably productive in low-20 minutes in the last game and could be worth looking at as tournament cash cows.
John Henson (eye)
Who is DJ Wilson ($3,000 PF)? We might be about to find out. The rookie has played roughly 20 minutes total this season, but might actually see significant court time this Thursday as Teletovic (knee) and Monroe (traded) are also out of the picture. Of course, Thon Maker ($3,400 C) is the logical replacement and is primed for a 30-minute night, with Giannis at the 5 in small ball otherwise. It makes perfect sense to target the Aussie, but given that he regularly looks less like a Buck and more like a deer caught in the headlights at NBA level, I'd be restricting him to tournament action only.
• 

Bargain Bin
Marc Gasol ($8,200 C)
It's not sexy, but do you know what is? Winning bucketloads of cash. Gasol is in a rich vein of form lately, breaking out from his usual safe mid-30 MB performance to produce scores of 71.1 and 48.9 recently – the latter of which came against Portland, the most difficult team for Centres to score against this season.
What I love about Gasol is that he's a swiss-army knife – he can kill it for you in a multitude of different ways thanks to his diverse scoring profile. It's no coincidence that this outburst has come since Conley went down, with Gasol's court-time rising 12% and an extra 6% MB/min compounding the value on top of that.
DeMar DeRozan ($8,100 SG)
How does someone who's produced four straight scores of 41.7 MB or better go under the radar? Only one player in the league has a longer active streak of 22 points in each game, and that's the Bearded One (James Harden) with 10 games to DeRozan's 9. He'll have no trouble exceeding that against a porous Knicks defence, and he's only $8,100. Smash him at that price!
Kentavious Caldwell-Pope ($5,300 SG)
Alongside JR Smith, KCP has one of the more punchable heads in the league. Unlike JR Smith, KCP is actually a sneakily good fantasy producer. Caldwell-Pope has strung together scores of 39.5 and 44.6 in his last two, has played at least 35 minutes in his past four games AND walks into the walking mess they call Sacramento. Yum.
Always remember to gamble responsibly. If you're having problems with your betting, you can get help at Lifeline or talk to someone at Gambling Help Online.