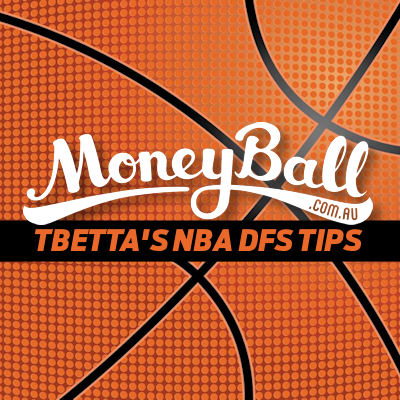 G'day Moneyballers! If you were here for the AFL season, this article will need no introduction. If you're tuning in for the NBA action, welcome to your first port of call for your DFS tips this summer! Before we get into the good oil, a quick reminder that Moneyball have adjusted their scoring system this year:
Some of the featured contests for the big Thursday slate this week:
Playing is easy, you can sign up here and play in minutes! Now that we've taken care of the housecleaning, let's get into the good stuff – the tips!
Russell Westbrook ($10,800 OKC)
When it comes to evaluating your picks, you need to set clear pass marks. For instance, in the $3k-$5k range, you want to be hitting a score of at least 7 times their price (commonly known as 7X value) to give yourself a good chance of taking out a big tournament. In the $5k-$8k range, 6X is a healthy target to shoot for and anything over that, you're looking at 5X value at a minimum. Unfortunately for repeat Westbrook buyers, he hasn't been getting anywhere near that with a 41.8 MB average in his past 7 games, without anything over 50 MB in that span.
So why am I spending valuable article real estate talking about him? Three reasons:
Free throws. Over his first 11 games this season, Westbrook, a career 83% free throw artist, was shooting just 58% from the line in one of the biggest statistical quirks in sports history. Obviously, that figure was going to correct itself and it's done just that, with Russell sinking 17/19 since. While Moneyball doesn't penalise for missing free throws, Westbrook has been missing out on those easy points he'd otherwise get if he'd made those charity stripe shots.
Chicago. They're trash. Westbrook already posted 51.1 against them earlier this year, and that was in only 28 minutes. Serious upside if the Bulls can make this game competitive.
It's a contrarian play. It's natural for punters to want to ride the hot hand, especially when they're outlaying their own hard-earned cash. Westbrook hasn't been in form, so human nature dictates that many will avoid him despite the soft match-up.
Kemba Walker ($7,700 CHA)
LeBron can't guard all 5 positions at once, which is a huge reason as to why Cleveland are such a defensive mess this season. This is especially true with their defensive rotations, so it should come as no surprise to the casual observer that the Cavs are ranked 29th for Opposition 3-Point Percentage (39.7%) and 30th in Opponent 3-Points Made Per Game (12.9).
Only three players hit 240 treys at 39% or better last year – Steph Curry, Klay Thompson and, you guessed it, Kemba Walker. Expect him to have a big scoring night here against Cleveland boosted by the open 3-point line, and to keep the ball rolling after producing Moneyball totals of 35.5 and 42.5 most recently.
Frank Ntilikina ($4,400 NYK)
I've said it before and I'll say it again – minutes are the single most valuable entity in NBA daily fantasy, and Ntilikina's are on the rise. While Frank averaged just 18 minutes over the first 6 games of the year, he's earned a minimum of 23 in the 5 games since. Frank Nicotine is the Knicks PG of the future, and he's eventually going to be the starter in this team. Based on his recent play, that could be sooner rather than later.
Ntilikina is one of only 4 players averaging 2 steals a game this year, and he's doing it in a back-up's time allotment. In fact, the rookie guard is the #1 ranked player in the league for Steals Per 36 Mins, extremely impressive when you line it up next to his 8.3 Assists with the same kind of exposure. He's just warming up and Utah without Gobert doesn't scare me off him.
Tyreke Evans ($6,800 MEM)
Evans must be loving life right now. Once a franchise player at Sacramento, injuries has lowered him to "gun for hire" status in recent years and he landed at Memphis once the dust had settled. So instead of slogging away each night against the stars of the league, Tyreke's now logging big minutes leading the second unit, and his last three scores of 40.9, 41 and 37.7 are reflecting that.
There's not much else to say here. Tyreke looks like a lock for 30 minutes a night – especially with Conley struggling – and he'll nudge 6-7X at this price with all things going smoothly.
Kent Bazemore ($5,200 ATL)
I wasn't into the 'Premium" SG's on this slate based on their match-ups, so I've settled for talking about just a couple of the many value guys under $5.5k we have on offer here. With shooting guards, you alway want to aim for big upside (the Devin Booker theory) and Bazemore's got plenty of that with three scores of 42 MB or better in his past five starts.
In a vacuum, Bazemore ticks a lot of boxes. He plays 30 minutes a night, and he offers numbers in almost every category, averaging roughly 16/5/4 with a juicy 2.2 steals over the past fortnight. But when you put him up against Sacramento, the laughing stock of the NBA… He could be big.
Malik Monk ($4,000 CHA)
See above for what Cleveland concede to 3-point shooters, and you'll see why I'm into Malik Monk as a smokey this Thursday. Monk has averaged 28 MB this year from the four games where he's cashed at least 3 triples, which is good for 7X value when he gets hot. Picking shooters against the Cavs has been a winning formula this entire season, so I see no reason to stop now.
LeBron James (11,200 CLE)
Point LeBron is the best LeBron, and with Rose predictably injured (or at least hampered) again, we'll see him soak up heavy minutes as the sole distributor for this recently-struggling Cleveland team. The unfortunate win-loss record situation has forced LBJ to revert to his old "get on my shoulders" persona, which has seen him log his highest minutes per game (38.1) since his first year in Miami and score more (28.1 per game) than he's had to since his last year as a Cavalier the first time around.
I'm pretty happy spending all that coin on a guy who a) cares deeply about his winning and his reputation, b) never has a bad game and c) has hit 5X value (or 56 MB) in 7 games already this year. Letting LeBron carry your daily fantasy team like he carries his NBA team is always a good plan.
Paul George ($8,800 OKC)
It feels like a cop out to write about the guy who boasts the best two-game form heading into Thursday, but I simply had to talk about PG and his current situation. In Oklahoma City, George has been suffering from "Love Actually" syndrome, where there are too many stars for every performer to reach his/her peak output. Case in point: his Points, Rebounds and Assists averages are all at their lowest levels since before he snapped his leg.
But without Steven Adams in the cast (and Carmelo for the Dallas game), George has had to slide up to the 4 and even 5 positions at times, and it's boosted his minutes and output significantly. I'm talking scores of 69.3 and 57.1 in 42 minutes kind-of significantly. So keep your eyes peeled and your ears perked for news about Adams & Anthony and their availabilities heading into lock-out, because we could have a huge bargain on our hands once again.
Justin Jackson ($3,100 SAC)
Like Kit-Kats or the new season of The Walking Dead; I like it, but I don't love it. Jackson is strictly a $30,000 Thursday Monster Special type of pick for upside, and not something you should be using in your double-ups – just as someone who has produced more fantasy scores in single digits than in double should be. But at that price, against the team (Atlanta) that concedes more points to SF's than any other, and after averaging 28 minutes over his past 4 games… I'm thinking hard about taking a flyer on Jackson, if only so that I can afford the LeBrons and the DeMarcuses of the Moneyball world.
Ben Simmons ($9,300 PHI)
Anthony Davis ($11,400 NOP) is always a good play when he's a out of the sick bay, Kristaps Porzingis ($9,600 NYK) will have his way against a Gobert-less Jazz and LaMarcus Aldridge ($8,400 SAS) is worth a look for as long as Kawhi is missing; yet I'm still picking Simmons to talk about here. If you're not aware, there's been a beef brewing between the Philly power couple and the Ball family, with Embiid tweeting to Simmons on draft night "please dunk on him so hard that his daddy runs on the court to save him". Shots fired. Ben vs Lonzo was always going to be hyped as a battle of the big-name rookies, but this adds a whole new layer to their first ever match-up… And I'm betting on Simmons to come out on top.
A quick glance at the key indicators shows why. The Lakers are conceding the 5th most points to PG's (which, despite being listing as a PF, Simmons essentially plays). Ben's coming off a 22/12/4 game against the Clippers. 8 of his past 10 games have been 40 MB or better.
But aside from the obvious, I like Simmons based on how the Lakers allow other teams to score. We know that Simmons isn't a shooter and he likes to score from the paint (he's ranked 3rd in the league in dunks for players under 6'11'') and the Lakers allow the 4th most points in the paint so far this season. Those are some tasty numbers.
Derrick Favors ($5,100 UTA)
This is your classic injury replacement pick, with Favors sliding up to the 5 now that Gobert is out for the foreseeable future. Since the Stifle Tower went down, Favors has returned averages of 36 MB in 32 mins; good for 7X value at his current price.
It's easy to forget that Favors was a fantasy darling just a couple of years ago on a younger Jazz team, averaging 35 MB a game… before Gobert gobbled up all his usage. That's not just an opinion by the way, the numbers agree – Favors averages just 0.74 MB/min this year with Gobert on the court, but that's boosted to 0.94 without him. Expect to see the Favors of old moving forward, and that version is a massive bargain at just $5,100.
Jerami Grant ($4,600 OKC)
With Steven Adams still doubtful for the Chicago clash, Jerami Grant is in line to earn a massive hike in minutes and fantasy output once again. As with the Favors/Gobert situation above, Jerami clearly gets more productive when Adams is off the floor, boosting his 0.59 MB/min to a healthy 0.96 as he slides up to the power forward position. His value is completely intertwined with the availabilities of Adams and (to a lesser extent) Anthony, so keep your ear to the ground on their statuses leading into Thursday.

Hassan Whiteside ($8,900 MIA)
After spitting the dummy and getting deservedly benched just after halftime, Whiteside has bounced back with nasty averages of 17 points, 14 rebounds, 1.7 steals and 3 blocks in his 30 mins since. Honestly, this is par for the course for Hassan and is what has made him a targeted player in DFS over the past few seasons – he's a guaranteed double-double and he adds highly valuable fantasy stats like blocks and steals on the regular.
But his real value comes from a match-up against the Wizards – he absolutely LOVES playing them! Across 4 games last season, Young Whiteside has dominated Washington with averages of 22 and 16 to go with 2.5 blocks for 51.3 MB points. Gortat can't contain this beast, so I'm loving Whiteside for Cousins-like upside at a $2.3k discount.
Joel Embiid ($8,800 PHI)
Scroll north to the Ben Simmons section and a lot of that applies here equally – the grudge match against the Big Baller Brand and the Lakers' propensity to allow points on the paint benefit Embiid just as much.
So why Embiid specifically? Basically, the Lakers can't defend dominant bigs, conceding the 6th most points to Centres this season. Davis creamed them with 66.9 MB, Griffin bustled his way to 49.9 and even Nurkic reached his potential with 47.5 against LA. Surely, Embiid with all his talent, is a shoo-in to join those guys.
Ultimately, my favourite statistical nugget is that Embiid played a career-high 36 minutes in his last contest, smashing his previous best of 32 minutes. "The Process" is officially over guys, because we've reached the end point. There's no longer a limit on the boundless potential and talent in Embiid, and if he was averaging 41 MB in 28 minutes, what can he do with 33 each night?
Dewayne Dedmon ($5,400 ATL)
The Sacramento Kings concede the most points of any team to Centres, which makes Dedmon a realistic option if, for some reason, you don't want to cash in on the big names in the C slot. Dewayne found himself in foul trouble against the Pelicans – a very common occurrence across the league, as trying to defend both Davis and Cousins is a tough gig, apparently – but prior to that, he was active for 22 minutes a night.
Dedmon's relationship with the coaching staff is this: you play well, you stay on the court. 13/10 against Denver earned him 31 minutes. A week later, 19 and 12 with 2 blocks came in 36 minutes of action. It's not difficult to see Dedmon getting off to a hot start against the rabble they call Sacramento and staying in the game for a starter's allotment of minutes.
Always remember to gamble responsibly. If you're having problems with your betting, you can get help at Lifeline or talk to someone at Gambling Help Online.