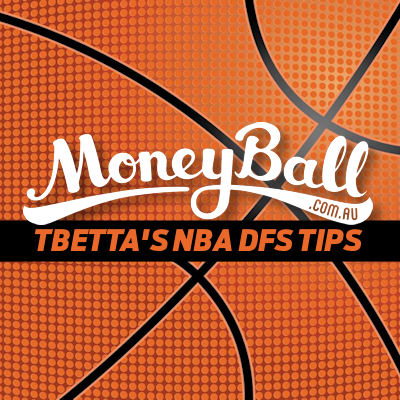 G'day Moneyballers! If you were here for the AFL season, this article will need no introduction. If you're tuning in for the NBA action, welcome to your first port of call for your DFS tips this summer! Before we get into the good oil, a quick reminder that Moneyball have adjusted their scoring system this year:
Some of the featured contests for the big Thursday slate this week:
Playing is easy, you can sign up here and play in minutes! Now that we've taken care of the housecleaning, let's get into the good stuff – the tips!
Goran Dragic ($7,000 MIA)
As we progress through the NBA season, we develop a few rules as shortcuts to who might provide value based on their opposition. Picking guards against Phoenix is like Steph Curry taking an open three – you basically count it before it rattles home. Dragic has been ordinary at times this season, but a closer look at his numbers shows that he essentially scores whatever the opposition allows him to.
His last two games were duds, managing just 26.8 MB against the Clippers (a Beverley lock-down special) and 28.6 MB against the reigning World Champs. But previous to that, he pumped out 36 and 42.1 MB against soft opponents in Chicago and Denver. Dragic is a veteran of this league and as such, he takes what he's given and he rarely surprises. Look out for something like 20/4/7 with a couple of steals against the struggling Suns, especially if Phoenix can push the game deep into the 4th quarter.
Jeff Teague ($6,800 MIN)
Surrounded by stars, Teague's efforts often get lost in the shadow of the clutch Butler, the dashing Wiggins and the efficient Towns. While he might be the 4th banana on this team, he's found himself in an excellent spot in fantasyland.
Teague's capitalising on his talented teammates, dishing out 9 or more assists in 5-straight games to go with a bevvy of treys and swipes. Most importantly, he's the clear #1 ball-handler on this team, and as a result he hasn't played below 34 minutes in his last five. Teague walks into a tough matchup against the Warriors but with guaranteed heavy minutes and both teams playing at a healthy pace, I'm backing Jeff to return 5X value or better here.
Darren Collison ($5,600 IND)
Collison is your classic "go big or go home" type play, and one you should be reserving for the Thursday Swish Special based on his wildly inconsistent production with relatively stable minutes. He's churned out some big fantasy games this year, hitting 39 MB or better on four occasions already, but he's also littered turds of 8 and 11.9 MB in there along the way.
Up against capable defenders in Jackson and Bradley, coming off a back-to-back, Collison is a risk. But he's also got huge upside and has featured in a lot of GPP-winning line-ups already this year.
Victor Oladipo ($7,500 IND)
In this article a fortnight ago, I said that Oladipo wouldn't cheap for long… And despite averaging 25/4/4 for his 39 MB in his last eight starts, he only been bumped up $400. I'm still smashing him through my line-ups every time Indiana suit up, because his heavy usage (ranked 11th in the league this season) and minutes (32.5 per game) is keeping his basement healthy while boosting his ceiling greatly.
I was initially worried about Myles Turner's return cutting into some of his fantasy value, but that hasn't eventuated with Oladipo still ticking along at 35 MB per game since the Pacers' franchise player returned from the concussion protocol. Oladipo is a statistical machine and he's simply too tempting at this continued low price.
Tim Hardaway Jnr ($5,800 NYK)
I had this to say about Hardaway Jnr last week; "we always knew that the 27% shooting and 1.5 assists trajectories were going to improve at some point", and despite the dearer price-tag, my thoughts on TJH remain the same. Since those horrid first few games, Timmy has shot a career-best 46% whilst adding more than double the amount of assists with 3.7 per game. He's on a roll right now, and he's churning out 6X value over his last six based on his swelling price.
Avery Bradley ($5,500 DET)
While he's prone to the occasional dud, Bradley is really starting to work back towards the kind of production he enjoyed over his final months as a Celtic in his new home at Detroit (minus those gaudy rebound numbers, of course). His exposure has stabilised around 33 minutes and that consistency has resulted in a similar stabilisation of his fantasy output – Avery has scored 31 MB or better in five of his past six outings. Do I love it? Not really. But the options beneath his price level are trash-tier, so I'll be soaking up Bradley's safety at this modest price-tag.
Kevin Durant ($10,500 GSW)
This should be like selling ice cold water to a ravager from Mad Max, such is the dominance of Durant in fantasy hoops – and he's not even trying yet. He's only failed to hit 40 once from 11 games, clearing 50 on 4 occasions as he serves as the haymaker behind your DFS line-ups.
KD's the highest-averaging player on the slate, has the strongest form, sits there as the most expensive – and I wouldn't surprised if he ends up being the most selected player once Thursday's action kicks off. Make sure you're with the crowd on this one; Minnesota are a threat and the Warriors may need to actually try in this one.
Evan Fournier ($7,300 ORL)
Before the 11.8 MB choke against Boston (the hardest team to score fantasy points against so far this year) Fournier was sizzling with 36 MB per game for the season. There are only 3 players in the league that are burying at least 2.7 triples a game on 47% shooting, and Fournier is the only one supplementing that with a significant assist rate at 3.5 per game. Realistically, he's a great option most nights with the importance he holds to this young Orlando squad.
But against New York on Thursday, what can we expect? A lot depends on the fortunes of Lord Elfrid Payton, who's missed the previous 8 games with a hamstring complaint. With DJ Augustin also out with a similar ailment, Fournier might see increased minutes and usage as a guard, where he can be expected to increase his assist and steals rate (but at a cost to his efficiency). Regardless, New York are held together defensively by Porzingis and not much else, and as good as the gangly star is, he can't guard all 5 positions at once. I'm expecting a big shooting night from the man whose surname you really should not google.
TJ Warren ($6,200 PHX)
Taking out his recent concussion game and the limited return game, Warren has been lights-out with his shooting and the rest of the stats are falling in line as a result. Since his explosion against the Jazz, TJ is pumping out 41.4 MB per game in just 30 minutes of action. His play has been unbelievable lately, almost to the point that I'd be prioritising Warren over even Booker, who has to deal with the double-teams and defensive assignments that "Franchise Player" status brings.
What's scary is that there's still so much growth left in him. TJ should be playing 31-33 minutes per game based on his form lately, but he's also averaging just 13% on 0.18 treys per game. If he can realign that with his career trajectory of 0.5 makes on 33% shooting, that's going to go a long way to not only adding more fantasy points to his daily hauls, but freeing up the driving lane once he establishes himself as a three-point threat.
Kristaps Porzingis ($9,700 NYK)
You almost have to include Porzingis in your line-up whenever he's on the slate because he's just so damn watchable on this Knicks team. Obviously captivation isn't a concrete fantasy stat, so maybe his season average of 46 MB speaks to you on an analytical level? Porzingis is a beast every time he runs out onto the floor, and I wouldn't be worried about him coming off a back-to-back given that he produced a 53.4-point gem against Denver the last time he backed up. Orlando will have their hands full here.
James Johnson ($6,400 MIA)
With his ability to contribute in every statistical category, Jimmy Johnson is a great play on any given night, but he's especially tempting this Thursday. We all know the kinds of numbers that Phoenix give up, and Miami are shaky enough that this game could easily remain close deep into crunch time, keeping the Miami starters engaged.
Another angle to consider is what's happening between Hassan Whiteside ($8,700 C) and the coaching staff in Miami. Young Whiteside was frustrated by the Warriors on Tuesday, and after his attitude degenerated into sulking and scowling, he was further limited by the coaching staff as he was benched from just 2 minutes into the 3rd period. If Hassan finds himself in the naughty corner again on Thursday, expect Johnson to soak up a few extra big-man minutes and capitalise on his 1.12 MB/min trajectory.
Kyle Kuzma ($5,600 LAL)
Larry Nance Jnr's hand injury has left the lane to unlimited minutes wide open for Kuzma and, so far, he's building on the promise he'd shown over the pre-season where he was seeing a similar kind of exposure. In the two games since Larry went down, the Kooz has averaged 38.5 minutes, 12.5 rebounds and 17 points on 65% shooting. A rookie match-up with the defensively underrated Jayson Tatum ($5,800 PF, also worth looking at) will be a talking point in this game and Kuzma hasn't looked like the kind of dude who's afraid of a challenge. Get him in.

Karl-Anthony Towns ($9,800 MIN)
After shitting the bed for 13 MB against a Brow/Boogie double-team a week ago, KAT's price has been reduced below five figures and he now finds himself in the opposite situation to coming up against a New Orleans roadblock – facing the Warriors' front-court, who amongst the top 3 for fantasy points conceded to opposition Centres.
KAT has an excellent record against the Warriors, especially last year across 4 games where he averaged 22 points, 10.5 rebounds, 1 steal, 1.25 blocks on 55% shooting. Don't be worried about Golden State's dominance affecting Towns; he's in a great spot in fantasy and you need to have shares of him Thursday if you can find the cash.
Al Horford ($7,500 BOS)
There are only two Centres in the league averaging at least 4.5 assists and 1.5 treys – DeMarcus Cousins and the versatile Horford. Big Al is a huge reason behind Boston's league-leading record, producing under-the-radar numbers across the board which ultimately stack up to make him a fantasy stud.
The combined defense from Lopez, Randle and Kuzma is laughable, which leaves Horford wide open to make a bigger offensive impact on top of his normal production. Marc Gasol is fresh off a 15/10/7 against the Lakers and I'd be expecting something very similar from Horford – who's cut from the same cloth in terms of statistical profile – on Thursday.
Brook Lopez ($6,000 LAL)
As mentioned a few times throughout this article, Boston is a tough match-up, but Lopez is simply too cheap to ignore now that he's earning a big chunk of Nance's absentee minutes. Like Kuzma, Lopez has stepped up over these past two games with the extra burn and produced scores of 55 and 35.7 MB. The only reason why Brook is this cheap is because the Lakers were limiting his minutes in favour of the younger crew (Lopez's one-year deal on a rebuilding squad should have been a big hint), but now he's forced into 30 minutes a game and that pushes him back into the fantasy sweet spot. He's currently looking at 7X value or better in the short-term future.
Always remember to gamble responsibly. If you're having problems with your betting, you can get help at Lifeline or talk to someone at Gambling Help Online.