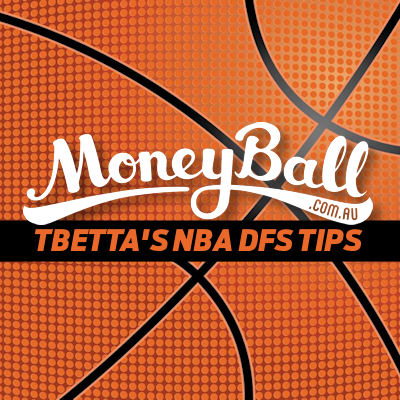 G'day Moneyballers! If you were here for the AFL season, this article will need no introduction. If you're tuning in for the NBA action, welcome to your first port of call for your DFS tips this summer! Before we get into the good oil, a quick reminder that Moneyball have adjusted their scoring system this year:
Some of the featured contests for the big Thursday slate this week:
Playing is easy, you can sign up here and play in minutes! Now that we've taken care of the housecleaning, let's get into the good stuff – the tips!
Kyrie Irving ($8,200 BOS)
For a player of his calibre, Irving struggled for a lot of the first week or so of the NBA season. As the lead act in a new offense on a new team, chemistry issues were always going to arise before being solved with time; the Hayward injury was a huge cog in the works that forced Kyrie to relearn whatever new processes he'd formed during a single pre-season in Boston. But he's turning the corner now, and fast.
Boston has now won 5 straight and Irving is cooking as a result, producing scores of 45.3, 43.3 and 45.6 in his last few. He's poured in exactly 24 points in each of these games, and honestly, that should be his baseline heading forward. Sacramento are an absolute basket-case and with no one to guard a usage-heavy Kyrie (Hill's minutes are trending towards irrelevance) on Thursday, I'm expecting him to tickle 50 MB points and a healthy 6X value.
Jamal Murray ($4,700 DEN)
Like Irving, Murray is another prime example of how we can capitalise on reduced prices after a shaky start to the year. The Blue Arrow averaged just 16 MB over his first five games, with his poor play in resulting in less minutes and in turn, reduced minutes ultimately producing lesser fantasy scores. Such is the cycle of mediocrity.
Fortunately, talented players find a way to work through slumps and Murray has bounced back exquisitely with 39.7 and 27.6 in roughly 32 minutes a game since that rough start to the year. And he can improve even more; there's literally no chance that Jamal will continue to shoot 18% from deep or dish out just 3 assists per game with his proper allotment of minutes. Jump on while he's still cheap.
Jarrett Jack ($4,200 NYK)
At some point, every year, Jack finds a way to infiltrate a starting line-up and give the coaching staff something to think about long-term. Frank Ntilikina is the PG of the future for the Knicks but he's not ready yet, and Ramon Sessions simply wasn't getting the job done over the first few games of the year.
Insert Jarrett Jack, and what do you know? He's produced 19 assists over the past two starts, logging 33 minutes per game and just generally sparking the Knicks offense. It looks like New York are going to run with a Jack/Lee guard duo with Frank Nicotine picking up the scraps, which means that Jarrett and his weirdly-shaped noggin will be producing 6X value or better for the foreseeable future.
Bradley Beal ($7,600 PHX)
The big question here is whether or not Phoenix can push the Wizards into the fourth quarter, particularly on the second night of a back-to-back. If so, Beal is a hot chance to capitalise on Phoenix's league-leading concessions to opposition SG's, especially if the game gets anywhere close to the 225.5 Vegas line.
He'll be slightly under-owned too due to his recent scores of 12.6 and 23.6 likely scaring off a fair chunk of the uneducated. The 12.6 was due to playing just 15 mins after a bit of naughtiness with Draymond Green and the subsequent ejection, and he wasn't required to fire against Sacramento in a 27-point blowout for his latest ordinary offering. I love him here.
Victor Oladipo ($7,900 IND)
The continued absence of Myles Turner makes Oladipo an automatic inclusion based on usage alone, where he's ranked 9th in the league at 31.5% – that's more than Westbrook, Wall, Davis, Curry and Irving. The Pacers are really relying on Victor for their offense, and he's producing the goods so far with a career-high 25.5 points per game on 50% shooting (with hefty counting stat totals to match).
Cleveland as an opponent makes it just that much tastier, amazingly ranking 3rd last in defensive efficiency this year. Oladipo's hitting 40 MB this Thursday, provided he can keep his fouling in order.
Tim Hardaway Jnr ($4,300 NYK)
Continuing on from the Irving and Murray bounce-back narrative is a highly discounted THJ after his disgusting start. Over the first four games of the year, he was ticking along at just 12.6 MB despite earning a healthy 32 minutes of exposure in those games. Of course, we always knew that the 27% shooting and 1.5 assists trajectories were going to improve at some point; it was just a matter of whether that came before the minutes dried up or after.
Cue a shot of adrenaline straight to Hardaway Jnr's jugular in the form of Cleveland's dismal defence, and things are back on track with scores of 55.8 and 29.3 in his last couple as his numbers stabilise. Hardaway is an excellent candidate as he remains New York's secondary scoring option behind a rampaging Porzingis, with a baseline of 5X value for Thursday and the potential to dramatically exceed that.
LeBron James ($11,300 CLE)
He catches a Turner-less Indiana on a back-to-back with Cleveland's reputation on the line and shortly following the news of a Cavaliers "air-it-out" meeting – this has all the hallmarks of a classic herculean LeBron-athon effort and, of course, the bevvy of fantasy points that comes with it. Unfortunately, as much as they'd like to limit James' minutes and on-court ball dominance, Cleveland's 3-4 record basically guarantees that we're going to see LeBron do a lot of heavy lifting until the team stabilises in both record and chemistry.
If I were a betting man (and I am), I'd give LBJ unbackable odds of hitting 60 MB on Thursday. LeBron is one of the few players in this league that can bend an entire game of basketball to his will, and the stakes are too high in this one with his sterling reputation on the line.
Kelly Oubre Jnr ($5,300 WAS)
Minutes are the single most important entity in DFS and Oubre has been seated at a clock buffet to start the year, probably more than anyone expected. With 35+ minutes against the league's biggest defensive joke in Phoenix, there's a big chance Oubre can catch fire and replicate his 38.6 against Philly or his 39.6 against the Warriors already this season.
As mentioned with Beal earlier, blow-out minute reduction is a serious concern as KOJ's recent 27-minute outlier against the Kings proves. Utilise Oubre in tournament contests only in the hope that the game manifests in such a way that you can cash in on his 7X upside.
Jonathon Simmons ($4,200 ORL)
I was very close to covering the streaky Bojan Bogdanovic ($3,800 IND) here but Simmons' last two games, coupled with his blistering pre-season form, was too good to pass up from a quality perspective.
Isaac's illness opened up 32 minutes for Simmons against Charlotte and he responded with 27 points and 3 steals and his continued to build momentum with a bench-high 29 minutes for his 20/6/4 against the Pelicans with everyone active. He's playing himself into some serious court time, and the fact that he's shot over .500 in all but one game this year is a great foundation that I'm sure the Magic want to capitalise on moving forward. Simmons is amazing value here, especially if his minutes stay above 25 even when foul trouble and health issues stay away from his teammates.
Anthony Davis ($11,700 NOP)
With Anthony Davis, there are only two possibilities.
Scenario 1: He gets injured. Unfortunately, that's a realistic chance anytime AD gets out of bed in the morning, and it's already hurt us in DFS this year with a knee injury causing him to miss a game after producing just 6.2 MB in 5 minutes. This scenario is very, very bad for Davis (and I'm digressing here, but it's very, very good for Cousins as most of us would know already) owners.
Scenario 2: He doesn't get injured. In the last four times he's run out a full game, Davis' scores have looked like so: 65.7, 66.9, 64.8 and 61. If Scenario 2 eventuates, against a centre who plays limited defence in Towns, you almost can't win a GPP without him. The choice is yours.
Kristaps Porzingis ($8,900 NYK)
I talked earlier about how Hardaway is the second option on offense for the Knicks but that's technically not true – it's daylight. Porzingis is so far and away the centrepiece of this team that he's posting a league-leading 35.1 usage rate this year, meaning that he's DFS gold on any night where his shooting remains remotely acceptable.
Houston's a soft match up for him (Capella's defense is strong at the rim, but he can't defend stretch 4's and shooting 5's) and with a Vegas O/U of 213, the buckets will be flowing. Kristaps has pumped out 52.8, 52.4 and 53.4 Moneyball points in his last three and I see no reason why this purple patch of production will pause for Porzingis on Thursday.
Damontis Sabonis ($4,900 IND)
Another game without Myles Turner is another day of guaranteed value for Sabonis owners who've essentially witnessed a player blossoming before their eyes over the last fortnight. Not including his illness-affected 19-minute outing recently, Sabonis has averaged an impressive 37.8 MB from just 28 minutes as the Pacers' starting Centre. That's incredible production from a guy who just does the basics well – he's pulled down double-digit boards in all those games while shooting at a highly efficient clip. Lock him in.

Joel Embiid ($8,000 PHI)
By this point, we all know what we're going to get out of Embiid. He's going to push for high 20's in minutes (health and fouls permitting), he's going to have a fat usage for all of those minutes and he's going to rack up turnovers doing so.
What we haven't seen is what Embiid will do against an Atlanta side that concedes the most points of any team to opposition Centres, and Joel is possibly the most talented prototypical big man in the league. What's Atlanta going to do if Brett Brown opts to feed Embiid isolation plays over and over? Dedmon can't stop him, and don't even make me laugh by suggesting Mike Muscala as a possible defensive match-up. I think this is Embiid's best chance to truly dominate so far and to ultimately push for his first 50-point outing of the season.
Dwight Howard ($7,800 CHA)
Speaking of prototypical big men, can we put our hands together for the revival of Dwight's career against all odds in Charlotte? Yes, we're fresh off his 11.4 MB stumble against Marc Gasol's Grizzlies but we have to treat that as an outlier to the 39 MB he's been carving out per game in powder blue previously.
In fact, the last time Dwight Howard shot as poorly as the 1-for-9 against Memphis was in his 25th ever game in his rookie season. I think it's safe to say he's going to bounce back tomorrow, and I recommend being one of the contrarians who stay on the Dwight flight rather than disembarking after experiencing a little turbulence. Milwaukee are horrible at defending the 5, so Howard should be back to pushing 6X value again tomorrow with something like 20/14 to go with his 2 swats.
Alex Len ($4,400 PHX)
With each outing, Phoenix's endgame of tanking for picks becomes closer and clearer, and we're already seeing Chandler's minutes trend down while Len – their Centre of the future – earns more clock each night. In fact, Len is pumping out exactly 1 MB/min over his past five games, underlined by his huge 15-rebound game against the Nets.
The risk in picking Alex is quite low, given that his production is tied so closely to his exposure. I wouldn't expect too much more than a 30 MB explosion until he beefs up his blocking rate to match previous seasons' efforts, but he isn't going under 20 MB either. Pick him as salary relief if you don't plan on following the pack and with the premium Centre options.
Always remember to gamble responsibly. If you're having problems with your betting, you can get help at Lifeline or talk to someone at Gambling Help Online.