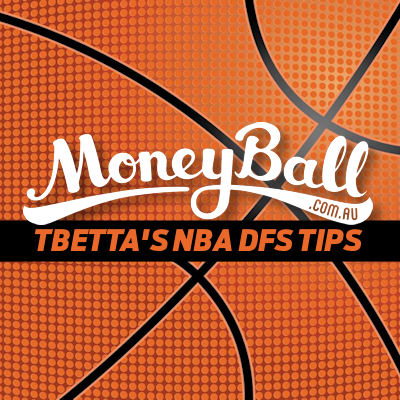 G'day Moneyballers! If you were here for the AFL season, this article will need no introduction. If you're tuning in for the NBA action, welcome to your first port of call for your DFS tips this summer! Before we get into the good oil, a quick reminder that Moneyball have adjusted their scoring system this year:
Some of the featured contests for the big Thursday slate this week:
Playing is easy, you can sign up here and play in minutes! Now that we've taken care of the housecleaning, let's get into the good stuff – the tips!
John Wall ($10,300 WAS)
I said it last week and I'll say it again: you need a high-usage PG if you want to compete for the big placings on a standard night, and that'll be especially true once these bargain guard prices start to dry up as the season progresses. John Wall is a strong play on any given night –  he's produced a lowest score of 45.2 this year – but his ceiling really ramps up against a Lakers outfit that has conceded more fantasy points per game than any other team this season.
I'm fully expecting a stat line in the neighbourhood of 30 pts, 10 ast and 3+ in the steals and blocks categories combined – the only real concern with Wall here is the blowout potential and reduced 4th-quarter minutes.
Mike Conley ($7,900 MEM)
Contrarian plays, when they hit, are an excellent way to shoot towards the top of the leaderboard rather than relying on layering the correct combination of the highly popular value options. While most will go with Wall or scroll straight down to the cheapies, you could be one of the <5% of coaches who'll take Conley after his 21.9 stumble against the Warriors and the equally disappointing 24.6 versus Houston.
There's a few things working her for Mick besides his inevitably low ownership; he's more affordable after dropping $500 since the beginning of the season, but most importantly, he runs into Dallas' backcourt. Schroder (44.9), Harden (44.1) and Curry (49.4) have already creamed them so far this year, and now it's Conley's turn to hit the 40-point mark and return that 5-6x value we need from a POD pick in that price range.
Lonzo Ball ($6,200 LAL)
Ball will always be highly owned; whether it's his hot form, or just coasting on the hype borne from his daddy's motor-mouth, the DFS coaches will always show up for Lonzo. If you're looking to make a profit in this gig though, it'll just be a choice of whether to chase his upside (he's coming off 35.1 and 54.7 MB totals), or to fade him against tough opposition. While Wall has a reputation of being a good defender for a PG, that actually doesn't stack up from a fantasy perspective based on this season.
The Vegas over/under for this game is a whopping 230, so even if Wall stifles him slightly, there's still going to be so many possessions for Ball to work with. Expect him to play his 35+ minutes and once again flirt with a triple-double, provided it remains a reasonably tight affair.
James Harden ($11,300 HOU)
For as long as Chris Paul is out, Harden will be a prime candidate for your Guns 'n' Rookies themed line-ups because sooner or later, he's going to crack that 50-point barrier – which he did in 63 of 93 tries last season. I can't think of a better time for him to start than up against a young Phila squad, against whom he pumped out scores of 55.9 and 90.1 MB last season.
Victor Oladipo ($7,100 IND)
First game – limited by foul trouble. Second game – limited by poor shooting. But in his third game, he finally put it all together against Miami with 53.3 MB and backed that up on Wednesday with a solid 38.1. With Myles Turner due to a lingering concussion, Oladipo is forced to soak up a lot of offensive responsibility and fortunately he's the type of player that sucks up minutes and spits out counting stats with ease. He won't be this cheap for long.
Allen Crabbe ($4,000 BKN) & Caris LeVert ($4,500 BKN)
Lin's replacements are well worth looking at, given how Brooklyn are playing at a league penultimate pace so far this year. Both have topped 30 points already this season, and a lot of their value comes from getting on a hot shooting streak and edging out the other guy for exposure. Both will have their chance for minutes here, and it just comes down to whoever you think will catch fire.
Kevin Durant ($10,200 GSW)
If you're not going cheap with value SF's, you need to go directly to the big reliable candidates with a healthy match-up capable of letting them hit their ceilings – that list is pretty much Giannis, LeBron and the focus of this paragraph in Durant. With a lowest score of 44.6 in last three, the cashola you throw his way will never punish you if he fails to ignite, or simply if the Warriors blow them out of the water and he ends up sitting. That's a hugely important consideration for cash games, and his epic ceiling makes him a strong GPP play on any given slate.
The big question is, can Toronto actually push GSW to the final buzzer? Vegas seems to think not, setting the line at 14 points. Durant averaged 52.9 MB in games that went over 33 mins last season, compared to just 42.6 in games where he had the extra rest.
Tobias Harris ($6,800 DET)
Toby will be lowly owned in this after scoring 14.8 last game vs Philly, as most DFS punters have short memories when it comes to being burnt while their cheddar is on the line. This is a perfect opportunity to push back against that trend, especially as a large factor in that spud score was the elite wing defense from Bob Cov. Who's going to shut down Harris here – Wiggins? An under-the-weather Butler, if he even plays? I'm expecting something closer to his output over the previous 3 games where he was travelling at a clip of 35.1 MB and shooting pure flames.
DeMarre Carroll ($4,100 BKN)
Carroll is the perfectly shaped puzzle piece that you can just always plug into any hole in your line-up and feel safe about. He's got a healthy basement, playing exactly 27 minutes each night so far this year. His production in that time has also been following a very tight script with scores of 34.6, 33.6 and 33.2 in his most recent outings. Demarre is as reliable as they come.
LaMarcus Aldridge ($8,800 SAS)
No Kawhi again on Thursday means that Aldridge's dramatically increased usage (he ranks #11 in usage-minutes this year) will continue for another game, giving him a natural discount at $8.8k. The Spurs are methodical in their processes (minute allocations, offensive focus, line-ups etc), making Aldridge another great one-size-fits-all play in the PF slot.
I know for me personally, it's hard not to soak up the value from LA given that he's averaging the equal-most of all power forward on this slate at 45.5 per game… Especially with Whiteside and his oppressive defense out for Miami once more.
Otto Porter ($6,900 WSH)
Otto has been super hot with 57.3 and 47.5 in his past two, even earning shiny new PF status as he shifts up from small forward in the absence of Jason Smith of late. As I mentioned earlier in Wall's spiel, the Lakers are one of the softest match-ups in the league and Porter should be your first picked in any stacks you create in an attempt to cash in on that insane Vegas O/U of 230.
Marquese Chriss ($3,800 PHX)
With the firing of Head Coach Earl Watson, Chriss instantly went from a cameo in the rotation (he'd earned a maximum of 18 mins and 21.7 MB over the previous three games), to a key cog in the Phoenix youth machine with 29 mins and 34.7 MB points. Utah is a very difficult team for DFS and I normally advise radioactive-level avoidance, but Chriss is a) a player who derives a lot of his value from defense (blocks, steals, some rebounds) rather than offense, and b) so damn cheap at $3.8k that the risk is mitigated greatly anyway.

Joel Embiid ($8,500 HOU)
Embiid has been a fantasy stud so far and the scary thing is that his scores and minutes have improved in every game this year! He comes up against Houston on Thursday, who have literally no one who can defend the C position in the post – let alone a dominant and savvy beast like Embiid who can score from anywhere inside 22 feet. This could get messy if he reaches 28+ mins, and there's no reason (back-to-back's, soreness etc) to assume he won't. I'm predicting the Process will continue tomorrow in a similar fashion to his last game against Houston, where he posted numbers of 32 pts, 7 reb, 4 ast, 2 stl, 3 blk and a tasty 56.4 MB.
Steven Adams ($5,500 OKC)
Adams' scores this year read like so: 42.5, 14 and 44.1. If the 14 sticks out to you, it probably does to other punters too and they'll look elsewhere due to concerns about his basement.
What they won't consider is that it was against Utah, which is basically the death match-up for centres against the stingy Gobert. In my eyes, he's essentially averaging 43 this year and comes up against a Myles Turner-less Indiana on Thursday. He's way underpriced.
Jakob Poeltl ($4,500 TOR)
Simply lock him in with Jonas Valanciunas out, and for those who put in multiple entries, I wouldn't be against having a 100% exposure on Poeltl. He's yet another big guy in the NBA who simply needs minutes to return value, as his scores of 30 and 34.4 MB since Jonas went down suggest. Incredibly, those scores came in an average of just 20 minutes – he should push high 20's on Thursday morning with Valanciunas out and Nogueira also in doubt with an ankle issue.
Always remember to gamble responsibly. If you're having problems with your betting, you can get help at Lifeline or talk to someone at Gambling Help Online.