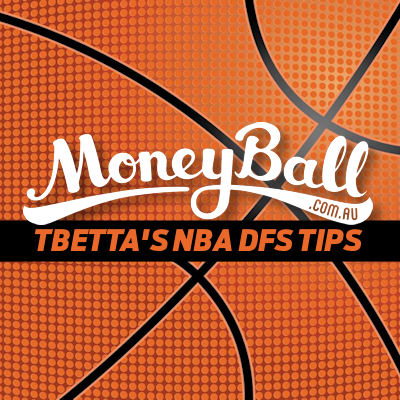 G'day Moneyballers! If you were here for the AFL season, this article will need no introduction. If you're tuning in for the NBA action, welcome to your first port of call for your DFS tips this summer! Given that's we've come off the long off-season break, this article is a little longer than usual – I just couldn't keep all the info to myself.
Before we get into the good oil, a quick reminder that Moneyball have adjusted their scoring system this year:
Some of the featured contests for the big Thursday slate this week:
Playing is easy, you can sign up here and play in minutes! Now that we've taken care of the housecleaning, let's get into the good stuff – the tips!
Damian Lillard ($10,100 POR)
Phoenix – a team hardly known for their intense defensive system – is a soft match-up for Lillard that paid dividends last year, resulting most recently in point totals of 38, 39 and 31 last season. That's always nice, but the most tempting aspect of this selection is the 1 game suspension of CJ McCollum for his role in a pre-season brawl, meaning that the remaining half of Portland's star backcourt duo will be flying solo for their opening night.
Lillard increased his Moneyball output per minute from 1.11 to 1.28 without CJ on the court last season, and I expect he'll ramp up his output similarly on Thursday on the back of the boosted usage alone.
Ricky Rubio ($8,000 UTA)
I always recommend taking a Premium point guard in DFS, because given they get the ball in their hands every single possession they're on the court for, there's a high chance that play ends in a bucket or an assist and therefor precious Moneyball points. Rubio has been a pass-first PG ever since he came into the league, but his pre-season on his new team at Utah has been intriguing. Completely contrary to his normal stat set, his last two pre-season games were both 20-point efforts, and he even went assist-less in one of those.
To me, that's a more aggressive Rubio than we ever saw at Minnesota and that'll result in more Moneyball points – especially as poor percentages (shooting isn't Rubio's strong suit) doesn't hurt you in this particular scoring system. On top of that, Denver gave up the most points to PG's last season and with essentially the same troops in their backcourt, I expect that trend to hold true for the foreseeable future.
Dennis Schroder ($7,100 ATL)
Atlanta was absolutely gutted in the off-season personnel-wise, and we're left with a rebuilding mess that'll lean heavily on their talented point guard. We've already seen that this pre-season with Schroder notching the 3rd highest usage rate of all candidates; huge numbers for a PG given that their assists (and assist attempts) don't factor in.
Schroder will have the green light to shoot whenever he wants, because there's simply no one else on that roster worth dishing the ball to. That's great news for us – we only care about the attempts that go in because there's no punishment for the many shots that he'll inevitably brick as the only guardable Hawk. 20 points, 5 assists and 2 steals is the benchmark on any given night for Dennis and he should produce 5X value at a minimum until his price adjusts.
James Harden ($10,500 HOU)
We often fade out players who played the previous day for obvious reasons – less rest, chance their coach limits their minutes, etc. But given that Harden performed equally well in back-to-back sets as games with plenty of rest last season whilst running at 36.4 minutes per game… I think we're good with Jimmy.
The other concern is how the addition of Chris Paul will affect him, and that's a legitimate worry. It was owning the ball-handling duties that turned Harden from a fantasy stud into a DFS beast and a must-roster player at times last year. CP3 will obviously limit that dominance in the 15 minutes or so when they're staggered into minutes alongside each other. Of course, Harden did just lead the league in assists with 10.2 this pre-season, so he seems to be coping well. The Beard will be massive again this year, but you might just have to be a little more selective with when you pay up for him. Sacramento is a tick for me.
Victor Oladipo ($6,100 IND)
It'll be a welcome change for Oladipo this year, transitioning from Westbrook's shadow into a big dog in Indianna – something more akin to his role on a young Orlando team a couple of seasons ago where he averaged an extra 5 MB points an outing.
Oladipo's been stuffing the statsheet so far in the pre-season on a per-minute basis, with strong numbers in the Steals and Treys categories especially. That's got him ticking along at 1.21 MB/min, up massively from the modest 0.83 he managed as a Thunder player. I'm expecting 6X value from Oladipo to start the year with a strong opening night especially, as their opponent in Brooklyn conceded the equal-most points to SG's last season.
Joe Ingles ($4,200 UTA)
It could be my Aussie bias shining through here, but Ingles is worth looking at closely in GPP's all year. First and foremost, he's going to win big minutes on this team, given how thin Utah are on the wings. This'll be especially true if they need his defensive talents on the court for particular match-ups. Steals are now worth 3 MB points this year, and Ingles was averaging a gaudy 2.0 per game to end last season.
However, the big hope is that he hits paydirt by raining down a barrage of triples. Ingles averaged 24.6 MB points over the 39 games where he hit multiple treys last season, which is good for almost 6X value based on his current price-tag. But what if he hits 4 of them? He's looking at 30MB minimum, and that's the kind of upside you need to shoot for with your cheapies in tournament play.
Jimmy Butler ($9,600 MIN)
The band's back together! Coach Tom Thibodeau gets his golden goose over to Minnesota, where you know he'll go back to the well again and again. Thibs is well known for flogging his horses with huge minute loads, starting with Luol Deng all those years ago at Chicago and culminating in Butler's 38.7 mins per game just two seasons ago – a league-wide high.
One could take a very simplistic view with Butler given his personal growth these past two seasons; taking last year's Moneyball scoring rate and combining it with his huge minute load from the 2014-2015 campaign, and we're looking at a 46 MB average this year. Of course, how he meshes with new teammates like Teague, Wiggins and Anthony-Towns will be the big question. Given that it's opening night for the Wolves and we don't have any reliable data to draw conclusions off, I'll be basing my decisions on what we do know – the extra minutes that'll be there for Butler.
Taurean Prince ($4,500 ATL)
Atlanta turbo-charged their rebuild with the departures of forwards in Millsap, Hardaway Jnr and Sefolosha over the off-season, thrusting Prince into an immediate 30 mpg situation. He's still just a sophomore, so he's learning on the fly and inconsistency will be there, hence why I'd limit him to a GPP focus.
If Prince can build off the momentum of averaging 21.5 MB in 29 mins over the last third of his rookie season, then you're looking at a bargain for someone who should be pushing 25 MB each night with his continued exposure and natural improvement over the break.
Josh Richardson ($4,500 MIA)
Another late-year stud for an identical price is the unassuming Richardson, who looks to have locked up a starting role for the Heat with Winslow expecting to begin the year as his back-up. His final 14 games of last season make for enjoyable reading, a purple patch where he averaged 1.9 treys, 1.7 steals and 1.5 blocks a game. Those are unparalleled numbers. Richardson is probably the best young 3-and-D player in the league, and hence he'll see 30 minutes a night again this year, health permitting.
Anthony Davis ($10,800 NOP)
Remember his start to last season? You can't bring down a GPP if you don't have the guy netting an opening night 99.5; likewise when he backed that up with a 81-point performance. While I don't buy into the theory that some players have better opening nights than others (health, opponent and teammates are way bigger influences year to year, in my opinion), there's no doubt that you should be looking at Davis for his monstrous ceiling each and every night.
Worried about DeMarcus? Don't be. Davis averaged 1.49 MB/min without him last year, and 1.48 MB per minute once Boogie joined the team. The bigger issue is a stingey Memphis defence, which conceded the least points to Centres last season. However, the Grizzlies' 'pace' was up big time this pre-season, and if that's here to stay, we'll see a lot more possessions and the Moneyball points that come with it. Not a huge concern for me anyway – Davis is often the exception to the rule in so many ways.
Ben Simmons ($5,500 PHI)
Despite being a rookie essentially, Simmons has earned a bump in price based on reputation… And he still might be value if his pre-season was anything to judge by! Moneyball is the perfect platform for Simmons to excel – his ability to collect volume stats is rare, and his shooting woes go unpunished in this scoring system.
Philadelphia wrapped their young stars in cotton wool this pre-season, but Simmons still found a way to shine through with a hefty 1.38 MB/min across five games. He's fit, he's producing in every category (bar threes) and he can play PG or PF depending on what the 76ers need at any given time. Expect Simmons to be highly owned.
Aaron Gordon ($5,200 ORL)
After a big finish to last season (39 MB from 20pts, 9reb, 1.6stls, 34.5mins over the last eight games) Gordon sits organically discounted based on his best work. With his expected natural improvement and all the minutes he can handle this year, the sky's the limit for the Orlando forward.
Like Simmons, his pre-season has turned heads, going at 1.26 MB/min. If we extrapolate that to a cautious 30 minutes a night – which he should easily reach given the depth on the Magic roster – that's 38 MB per game. I'll be locking Gordon in my line-up for the first month until his price begins to reflect his realistic value.
Myles Turner ($6,400 IND)
Turner was one of the break-out young players last season, maintaining his excellent 'Per 36' numbers with the extra 10 mins per game as Paul George's foil last year. But PG has set sail for Oklahoma City over the break, which promotes Myles to the role of franchise player. He'll play as many minutes as his fouling rate allows, and he'll have the green light to take or create any shot he wants. It's Turner time in Indiana.
I particularly like him on Thursday as he comes up against the famously soft Brooklyn Nets. These guys were already a bottom-four team at defending the C position, and now they've lost Lopez on top of that! If Myles is aggressive, he'll reap the benefits.
Clint Capela ($6,200 HOU)
Having both Harden and CP3 throwing him lobs? Yes please. That's two of the best passers in the league spoon-feeding the athletic Capela, who showed last year that he fit in perfectly with D'Antoni's offense by poster career-highs of 12.6 ppg on 64% shooting. Very affordable option with a healthy ceiling given that he only needs to finish the stellar work of others on the offensive end, while producing solid defensive stats on the other end.
Kelly Olynyk ($4,400 MIA)
Olynyk's one of the riskier plays covered in this article, because a lot of his value rides on whether he earns a starting gig (or at least his fair share of the time pie) for the Heat on their opening night. The roles of Richardson, Winslow and Johnson are up in the air, as well as whether the Heat want to use Olynyk alongside Whiteside in some bigger line-ups, rather than just as his deputy.
I think his ceiling is worth the risk though. He looked excellent when starting throughout the pre-season, even producing a 41-point game from 30 minutes at one stage. Overall, he's been scoring at a tick over 1 MB/min this pre-season which is huge value at his price if it translates into the season proper.
Always remember to gamble responsibly. If you're having problems with your betting, you can get help at Lifeline or talk to someone at Gambling Help Online.