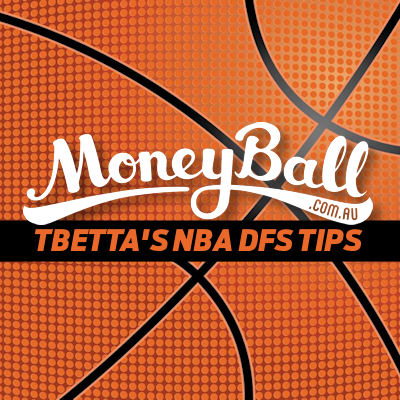 G'day Moneyballers! If you were here for the AFL season, this article will need no introduction. If you're tuning in for the NBA action, welcome to your first port of call for your DFS tips this summer! Before we get into the good oil, a quick reminder that Moneyball have adjusted their scoring system this year:
Playing is easy, you can sign up here and play in minutes! Now that we've taken care of the housecleaning, let's get into the good stuff – the tips!
• Mouse in the House?
Guards vs Orlando
Almost weekly – and probably literally due to the fact that Orlando doesn't play every Thursday – we look to capitalise on Orlando's inability to guard smaller foes. Ranked #1 for the season and still #2 over the past month for conceding fantasy goodness to guards, this is as clear as it gets and it's just a shame that James Harden won't be there to cash in.
This is where trends collide for someone like Chris Paul ($8,900 PG), and I'm tipping him to be one of the most highly-owned premium players on this slate. While he hasn't had the opportunity to run this Houston (read: D'Antoni) offense for an entire game thanks to The Beard's excellent durability, he's no stranger to being "The Man" as he was for so long in New Orleans and Los Angeles. He'll chow down on a whole bunch of vacated usage, he's coming up against a team that can't guard him, whilst leading the offense between two teams who feature in the top 8 for pace. This is a no-brainer.
PGs vs Utah
New Orleans are the 2nd ranked team for Assist Rate and run into the worst team at restricting opposition PG's, meaning that Rajon Rondo ($6,400 PG) simply has to be in your player pool. His minutes look like a heartbeat monitor lately (23, 30, 20, and then 34) and that's a slight concern, but in my opinion it's completely performance based. Rondo combined for 37 assists in those two recent games above 30 mins and he'll have every opportunity to feed his talented teammates without a decent defensive guard pressuring him and no Rudy Gobert to stifle his pass targets on the eventual shot attempt.
Additionally, Jrue Holiday ($7,700 SG) needs to be considered solely for his ceiling here, particularly if Alvin Gentry is uninspired by Rondo's efforts and keeps Jrue active for 38+ minutes as he's prone to doing.
Bigs vs LA Lakers
As the only side dish worthy of accompanying the three famous mains in fantasy for OKC, Steven Adams ($7,000 C) will receive the bulk of the boost that the Lakers gift opposition Centres (Ranked #1 over the past month). As we've mentioned in this article before, Lakers lead the league in combined steals & blocks conceded, so expect Adams to add a few tasty cash counters to his standard low-range double-double here. Reasonably priced at $7k in my opinion.
• Tasty Pacey
Houston vs Orlando (220 O/U)
Both of these teams love to shoot so anyone with a smooth stroke is worth looking at; such as Evan Fournier ($6,100 SG) for instance, having hit at least 3 treys in 5 of his past 9 starts. For the main part however, I'll be focusing the many Houston shooters. The Rockets rank #1 for Three-Pointers Attempted Per Game, and that synergises perfectly with Orlando's 29th rank in Opposition Field Goals Made Per Game. There's a lot of Harden's shots to go around here (he averages 10.6 trey attempts a night!) so there'll be plenty of value in guys like Eric Gordon ($5,800 SG), Trevor Ariza ($5,200 SF) and Ryan Anderson ($4,400 PF) if they can get hot.
Phoenix vs Denver (218 O/U)
You know the procedure; when Phoenix play on a big slate, you stack the opposite team and simply add Devin Booker ($8,000 SG) for his solo-carry upside. The Suns are ranked second-last for Defensive Efficiency this year and we've seen many tournaments taken down by line-ups with Phoenix-targeted stacks.
Thanks to a slow start to the year, Jamal Murray ($6,500 PG) is way too cheap to ignore now that's he's reaching his potential most nights, spitting out a 41.7 MB form line. Will Barton ($6,200 SG) murders much better defences of second units then what Phoenix even have in their first, so keep Will The Thrill towards the top end of your player pool. Nikola Jokic ($9,500 C) looks to have his head screwed on straight (well, straighter. And honestly, it looks slightly dented in places) with averages of 20/9/5 with 1.5 blocks and 1.2 threes since losing the minutes cap after his latest injury lay-off. He'll face no interior resistance here to speak of, so I love taking a punt on him at a healthy price.
• The Replacements
James Harden (hamstring, OUT)
It seems like I've covered every Rocket in this article, but I just couldn't leave anyone out with the Harden-free boost they'll all see on top of Orlando's shortcomings. In terms of direct beneficiaries, the aforementioned Chris Paul ($8,900 PG) soaks up most of the usage while Eric Gordon ($5,800 SG) gets the clock. Interestingly, in games where CP3 was missing this year, Gordon's minutes shot up 4 minutes a game and his Moneyball output improved by 38%, and I would argue that's analogous – if not underselling – the boost he'll see without the ball-focused Harden. It's been confirmed he'll start at Shooting Guard on Thursday.
If you're looking for a bargain, Gerald Green ($3,500 SF) has come out of nowhere for scores of 26.4 and 18.6 MB in modest exposure over the New Year, and looms as a big chance to earn extra burn while Jimmy nurses that sore hammy.
Jeff Teague (knee, OUT)
I love Tyus Jones ($6,400 PG) as a player but I just think that's too expensive for a player with such shallow usage. He has massive upside in his theft rate (averaging 3.33 since Teague went down) but unfortunately Moneyball have gone on the offensive with his price change here and sucked much of the value out of him.
Reggie Jackson (ankle, OUT)
Likewise with Ish Smith ($6,000 PG), a projected bump in minutes with Jackson missing has propelled Ish into the messy mid-priced $6k zone. While I love the fact that Smith is averaging 35 MB from 31 mins since RJ went down, I'm not loving that his price sits above that of the guy he's replacing (just $5,700). That's rough and doesn't sit well with me. Ish will definitely produce a double-digit assist game sooner rather than later, but are you willing to hedge $6,000 on it this Thursday with such a fat slate on offer?
Joel Embiid (hand, DTD)
While Embiid is doubtful with a swollen hand, you have to look at Ben Simmons ($8,700 PF) to lead this team in a tough match-up against the dour Spurs. The stats show that Simmons is much more aggressive when Embiid is off the court, with his usage shooting up from 20.5 to 27.6. Dario Saric ($6,500 PF) sees a similar spike, averaging a massive 40.4 MB in his last 4 games without Embiid in the side. In terms of direct beneficiaries, I think he's a much smarter pick for his reliability than the textbook Richaun Holmes ($4,000 C) plug-and-pray.
Always remember to gamble responsibly. If you're having problems with your betting, you can get help at Lifeline or talk to someone at Gambling Help Online.