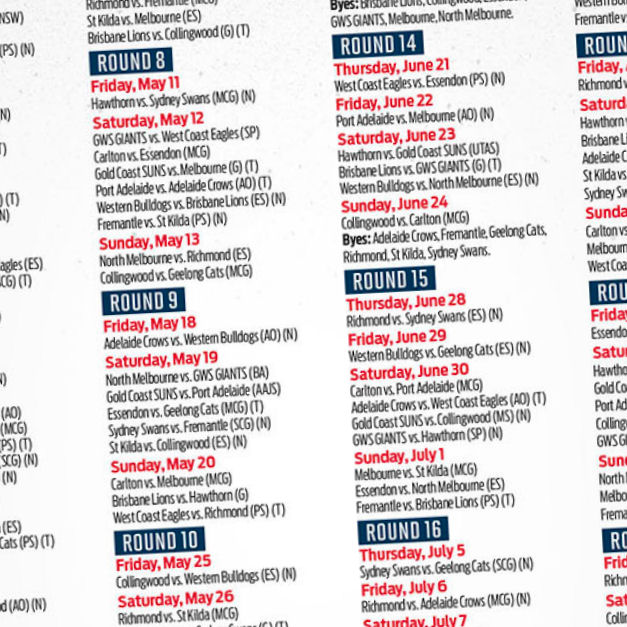 The AFL fixture for 2018 was released this morning following the release last week of the JLT Community Series games/dates which is ultra-important for our pre-season. As a Fantasy coach, the first things I looked at was the bye rounds and the Thursday night games where we'll get a double shot at the captaincy loophole (which I hate, for the record, but you have to take advantage of it when you get the chance).
Click here for the full fixture.
BYE ROUNDS
Not much has changed with the byes this year. Port Adelaide and Gold Coast will head to China in round nine meaning they'll have a bye in round 10; a week later than last year. This will once again be a standalone bye week for the two clubs. We will assume that the round 10 Power and Suns bye will see Fantasy Classic treated as normal with no rules to change with players out for that week. Strategy for this will mean premium Port Adelaide and Gold Coast players will most likely be seen as upgrade targets to look at from round 11 onward and be handy plug and play guys throughout the MBRs (more on the multi-bye rounds during the podcast). Cash cows and some mid-priced players will most likely have maxed out in price by round 10 and will be shipped on.
The other clubs will have their byes starting a fortnight later. As has been sound strategy over the last few seasons, trading out players on a bye for players coming off their bye will be the moves of choice – especially if they're cash cows being moved out. Likewise, potential bargains coming off their bye will be great to jump on. Again, more on how to use your three trades over the bye rounds will come during the pre-season and into the season proper.
Initial thoughts on the MBRs would see that having just four teams on that first MBR could make for some interesting decision making (last year it was the middle of the three MBRs). As the Blues, Hawks, Eagles and Bulldogs aren't loaded with premium, must-have stars… it could be a case of playing some breakevens with them ahead of round 13. The pain may come in round 14 as you manage your side for the best 18 with a lot of potentially popular midfielders coming in the final MBR in Sloane, Fyfe, Dangerfield, Ablett, Martin, Hannebery, Parker… etc.
ROUND 10
Gold Coast, Port Adelaide
ROUND 12
Carlton, Hawthorn, West Coast, Western Bulldogs
ROUND 13
Brisbane Lions, Collingwood, Essendon, GWS Giants, Melbourne, North Melbourne
ROUND 14
Adelaide, Fremantle, Geelong, Richmond, St Kilda, Sydney Swans
THURSDAY NIGHT GAMES & PARTIAL LOCKOUTS
We've got plenty of opportunities to take advantage of the captain's loophole with seven Thursday night games this year. Every time there is a Thursday game we will have a partial lockout leading into the usual Friday night lockout. The big run throughout rounds 13-17 will cause a few headaches on a Thursday evening with varying lockout times. But remember, it will only be those players that are locked.
Round 1 – Richmond v Carlton, MCG (22 March)
Round 2 – Adelaide v Richmond, AO (29 March)
Round 13 – Port Adelaide v Western Bulldogs, AO (14 June)
Round 14 – West Coast v Essendon, PS (21 June)
Round 15 – Richmond v Sydney Swans, ES (28 June)
Round 16 – Sydney Swans v Geelong, SCG (5 July)
Round 17 – Adelaide v Geelong, AO (12 July)
Having a good Tiger as a loophole player will be nice in rounds one and two. Dustin Martin is the obvious one… and having Richmond players could be a good thing with six of their first seven games being at the MCG. They have three Thursday night games. Consider Geelong players off their bye with round 16 and 17 loophole games. It's probably be Dangerfield… or who knows, a DPP Gary Ablett may even warrant captaincy – although both of these matches are away games. Hmmm – but he's not playing for the Suns now.
ANZAC ROUND & OTHER THINGS TO THINK ABOUT
We have a few fixtures that will cause some headaches. With the standard Friday night lockout for Fantasy Classic throughout the season, games played on Monday (plus Tuesday and Wednesday this year) become an issue. Teams aren't finalised until Saturday afternoon for Monday games… and who knows what we will know for the Anzac Eve and Anzac Day games. We'll be flying blind of a few games. The rounds of stress include:
Round 2 – Easter
Geelong v Hawthorn, MCG (Monday 2 April)
Round 5 – Anzac Day
Melbourne v Richmond, MCG (Tuesday 24 April)
Collingwood v Essendon, MCG (Wednesday 25 April)
* Will also mean a quick turnaround with around 48 hours between lockout lifting and the round 6 lockout coming into effect.
Round 12 – Queens Birthday
Melbourne v Collingwood, MCG (Monday 11 June)
* This is the first of the MBRs and with just four clubs on the bye here, a late out wouldn't be disastrous.
We will have plenty of fixture analysis over the pre-season looking at which clubs have a great draw and at what times of the season. Tune into our off-season check in podcast on Friday 3 November. Click here to subscribe on iTunes. Discuss your thoughts and any other little things you picked up in the comments.
Oh – we are also looking at some dates for a couple of trips next year. Adelaide is on the agenda for round five to see Rocky play for Port against the Cats and then we will head to Perth the next weekend (round six) for the first Derby at Perth Stadium. We will also look to do a live show in both cities on the Thursday night before! More news on this in the new year!