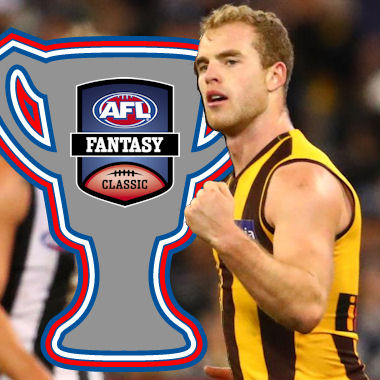 A wise Fantasy coach once said; "You can't win it in round one, but you can lose it". But what if you could win AFL Fantasy with your round one team in tact? An ultimate show of faith in your charges – no trades, no substitutions – Just lock your team in and wait for the good folks at Toyota to drop off your new Hilux. I employed a bit of 20/20 hindsight to select the squad I wish I had in 2017.
Shelby Lee-Steere claimed the 2017 flag by coaching Moreira's Magic scored to 50,909 points. So, with the target set, I present the (imaginarily) victorious Tradeless Titans;
DEFENDERS
T.Adams ($622k), S.Docherty ($609k), D.Roberton ($421k)
L.McDonald ($343k), Z.Jones ($333k), N.Newman ($150k)
Emergency: A.Otten ($150k), unused: L.Ryan ($150k)
MIDFIELDERS
T.Mitchell (C) ($638k), D.Martin ($646k), M.Duncan ($571k), M.Crouch ($564k)
J.Kelly ($542k), B.Ebert ($510k), M.Murphy ($482k), C.Oliver ($416k)
Emergency: H.Greenwood ($150k), unused: J.Barrett ($150k)
RUCKS
M.Kreuzer ($431k), B.McEvoy ($394k)
Emergency: S.Darcy ($150k), unused: B.Preuss ($150k)
FORWARDS
E.Yeo ($477k), B.Hill ($417k), J.Roughead ($373k)
T.Nankervis ($365k), R.Burton ($260k), W.Hoskin-Elliott ($230k)
Emergency: D.Houston ($150k), unused: D.Butler ($150k)
TOTAL POINTS: 51,089  SALARY CAP: $10,994,000
The Tradeless Titans claim the flag by 179 points, without a single trade or substitution being made. The cherry on top is that my imaginary Toyota Hilux will be coming with 2k in the glovebox, after claiming the weekly prize in round 6 (2430 points) and round 7 (2438 points). Not to mention that having an imaginary Hilux saves me fortune in petrol.
By proving that it can be done, the Tradeless Titans simulation raises two scary scenarios. Firstly, it's possible that a 'ghost ship' team could take out the ultimate prize. (Highly unlikely, I'll grant you, but appalling nonetheless.) Perhaps more worrying is the thought that some poor, hard-working coach started the year with this line-up and traded their way out of a car.
So, what was the point of this exercise? And how can this actually make any difference to coaches in 2018? This team showed me three things;
1) This side copped 7 donuts throughout the season, with a further 4 covered by sub-50 emergency scores. Even with the ultimate luxury of hindsight, it was impossible to avoid the carnage faced by all coaches during a season. But in the end, it didn't matter. So often we coaches abandon months of patient planning at the mere rumour of a possible donut. This team was forced to stick to its guns – and it paid off.
2) Allowing for no trades or substitutions meant the Bye Rounds were always going to be painful. Round 13 alone saw the Titans field just 14 players for a score of 1522. You'd think simulating a season after the event would allow you to play the byes to perfection. In reality (imaginary reality that is), bye round structure played no role in selection. Finding enough points within the starting salary cap meant total points and value for money took priority every time. But then, shouldn't they always be our main priorities? It's hard enough to identify the highest scoring players at the start of each season, without then ignoring them because they happen to share a bye.
3) There are really only four players that were recognised Fantasy guns at the start of the year; Mitchell, Dusty, Adams and Docherty. Selecting a 'tradeless team' will always produce mid-price mayhem. But look at the mid-pricers that made the cut. Players like Luke McDonald and Ben McEvoy are hardly household Fantasy names – But they are durable and are locks in their respective sides. In fact, I only see three players that weren't walk-up selections at the start of the season; Newman, Burton and WHE.
Let me finish with a couple of disclaimers. This is by no means the only combination of players that could have achieved this feat, nor indeed the highest possible score. I tried, where possible, to include players that were actually in pre-season plans. I also had a requirement that bench positions were filled by $150k players, leaving an on-field salary cap of $9.8m. (No trades meant the last bench position was redundant anyway.)
So there you have it – the 2017 Tradeless Titans. It's mid-price mayhem at its best, and I certainly don't recommend it as a strategy. Although a new Toyota Hilux with $2k in the glove-box, might convince just you otherwise.
Written by: BrockTheMan