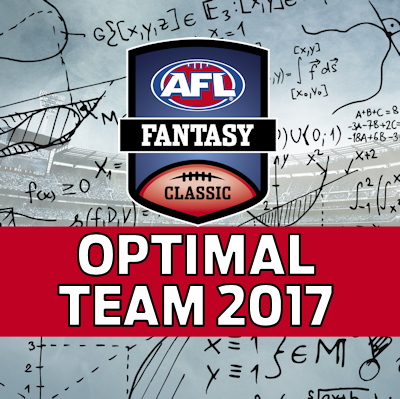 For centuries psychologists have studied the link between creative genius and people who the rest of society consider a little insane. Many brilliant people throughout history have fit both descriptions, such as famous painter Vincent Van Gogh and pioneering physicist and inventor Nicholas Tesla. Today, we are happy to provide the final piece of evidence that was required to prove this highly debated link, the Optimal AFL Fantasy Team of 2017.
With a total score of 60,551, an incredible 9,659 points more than the competition winner, Selby Lee-Steere's Moreira's Magic, you would have to be insane to have selected this side. Amazingly, this 'dream team' has an average score of 2,633 points per round (Moreira's Magic averaged 2213) with a noteworthy score of 2,949 points in round 22.
The starting squad blatantly disregards the generally accepted Guns-and-Rookies strategy. A total of fourteen players were selected in the initial team with a starting price of $200-500k. In fact, out of the 35 top-priced players at the start of the season across the four positions, only 4 were selected: Taylor Adams, Rory Laird, Zachary Merrett and Tom Rockliff.
While the rest of us were looking for rookies as trade down targets, the optimal team focussed on sideways trading. Crazy. In fact, not once was a rookie traded into the team throughout the season. The cheapest player traded in was Luke Ryan in round 19 at a price of $306,000.
Throughout the season a total of 17 different captains were used. This on its own is remarkable but not completely surprising. We could all have done a lot better if we could choose the captain at the end of the round, not the start. What is surprising is that out of these 17 captains, Patrick Dangerfield was not made captain once. This is conclusive evidence that there is no such thing as a set-and-forget captain.
As most of us already know, the second substitute position in the ruck is somewhat unnecessary. The optimal team exploits this by selecting backup Richmond ruck, Ivan Soldo, who sat in the squad without ever being selected in the starting team until he was traded out in round 12.
The final sign of utter madness is that the team finishes with a whopping $1,254,000 unused in the remaining budget. Talk about restraint. What makes this possible is the ludicrous finishing team value of $16,758,000 (the highest valued team was "the toecutters" with $15,249,000). Apparently it is possible to reach a point where budget is no longer important.
At the end of the day this is a team that is essentially impossible to have chosen during the season. However there is a certain beauty in its craziness.
So next year, when you are thinking about making a move that everyone else is calling crazy, remember what Aristotle said (more or less) – "No great [AFL Fantasy Team] has ever existed without a touch of madness".
Round 1 team
DEFENDERS
Taylor Adams, Rory Laird, Andew McGath, Caleb Marchbank, Dylan Roberton, Curtly Hampton (Andy Otten,  Nic Newman)

MIDFIELDERS
Dyson Heppell, Andrew Gaff, Marc Murphy, Zach Merrett, Tom Mitchell, Tom Rockliff, Clayton Oliver, Dayne Zorko (Jake Barrett, Hugh Greenwood)
RUCKS
Matthew Kreuzer, Jarrod Witts (Braydon Preuss, Ivan Soldo)
FORWARDS
Elliot Yeo, Charlie Cameron, Alex Neal-Bullen, Will Hoskin-Elliott, Mitch Hannan, Jeremy Cameron (Dan Houston, Ryan Burton)
Round-by-round
Scores, team value, salary cap remaining, captain and every trade for the 23 rounds of footy.
Rd
Score
Team Value
Budget
Captain (Score)
Trade In
Trade Out
1
2646
$10.967M
$33K
Dyson Heppell (156)
Rory Sloane
Bradley Hill
Rory Laird
Dyson Heppell
2
2578
$11.269M
$187K
Rory Sloane (152)
Sam Docherty
Gary Ablett
Andrew Gaff
Charlie Cameron
3
2520
$12.110M
$60K
Marc Murphy (145)
Ben Mcevoy
Jack Billings
Clayton Oliver
Braydon Preuss
4
2551
$12.893M
$26K
Tom Rockliff (157)
Mitchell Duncan
Michael Hurley
Marc Murphy
Will Hoskin-Elliott
5
2528
$13.450M
$35K
Dayne Zorko (157)
Isaac Heeney
Cameron Pedersen
Alex Neal-Bullen
Dan Houston
6
2650
$13.888M
$21K
Gary Ablett (162)
Joshua Kelly
Bachar Houli
Rory Sloane
Curtly Hampton
7
2668
$14.224M
$65K
Tom Rockliff (167)
David Zaharakis
Michael Walters
Andrew Mcgrath
Caleb Marchbank
8
2807
$14.680M
$10K
Joshua Kelly (162)
Patrick Dangerfield
Bryce Gibbs
Tom Rockliff
Jeremy Cameron
9
2783
$15.051M
$60K
Tom Mitchell (177)
Dustin Martin
Brandon Ellis
Mitchell Duncan
Jack Billings
10
2605
$15.281M
$260K
Bryce Gibbs (145)
Brodie Grundy
Kane Lambert
Jarryd Lyons
Ben Mcevoy
Dylan Roberton
Mitchell Hannan
11
2228
$15.649M
$199K
Dustin Martin (164)
Jackson Macrae
Jack Gunston
Sam Mayes
Elliot Yeo
Andy Otten
Ivan Soldo
12
2426
$15.994M
$31K
Brodie Grundy (158)
Patrick Ryder
Kade Simpson
Chad Wingard
Joshua Kelly
Ryan Burton
Jake Barrett
13
2278
$16.286M
$18K
Bryce Gibbs (194)
Matt Crouch
Sam Menegola
Jarrod Witts
Jarryd Lyons
14
2626
$16.598M
$12K
Jackson Macrae (137)
Luke Parker
Jack Martin
Isaac Heeney
Bachar Houli
15
2912
$16.650M
$210K
Bryce Gibbs (160)
Rory Laird
Travis Boak
Nic Newman
Hugh Greenwood
16
2809
$17.015M
$83K
Dayne Zorko (181)
Isaac Smith
Michael Hibberd
Kane Lambert
Michael Walters
17
2685
$17.090M
$210K
Gary Ablett (152)
Rory Sloane
Dayne Beams
Zachary Merrett
Gary Ablett
18
2559
$16.818M
$564K
Dayne Beams (142)
Tom Hawkins
Luke Ryan
Dayne Zorko
Sam Mayes
19
2617
$16.399M
$1004K
Tom Hawkins (158)
Lachie Neale
Jack Billings
Michael Hibberd
Tom Hawkins
20
2652
$16.570M
$886K
Lachie Neale (152)
Lance Franklin
Bachar Houli
Lachie Neale
Bradley Hill
21
2673
$16.499M
$998K
Dayne Beams (143)
Shaun Grigg
Toby Nankervis
Bryce Gibbs
Michael Hurley
22
2949
$16.292M
$1265K
Shaun Grigg (153)
Zachary Merrett
Matthew Boyd
Dayne Beams
Luke Ryan
23
2801
$16.758M
$1254K
Lance Franklin (171)
Round 23 team
DEFENDERS
Matthew Boyd, Kade Simpson, Brandon Ellis, Taylor Adams, Rory Laird, Bachar Houli (Sam Docherty, Jack Martin)
MIDFIELDERS
Matt Crouch, Rory Sloane, Zach Merrett, Shaun Grigg, Tom Mitchell, Dustin Martin, Patrick Dangerfield, Luke Parker (Isaac Smith, David Zaharakis)
RUCKS
Paddy Ryder, Matthew Kreuzer (Brodie Grundy, Cameron Pedersen)
FORWARDS
Lance Franklin, Sam Menegola, Jack Macrae, Toby Nankervis, Jack Billings, Jack Gunston (Chad Wingard, Travis Boak)
DOWNLOAD: DT2017-Optimal.xlsx
Huge thanks to Steven Edwards for his incredible research. We are keen to hear from our readers with any observations from this awesome data.