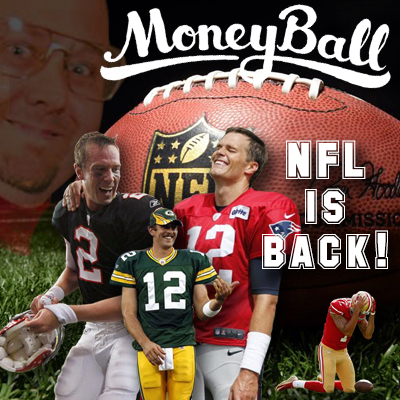 Welcome to week 1!

It's that time of the year again, when the twilight of the AFL season is upon us, and the NFL season peeks over the horizon. Don't pack away your cheeseboards and head to the snow just yet, Demons fans. Don't put down the remote and pick up the balaclava yet, Pies fans. Don't start doing lines with high-schoolers yet, Saints fans. Because this week Moneyball has pumped TWENTY THOUSAND DOLLARS into the Sunday Blitz, and last time I checked they're paying out to 344th position. So I'm here to break down some Sunday Blitz selections and try to help you get your grubby mitts on some of that sweet, sweet cash-money.
I've broken it down into three categories; Studs, Value and Match ups. The studs are the backbone of your team, these are the guys that will score you the most points (hopefully!) Value plays are players that are cheap for the amount of points they are capable of putting up for the game. They allow you to fit more studs into your team. Match ups are players that might be playing a team that's weak in a specific position. They might be a mixture of studs, mid-priced and value. If you're tossing up between two players, it generally helps to go the one with the better match up. Balancing out these three categories will give you the best chance of scoring well.
Week 1 contests
NFL $20,000

Sunday

Blitz Special (Starts

3am AEST

Monday

)
NFL $5,000 Patriots vs Chiefs
NFL $2,000 Hail Mary Special (All games)
NFL $500

Sunday

Spike Special (All

3am AEST

games)
NFL $1,000

Sunday

Touchdown Special (All

6am AEST

Games)
NFL $2,000 Cowboys vs Giants Special
NFL $2,000

Tuesday

Snap (Double/Both

Tuesday

Match-Ups)
NFL $1,000 Vikings vs Saints
NFL $2,000 Broncos vs Chargers

David Johnson, RB, Arizona, $9,500
Johnson is basically a running-back-wide-receiver. He's a dual threat and should finish the season as number 1.
Le'Veon Bell, RB, Pittsburgh, $9,200
People might be wary of Lev, as he sat out the preseason games, but not me. He'll be fresh as a daisy and wanting to prove he's the best.
Le'Veon Bell is preparing for as many as 30 touches vs. Browns in Week 1. https://t.co/yncARZ9Wzx pic.twitter.com/ZPbDigfcNk

— Jeremy Fowler (@JFowlerESPN) September 4, 2017
AJ Green, WR, Cincinnati, $8,500
The last three times Green faced Baltimore his total scoreline read 27 targets, 20 receptions, 392 yards, and 4 TDs.
Aaron Rodgers, QB, Green Bay, $8,400
With weapons all over the field, Rodgers is predicted to finish as the best QB this season.
LeSean McCoy, RB, Buffalo, $8,400
Bills' coach Sean McDermott said the following about Shady on Wednesday: "If it means he's got to play every snap, that's what we'll do." That's good enough for me.

Leonard Fournette, RB, Jacksonville, $7,000
He should get a majority of touches, and is said to be over his preseason injury.
Christian McCaffrey, RB, Carolina, $6,600
The rookie certainly won't have a baptism by fire, coming up against the easiest defence for fantasy running backs last season.
Zach Ertz, TE, Philadelphia, $5,800
Ertz has the ability to become an elite TE if he can get some consistency.
Zach Ertz poised to benefit from Jordan Matthews inside subtraction/Alshon Jeffery outside addition. My column: https://t.co/nxOdTFD2si

— Jeff McLane (@Jeff_McLane) September 6, 2017
Zay Jones, WR, Buffalo, $5,000
Jones was productive in college and has the talent and opportunity at Buffalo who are lacking in healthy talent at WR.
Vance McDonald, TE, Pittsburgh, $4,600
Could have easily gone in the Match ups category due to the fact Cleveland gave up the most fantasy points to TE last season. He was recently traded to the Steelers so playbook knowledge may lower his ceiling.
Antonio Brown, WR, Pittsburgh, $9,200
He's a gun and should have a field day against the Browns.
Russell Wilson, QB, Seattle, $7,900
He's a dual threat that can score you points on the ground and in the air. Faces Green Bay which allowed the second-most passing yards last season.
Doug Baldwin, WR, Seattle, $7,600
He's the go to guy. Faces the Packers. (see above)
Michael Crabtree, WR, Oakland, $6,800
If Cooper isn't 100% healthy then Crabtree might be the more productive WR, facing a team that gave up the second-most fantasy points to wide receivers last season.
Kelvin Benjamin, WR, Carolina, $6,400
He might have been brought back from his ACL injury too early last season. He's showed in the preseason that he's healthy and faces a bottom-five defence to receivers in San Fran.
Kelvin Benjamin saw the fat-shaming on social media — that's not the motivation for what he thinks will be big yr.https://t.co/fFkl0xDxFr

— Joe Person (@josephperson) September 6, 2017
cash me ousside howbowdah @troyhallam