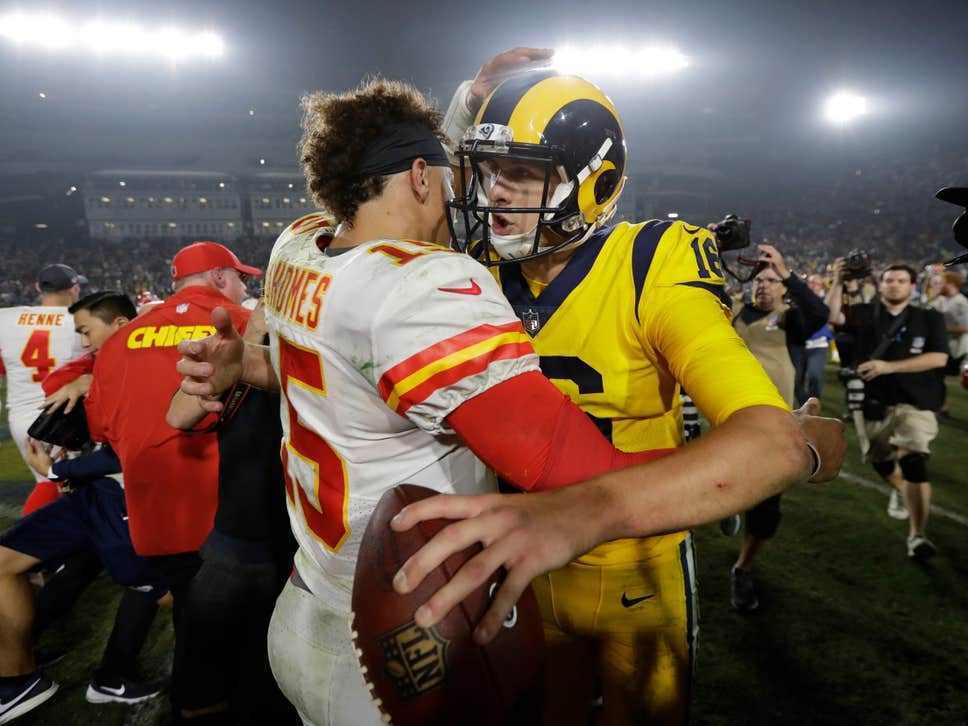 With the American Football season only a few weeks away, either you have already drafted your fantasy players or you are planning for your draft in the coming weeks. If you're still planning your drafts, it's not too late to do your research.
Below, I'll provide my opinion as to where I think each QB will finish in the fantasy ranks, with a YouTube podcast/video that will be released in the near future going a bit more in depth into my reasoning for ranking certain players.
NOTE: All of my rankings will be based in PPR (points per reception) scoring so rankings may differ depending on formats. This is based on PPR being the most common format and default scoring on most websites.
QB Rankings (as of 03/09/2020)
First of all we take a look at the Quarterbacks for all 32 teams, with their rankings below:
(rankings may be subject to change due to unforeseen injuries, opt outs and suspensions)
Patrick Mahomes – Kansas City Chiefs
Lamar Jackson – Balitmore Ravens
Russell Wilson – Seattle Seahawks
Deshaun Watson – Houston Texans
Dak Prescott – Dallas Cowboys
Matt Ryan – Atlanta Falcons
Kyler Murray – Arizona Cardinals
Cam Newton – New England Patriots
Josh Allen – Buffalo Bills
Aaron Rodgers – Green Bay Packers
Jared Goff – Los Angeles Rams
Carson Wentz – Philadelphia Eagles
Matthew Stafford – Detroit Lions
Ben Roethlisberger – Pittsburgh Steelers
Tom Brady – Tampa Bay Buccaneers
Drew Brees – New Orleans Saints
Baker Mayfield – Cleveland Browns
Ryan Tannehill – Tennessee Titans
Kirk Cousins – Minnesota Vikings
Phillip Rivers – Indianapolis Colts
Daniel Jones – New York Giants
Drew Lock – Denver Broncos
Jimmy Garoppolo – San Francisco 49ers
Joe Burrow – Cincinnati Bengals
Tyrod Taylor – Los Angeles Chargers
Teddy Bridgewater – Carolina Panthers
Derek Carr – Las Vegas Raiders
Gardner Minshew – Jacksonville Jaguars
Sam Darnold – New York Jets
Mitchell Trubisky – Chicago Bears
Ryan Fitzpatrick – Miami Dolphins
Dwayne Haskins – Washington Football Team
Loading ...
The video/podcast discussing these rankings more in depth will be uploaded onto my YouTube channel.
For fantasy football questions/queries, engage with any of my social media accounts, or just leave your comments below and I will get to as many as I can.
Make sure you also check out Downtown Sports Network and Downtown Rams for more awesome content on the NFL.
YouTube: TrulyBails HD
https://www.youtube.com/channel/UCxckyUZku44QYkCHo7fkavA/
Instagram: baileyirrgang
https://www.instagram.com/baileyirrgang/
Facebook: TrulyBails HD
https://www.facebook.com/TrulyBailsHD…
Twitter: baileyirrgang
https://twitter.com/bailey_irrgang
Downtown Sport Network Website Link:
https://www.downtownsportsnetwork.com
Downtown Rams Website Link:
Thanks for reading, and stay tuned for our next fantasy rankings!