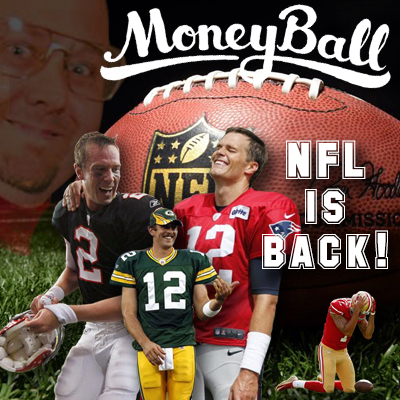 I've broken this coumn down into three categories; Studs, Value and Match ups. The studs are the backbone of your team, these are the guys that will score you the most points (hopefully!) Value plays are players that are cheap for the amount of points they are capable of putting up for the game. They allow you to fit more studs into your team. Match ups are players that might be playing a team that's weak in a specific position. They might be a mixture of studs, mid-priced and value. If you're tossing up between two players, it generally helps to go the one with the better match up. Balancing out these three categories will give you the best chance of scoring well.
Week 2 contests
NFL

 $15,000 

Sunday

 Blitz Special (Starts 

3am AEST

 

Monday

)
NFL

 $3,000 Bengals vs Texans
NFL

 $2,000 Hail Mary Special (All games)
NFL

 

Sunday

 Spike Special (All 

3am AEST

 games)
NFL

 $500 

Sunday

 Touchdown Special (All 

6am AEST

 Games)
NFL

 $1,500 Falcons vs Packers
NFL

 $1,500 Mon & Tue Snap (

Monday

 and 

Tuesday

 game)
NFL

 $3,000 Giants vs Lions

Le'Veon Bell, RB, Pittsburgh, $9,400
Only scored you 6 fantasy points last week if you played him which may deter people starting him this week. Damaging in the passing game.
Julio Jones, WR, Atlanta, $9,100
Jones went 9-180-2 versus the Packers late last season.
Tom Brady, QB, New England, $9,000
Should be better this week and might be another good contrary play for those without recency bias.
Aaron Rodgers, QB, Green Bay, $8,400
Did score 17.5 fantasy points last week thanks in part to a healthy Randall Cobb, and should be in a shoot out this week with a floor of 20.
Jordy Nelson WR, Green Bay, $7,800
Will be the number one target in a high-scoring affair.

Kareem Hunt, RB, Kansas City, $6,300
Unlikely to repeat last week's explosive start, but will be the focus of their offence.
Cooper Kupp, WR, LA Rams, $4,900
Can certainly repeat his stat line of 4-76-1 and 15 fantasy points against Washington.
Nelson Agholor, WR, Philadelphia, $4,800
Alshon Jeffrey saw most of the tight coverage last week allowing Agholor to score 17 fantasy points. We could get a repeat against KC.
Javorius Allen, RB, Baltimore, $4,800
Losing Danny Woodhead opens the door for Allen to continue his role in the passing game. Be wary of the Jeremy Langford signing though.
Tarik Cohen, RB, Chicago, $4,500
After losing most of their receiving corp Cohen was targetted in the passing game for 8 receptions, 47 yards and a TD. Jordan Howard may have his snaps limited.
I expect Jordan Howard (shoulder) to play. When a guy is limited in practice all week, expecting game snaps to be affected is fair. https://t.co/RthbeSuO2X

— Rich Campbell (@Rich_Campbell) September 15, 2017
Brandin Cooks, WR, New England, $7,500
Should put on a clinic against his former team mates who allowed 250 yards to Diggs and Thielen last week.
Patriots have officially ruled out LB Dont'a Hightower (knee), WR Danny Amendola (concussion/knee), WR Matthew… https://t.co/hrnD0ixhFq

— Mike Reiss (@MikeReiss) September 15, 2017
Ty Montgomery, RB, Green Bay, $6,700
Got 90% of the touches last week in the high-octane offence in a match up where the points are predicted to be flowing.
Martavis Bryant, WR, Pittsburgh, $6,600
If Xavier Rhodes is shadowing Brown this would gift Bryant more opportunity.
Larry Fitzgerald/JJ Nelson, WR, Arizona, $6,500/$5,300
Last week Indianapolis gave up 30 points to the 3 Rams WRs. DJ and John Brown are out.
Iupati, John Brown and Humphries are out

— Kent Somers (@kentsomers) September 15, 2017
Zach Ertz, TE, Philadelphia, $6,000
At the end of last season he averaged 8 catches for 80 yards. Last week he caught 8 for 93. Berry, who shut down Gronk last week, is out injured.
cash me ousside howbowdah @troyhallam