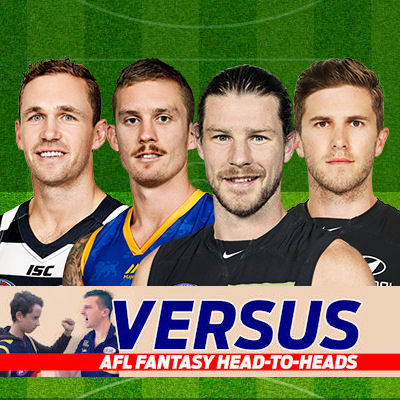 Versus returns this round after a couple of weeks holiday. Leighroy is done for the rest of the year due to work commitments, so it'll just be me for the final five rounds. Today is all about midfielders. Carlton's consistent duo Gibbs and Murphy feature, but first up are under-priced pair Joel Selwood and Dayne Beams.

Click here to subscribe on iTunes.
Joel Selwood ($475,000)

V

Dayne Beams ($486,000)

Straight of the bat, I'm a little surprised we are even including Selwood in this type of conversation after he gouged the eye of Crow Riley Knight last Friday. But the MRP didn't even look at it, much to the delight of 15% of Fantasy coaches who own the Geelong skipper. Selwood isn't the most well-liked player largely because of his 'ability' to draw free kicks for subtly lowering his head before being tackled. It's fair to say this infuriates opposition players and fans alike. But in 2017 he has received 55 total free-kicks for, 13 more than the next highest recipient, who happens to be teammate and partner-in-crime Patty Dangerfield. Love him or hate him, Selwood is one of the games best mids and a more than enticing Fantasy player.
Many will remember Joel bursting onto the scene back in 2007. The Cats won the premiership that year and Selwood was a revelation in a star-studded midfield including Gary Ablett, James Kelly, Jimmy Bartel and Joel Corey. He averaged 85 points that year took out the rising star and managed to land a deal with NAB which saw him participate in numerous advertisements. But most importantly, he was able to avoid a case of second-year blues. In fact, he elevated his season Fantasy output to 91. 2009 concluded in Selwood winning another premiership medallion but his work during the year resulted in a triple figure Fantasy average. This triggered a run of six consecutive seasons of 100+ averages until a 97 in 2015 bucked the trend.
Considering Joel is renowned for his courage and fearless attack on the ball, Selwood doesn't seem to miss too many games through injury. Across his eleven season career, he has managed to played at least 20 games on eight occasions. Instead he is more frequently on the receiving end of one to two week injuries (often concussions).
Season 2017 has been a pretty good one for Selwood. In 16 games he has recorded nine tons and three 90's. He was restricted to just 60 points against Collingwood in round six. On that day, Levi Greenwood paid him close attention and won the head-to-head battle. Interestingly, Danger managed just 76 that day as well – his lowest score of the year to date. Selwood was also kept to just 48 by West Coast tagger Mark Hutchings. The following week he was concussed in a collision with Freo's Hayden Ballantyne early in the first quarter and forced to miss the clash with GWS. On two Fantasy points at the time, his AF price plummeted.
Upon returning, Jelwood has put up scores of 113, 94 and 115. The latter score came despite being pretty well contained by Riley Knight. Now at $475,000, he should be on the immediate radar of all Fantasy coaches who don't already own him. The only issue I can see with him is the fact that he really struggled against quality taggers in Greenwood and Hutchings. The Cats will face Collingwood again in a month's time along with the Swans, Tigers and Giants. Given it is impossible to tag Dangerfield, opposition sides may take a leaf out of the Crows book and instead pay more attention to the skipper. Either way, he is very cheap and would be a worthy addition to any midfield on the verge of Fantasy finals.
I think it's fair to say Dayne Beams' career as a Lion hasn't quite gone a smoothly as he would've liked. After being selected by Collingwood with pick 29 of the 2008 National Draft, Dayne went on to spend six years in Victoria – which included a premiership – before requesting a trade back up north to where he spent his childhood. Of course, his younger brother Clay was trying to break into the Lions side at the time, which made Dayne's decision to become a Lion easier.
In the years prior to becoming Tom Rockliff's successor as captain, Beams was skipper of Queensland's under-18 side at the National Championships. Collingwood handed him his debut in round two of the 2009 season. He concluded the year with 18 games under his belt along with 14 goals and the club's best first year player award. A handy average of 75 DT points was also achieved. The following season, Dayne was instrumental in the Pies overcoming St.Kilda the second time around in what proved to be a set of Grand Finals to remember. But it was 2011 where Beams, who now had his right arm covered in ink, really announced himself as a premium Fantasy midfielder, averaging 101 points. However he unfortunately was not able to feature in the Grand Final later that year through injury.
2012 may end up being Dayne's best ever year, both in terms of Fantasy output and real-life performance. Not only did he average a cool 116 DT points, Beams also won the  'Pies best and fairest, was included in the All-Australian side and finished 8th in the Brownlow voting – not a bad effort.
Despite never reaching that level since, Beams has continued to pump out consistent scores on the Fantasy stage. Currently on track to make it six triple figure season averages, the talent has obviously always been there. However injuries have prevented him from ever playing all 22 games in a season. Since moving to the sunshine state, he has managed to play 32 of a possible 61 games, if my maths serves me well. Therefore, he always seems to be under-priced, but the risk is certainly there.
Put simply, in this article where looking for players who can come in and help take you deep into finals or improve your ranking. Injuries are annoying at the best of times, but now would have to be the very worst stage of the year. Having missed three games in 2017 and given the Lions are no chance of resting him, I'll take the percentage option and say he won't miss any further game time. If he can stay on the park, Beams' ceiling is high, having exceeded the 120 point mark on five occasions this season including a big 142 in Sunday's triumph over Carlton. These scores win you finals. Beams could be a wildcard.
Verdict: Both Selwood and Beams are expected to be given attention from taggers in the coming weeks. With Zorko rubbed out, Hutchings will likely be sent to Beams. He has had to deal with the tag plenty of times though, so don't expect anything less than a 90 or so. That being said, Beams won't go 142 again will he? Out of the two, I like Beams because of the Lions favourable run home.
Bryce Gibbs ($675,000)

V

Marc Murphy ($608,000)

Given all the controversy Bryce Gibbs was submerged in during the off-season, it's been an amazing year for the 28 year-old. The story goes like this; he shocked the footy world by announcing his intention to leave Victoria and return to his native South Australia, more specifically the Crows. But Adelaide were forced to play hard ball with the Blues who didn't want to loose his services without receiving quality picks and players in return from down south. The Crows, in search of a Gibbs-type midfielder to bolster their apparent one-man midfield, didn't want to pay 'overs' so Bryce stays put for at least this year. Seems simple enough, but I can't imagine it would have been easy for Gibbs to play out the year.
As it turns out, Fantasy coaches should be glad he remained a Blue. With a current average of 114 Fantasy points, Bryce sees himself as the sixth highest scoring player, behind only Tom Mitchell, Dangerfield, Docherty, Merrett and Zorko. Despite seemingly always being a 'second-tier' midfielder, or around that mark, Gibbs' season outputs have been a touch inconsistent over the years. The number one draft pick from the '06 draft, Gibbs opened his account with 58 before reaching 87 in his second year. I talk about third year breakouts a fair bit and this guy is another example, having broken out for 106 in 2009. Scores of 96, 106, 91, 88, 101, 81 and 105 then followed. There's not a heck of a lot of consistency in those figures – especially for one of the leagues prime midfielders.
However he has been exceptionally consistent throughout 2017. Only four scores have failed to reach the triple figure mark and just one of those dipped below 90. Now it doesn't get much more consistent than that. But the best Fantasy midfielders have a blend of consistency and ceiling and Gibbs has proven he has each in his repertoire thanks to scores of 136, 133, 145, 160 and a gigantic 194.
A quick check of Cal's Scale Of Hardness sees Carlton face three hard teams (Geelong, Essendon and Sydney), one leaning towards the difficult side (West Coast) and an easy side (Hawthorn). It's not a bad run, but not exceptional. Gibbs, however, has shown he is immune to a harder fixture.
Carlton were poor, really poor last week and Gibbs wasn't able to provide them with any spark in the guts. None other than Tom Rockliff played a tagging role on him which affected both players scores. I'm not sure the Fantasy community are in favour of this new role for Rocky, but there's no denying he did a good job, restricting Bryce to 8 touches and just 37 points. The Eagles will likely use Hutchings in an attempt to nulify Gibbs' impact when the two sides clash in round 21. He's only been tagged once this year and failed to put up a respectable score which is a worry heading into Fantasy Finals. But he is still one of the best available mids.
To me it seems Carlton captain Marc Murphy's name is scarcely thrown around when debating premium midfielders. I don't know whether it's the fact he only has three triple figure season averages to his name or whether his more recent injury lay offs, but he just doesn't seem to fit the conversation alongside Fantasy footballs elite. That's no disrespect to Murph though, who has been a great servant of the Carlton Footy Club since debuting back in 2006.
The first point I'll make about Marc is that, as I stated before, he has put up season averages of 102, 101 and 111 but nothing else in the three digit zone. Admittedly, he has come close to the mark, with 98, 96, 99 and 97. However those numbers don't see him placed in the uber premium, rather one or two tiers below.
But this year has been enormous. Not only is he averaging 112 Fantasy points, Murphy is also leading a very inexperienced Blues unit. Even Patty Cripps is only 22 years young! In past years injury has gotten in the way of his footy. Featuring in just ten matches last year, Murphy started the year priced at just $482,000. In hindsight I'm not sure how so many of us didn't start with him.
In comparison to Gibbs, Marc doesn't have the higher ceiling overall, but has not once been given specific attention from opposition sides and has pumped out and is just as consistent. It's great to see Murphy endure a career best season as a 30 year old. He hasn't faltered once this year and there is no evidence to suggest he won't conclude the year in the same fashion as it started.
Verdict: These two are amongst the games most consistent in 2017. Last week I would've encouraged you to go with Gibbs but since then, he struggled against Rocky and that is cause for concern. You don't want to be carrying that kind of risk into the Fantasy finals so Murphy it is. Besides, both have shown they can turn it up.