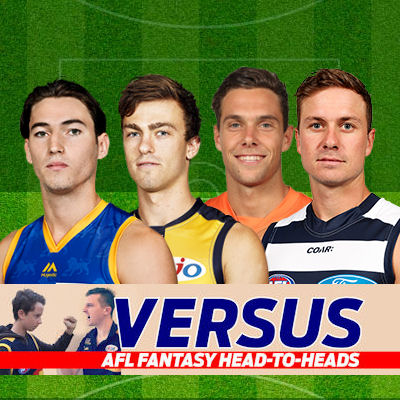 Here are some pre-finals head-to-heads from Tom.

Click here to subscribe on iTunes.
Jacob Allison ($168,000, MID/FWD)

V

Luke Partington ($167,000, MID) 

Having taken interest in the 2016 draft, one of the most interesting prospects for me was Lions Academy player Jacob Allison. His size (193cm and 82kg) is perhaps his greatest strength and allows him to play in pretty much every position. At times throughout last year, for both Queensland and Aspley, Allison was tried across half back, on the wing and up forward. If players were allowed three positions in Fantasy, I reckon Jacob would have triple DPP status.
On the back of his selection in the All-Australian team for his performances as an under-ager (17 year-old) during the 2015 Under-18 Championships, Allison started 2016 as one of the best ranked players eligible for the upcoming draft. But as a result of others rising, a lack of consistency and the fact he was almost guaranteed to be picked up by the Lions, Allison was taken in the fourth round at number 55 overall. Largely thanks to his tremendous physical upside, Jacob has the potential to be better than many of those taken before him.
It's all well and good to have the right built to succeed in the AFL, but if you can't find enough of the ball or use it well enough, you'll struggle. But Allison's disposal numbers for the Lions NEAFL team have been impressive, especially for someone so raw. Playing the majority of 2017 across half-back, Allison was named senior emergency on multiple occasions before breaking through for his debut last weekend.
What was most impressive about Jacob's performance against Partington's Eagles, was that he continued to find the ball despite the dramatic step up in opposition. To go with 20 disposals (6 marks and 14 handballs), Allison also managed 5 marks, 1 tackle and 66 Fantasy points. If he flipped that kick:handball ratio, the academy prospect would've made even more of an impact on the Fantasy world. Even though the Lions suffered a fairly big loss, they certainly fielded a 22 full of talent. I suspect Witherden and Allison may become what Docherty and Simpson are at Carlton.
You may already heard the story of West Coast's most recent debutante Luke Partington. But if you haven't, here it is in brief. During his draft year, Luke, who lived with his family in the small South Australian coastal town of Tumby Bay, tragically lost his father in a freak mining accident. Obviously the Tumby Bay community, and in particular the Partington family, would have been shattered by the passing. But the shear strength, determination and courage displayed by Luke throughout the remainder of his 2015 footy season at Norwood was capped off when the Eagles called his name at pick 28 in the National Draft. I don't know Luke personally, but from a far it seems the Eagles not only drafted a productive midfielder, but a strong, tough character.
After making the massive move over to Perth, Luke spent the entire 2015 season playing in the WAFL for affiliate side East Perth. From all reports, his improvement across the year was impressive. In fact the final month of the home and away season, Partington managed disposal counts of 25, 16, 30 and 30. But these figures were of no surprise to anyone who had watched Luke as a junior. His ability to find plenty of the ball makes him one to watch in fantasy circles.
This season would have been all about attempting to break into a reasonably strong Eagles 22. It took him 19 rounds, but last Sunday against the Lions, Partington made his first decisive step as an AFL player. It wasn't an easy feat to be given a crack though. All season, Luke has been a star for the Royals, often winning upwards of 25 touches on the inside and laying his fair share of tackles. But perhaps most impressive about his year has been Luke's ability to push forward and really hit the scoreboard. He managed hauls of 3 and 4 mid-season and has also been damaging around the clearances. It's not often you can say those things about a 20 year-old in his second year of league footy.
The transition from state leagues to the AFL is not easy. So 18 disposals, 3 marks, 1 tackle, a goal and 64 Fantasy points on debut suggests the step up has not proven to be overwhelming. As has already been stated, Partington can find the footy, but importantly uses it pretty well too. He is not slow for a inside-leaning midfielder and I get the feeling we'll be talking about him again soon enough. Priddis and Jetta should be back in this week, but surely Partington has done enough to hold his spot. A perfect midfield downgrade option, watch this space.
Verdict: These two both made their debuts in the same game last weekend and were separated by just two points when it comes to Fantasy. At this stage of the Fantasy season, most of your field should be occupied by premiums, but there could be one or two spots still waiting to be upgraded. Partington and Allison are probably the pick of the downgrade options, and although I feel Partington has a more Fantasy friendly game, the return of Priddis and Jetta will surely restrict midfield minutes as the Eagles aim to crack the top 8. Brisbane should play the kids at this stage, so it's Allison for me. The DPP also helps.
Josh Kelly ($624,000, MID)

V 

Mitch Duncan ($602,000, MID)

Considering all the speculation regarding where his future lies, Josh Kelly is doing a very good job of letting his on-field performances do the talking. Ever since he was picked up by the Giants with the second overall selection in 2013, he seemed destined for stardom. A classy outside midfielder with excellent foot skills, Kelly has class written all over him and was always going to compliment the inside grunt of Ward and Coniglio well alongside Lachie Whitfield in a star-studded midfield.
I mention star-studded, and although he has been there just four years, Josh Kelly is the pick of the bunch. He averaged 69 from 18 games in his debut season, before managing 73 the following year. His 21 games in 2016 led to an average of 90, but it was only a matter of time before that next level was reached. Josh's 2017 campaign started with a modest 87 against the Crows, but triggered a flurry of three consecutive tons. The out-of-contract Kelly' highest score of the year so far, 162, actually came despite being tagged by Levi Greenwood. Not many players can lay claim to even hitting three figures against Levi, let alone 162. Ceiling is not a problem.
What I like about the way Kelly plays is that he is such a prolific ball winner (averaging 29 disposals) yet uses it sublimely by foot and, unlike multiple other outside midfielders (Gaff), regularly racks up strong tackle numbers. Heck, he has put up tackles numbers inside midfielders would be proud of. Three games with 10 tackles and one with 11 stand out. His mark numbers are fairly standard but those tackle points are certainly well received by his Fantasy owners – of which there are under 10% of the competition.
So we know Kelly can go big, but the issue I have with him is the fact he doesn't always reach the ton (two 100's in last five games).  I'm not sure you want to be worrying about a players consistency at this time of year, particularly if you're playing Fantasy finals. The run home for GWS is not easy. They face Melbourne, the Western Bulldogs, West Coast and Geelong in the final month. According to Cal's Scale Of Hardness – Finals, two of these games are rated just on the harder side, one is rated hard and the other on the easy side. Kelly failed to ton against the Cats and Dogs in earlier games this year.
When you think of Geelong, in particular their midfield, Dangerfield and Selwood are at the forefront of your mind. They are both exceptionally good but still require support from second tier guys. Guys like Mitch Duncan, however his current form probably demands he be placed on the top-tier alongside Dangerwood. It would be hard for Geelong to win a flag without others also pulling their weight. Duncan has more than done that.
A midfielder who can win it at the coal face but also spread and get it on the outside, Duncan debuted in 2011, coming on as the sub in Geelong's premiership triumph. After averaging around the 80-90 point mark for the following six seasons, he was due for a Fantasy breakout. 12 tons, 5 120+ and a low score of 91 is good enough for me. So now, with an average of 112 and price of $602,000, we can finally include Mitch Duncan is the conversation when it comes to premo mids.
There wouldn't be too many that started with Duncan, and there still aren't many that have him now, despite being the 7th highest scoring midfielder (8th overall). Premium players with low ownership are always handy, but even more so in finals where their scoring can be the difference. Another positive trait to have in finals time is a high ceiling. Now I wouldn't say Duncan has a massive ceiling, but a 169 against the Bulldogs shows it's certainly not low.
Everyone knows by now that Dangerfield won't be playing against the Swans this Friday night, but what does this mean for Duncan? Well, I can see Dangers absence being a positive for Mitch. Selwood has been copping tags lately, and I expect the Swans to put some time into him. Daniel Robinson did a good run with job on Gold Coast's Jarrod Harbrow a while back, but he doesn't seem to be the right type of player to match up on Joel. Perhaps it may just be a case of the Swans on-ballers, Kennedy, Parker, Hannebery and co., playing tighter on him. Either way, I highly doubt the Swans will worry about Duncan in a tagging sense. Being elevated to the number 2 midfielder, expect another 110+ score.
Verdict: These two have really broken out in 2017, propelling themselves into premium status. But at this stage, I'd prefer Mitch Duncan over GWS' Kelly. Duncan is fractionally cheaper but has been more consistent, has a similar ceiling and an opportunity to go big this week in Danger's absence. I've actually been surprised by Duncan's sudden rise. Like both but Duncan it is.