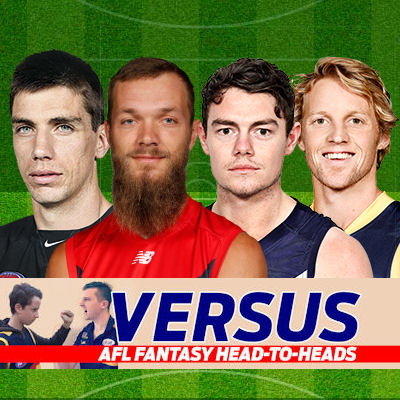 Two in-form ruckman and a couple of premium inside-midfielders feature in this semi-finals edition of Versus.

Click here to subscribe on iTunes.
Matthew Kreuzer ($566,000 RUC)

V

Max Gawn ($513,000, RUC)

Matthew Kreuzer has always had the potential to become a premium ruckman, but in ten seasons at Carlton comprising of over 150 games he has never managed to average in excess of 90. Taken by the Blues at number one back in 2008, in hindsight I'm not so sure that really worked out, especially given the amount of games he has missed through injury. Nevertheless, he has been a good servant of Carlton and, at 28 years of age, is enduring a career best year.
He has never really been a star, and in Fantasy terms he seems to always fit in as a mid-pricer and rucks at that price range are normally a no-go. Therefore he slips under the radar often. Kreuzer's 2017 season has been quite brilliant actually. If you were to tell me at the start of the year that he would be in contention for an All-Australian spot, I would've laughed at you. He has so far notched up 11 tons (including six over 120), went on a remarkable run of seven straight hundreds and even reached a price of $639,000 – very, very good numbers.
As are many ruckman these days, Kreuzer is athletic which allows him to cover more turf, be effective around the ground and make an impact on the scoreboard. In contrast to the likes of Jacobs, Mumford and Grundy, Kreuzer does not record massive hit-out numbers, ranking eighth in this area behind the above three, Witts, Martin, Ryder and McEvoy. However he is the third highest disposals winning ruckman, sits number one for kicks, equal second for goals kicked, second for tackles laid, fifth for marks and has the second highest Fantasy average. In terms of all-round ability, there have been none better in 2017 than Kreuzer.
Whilst the Blue has regularly scored 120+, he has also managed to be consistent in his output – two critical traits. His lowest score of 57 is deceiving given he managed to spend just 51% time on ground before being concussed in a rather controversial tackle by Patrick Dangerfield. I'm sure you saw this at least a few times last week. There was some doubt whether or not Kreuzer would be able to front up for the Blues clash with Essendon, and to not only front up but score 124 points is a fair effort. Discounting the injury-affected 57, Kreuzer hasn't gone under 89 since round 4 where he scored 70. Owned by just over 13% of coaches, Kreuzer is an obvious straight swap from the suspended Grundy.
Remember this guy? Of course you do. I'm sure many still rate him the best Fantasy ruckman and perhaps the best big man in the league. A mid-season hamstring injury saw him sidelined and off the Fantasy radar for ten weeks – greatly affecting his owners – of which there were many. But with Grundy out for two weeks, he is a must trade and Gawn, who is underpriced, should definitely be high on the watchlist.
Prior to his injury sustained in the round four loss to Geelong, Gawn had posted scores of 111 and 95, and was on track for another ton just over a quarter into the match. Obviously his ownership plummeted once the severity of the injury was released. Having been back for nearly two months now, most would've expected his price to return to its 'normal level' of around the $600k mark. But as a result of a string of underwhelming performances for someone with his standards, as far as points are concerned, Gawn's price sees him still heavily undervalued.
Most players, after returning from a fairly significant soft-tissue layoff, would require a game or two in the seconds to get some miles into the legs before returning to AFL level. And despite the Dees coming off the back of three consecutive victories, Gawn was ushered straight back into the lineup. This was probably to be expected given he is one of, if not the most important Melbourne player. In just 71% time on ground against the Eagles, Gawn mustered up 42 hit-outs to go with 15 disposals (7 kicks and 8 handballs), 4 marks and a tackle for a very respectable return score of 96. Coming up against Naismith the following week, Gawn was beaten but still managed 29 taps and 81 points. Kreuzer took the chocolates in round 16 with Gawn reaching 76. It would've been far better if he hadn't had to wait until the third term to lay foot to leather. Scores of 79 and 83 followed – making it six straight weeks without a ton. His ownership at this point was hovering around the 5% range – an extremely low figure for last years All-Australian ruckman. However as all champions do, he has bounced back in recent weeks with 113 against North's combination of Preuss and Daw, along with a massive 140 opposed to GWS' Shane Mumford. Mummy also managed 114 but Gawn won the battle thanks to his 52 hit-outs, 19 disposals, 6 marks and 4 tackles.
2016 was a breakout year for Gawn, who really emerged as a cult figure and announced himself as the leagues premier ruckman. He also averaged 107 Fantasy points in the process. Although he won't reach those heights this year due to form and injury, he is on a roll at the moment and has a high ceiling – as proven last year with eight scores over 120. As the Demons battle for a finals position, Gawn will likely face Billy Longer, Stef Martin and Brodie Grundy in the final three weeks. Longer is coming off a 112 against the Eagles and has gone under 30 hit-outs just once. Martin and Grundy are two of the games better ruckman, but I expect Gawn to get on top in the hit-outs against both. Gawn's work around the ground has always been strong, so he is in line for a big finish. Very tempting at just $513k.
Verdict: This was not an easy comparison. Kreuzer has had the better season, and in my opinion is the deserved All-Australian ruckman, but I'm going to go with Gawn. His next three matchups should see him score well and we all know he has a high ceiling. Melbourne will need him firing on all cylinders in the lead up to finals and I get the sense he is just the type of character to take the lead on-field.
Lachie Neale ($598,000, MID)

V

Rory Sloane ($493,000, MID)

Despite not quite being able to replicate the returns of 2016, Fremantle's Lachie Neale has had another solid season. Neale 'broke out' in 2015, playing all 22 games and finishing with an average of 101 Fantasy points.Used as a sub throughout his early years in the AFL system, it was obvious that Lachie had what it takes to become a premium midfielder.
Neale, from South Australia, played his junior footy with SANFL side Glenelg and represented his state at the under-18 Championships. An inside midfielder by trade, Lachie finds the ball with ease, is a clearance specialist, has excellent vision at stoppages and regularly hits the intended target via handball. The obvious knock on Neale is his height. At 177cm, most players would need to posses good speed in order to make up for the lack of height. However speed is not one of his greatest assets. Instead Lachie thrives on winning the ball and dishing it out to his more free flowing teammates. This ball-magnet trait makes him an immediately attractive Fantasy option.
Lachie is not a real kicker of the ball, instead collecting most of his disposals by hand, usually in congestion. Last year he broke the record for total disposals and clearly flourished without Nat Fyfe in the side. Neale finished with an average of 111 points. 2017, however, has seen the return of Fyfe and, in turn, a drop in disposal numbers from Neale. So having the Brownlow medallist in the side does affect his output, but he still has his trademark high ceiling and consistency. He was subject to a tag at different stages last year and contained to scores of 52 and 87. However with Fyfe in the side, this shouldn't be an issue.
For a guy that has had 78 more handballs than kicks and spends an average of just 78% time on ground, Lachie is scoring well. Neale has had more kicks than handballs in a match just four times this year with only one of those games resulting in a triple figure score. If you flipped the kick:handball ratio, it's quite possible Lachie would be averaging similar to last year. With the Swans, Tigers and Bombers in the coming weeks, it is not an easy route home. But his form is strong and ceiling is what you want at this stage of the game.
It's been a season of ups and downs for Rory Sloane's Fantasy output. He is a barometer for the Crows and, at his best, easily one of the games best players. Sloaney loves the contest, thrives on contested ball and often manages to take his opponent forward and hit the scoreboard. His work rate is elite and allows him to run both ways. Regarded as a coaches pet by many teammates, he is just the type of guy you want in the guts.
We may well see Sloane leading the Brownlow count by round six. The Crows were undefeated up until this point and their best midfielder had rolled out scores of 68 (we won't worry about this), 152, 139, 143, 132 and 155 to be the leading Fantasy point scorer. He kicked 8 goals in this period, laid a massive 54 tackles and took 23 marks. It seemed as though the Crows were unbeatable and there were even reports stating they would go through the season undefeated. But in round 7, opposed to North Melbourne on a very windy day down at Blundstone Arena, it all changed. The Crows never looked like winning it. And one of the key ways to beat Adelaide was made clear – tag Rory Sloane.
With Dangerfield in the side, Rory was never exposed to any sort of tagger. But after the Kangaroos game, the Demons sent Bernie Vince to him and won over at Adelaide Oval. Sloane scored 65 and 63 in those two games. But Rory was able to beat Nick Robertson and Connor Blakely in the next fortnight, scoring 111 and 157. He could only managed 92, 62, 89 and 83 in the next month despite not coping significant tags. We saw probably the games best tagger sent to Rory in Levi Greenwood when the Crows played Collingwood. Unlike his side, Greenwood was able to win the battle all game and kept Sloane to just 47 Fantasy points.
It's pretty clear Sloane struggles with the tag. But the next two weekends should be tag free. Essendon, unless they bring back Craig Bird, will likely opt for a head-to-head battle whilst Sydney are a side that simply back their mids in – and rightly so. West Coast have Mark Hutchings who I'm 99% sure will go straight to Sloane when the two sides clash in Perth on the final weekend of the home and away season. Unfortunately past performances against the tag give us no indication he will ton up in this game.
I feel like this has been a pretty negative write-up, especially for someone with the ability of Rory Sloane. But don't get me wrong, he is a fantastic midfielder with a very high ceiling and strong all-round game. His price, $493,000, makes Sloane an attractive option to finish off your midfield.
Verdict: Despite Lachie having the harder fixtures, that round 23 game against the Hutchings and the Eagles has me worried about Sloane. He is cheaper and also has the ability to go 150+ but having a premium midfielder score sub-100 is enough to completely ruin your season.