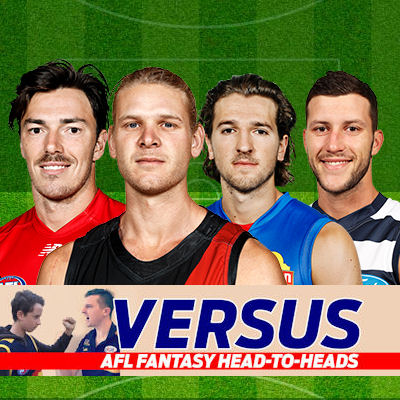 Click here to subscribe on iTunes.
Two defenders and a pair of midfielders feature in this preliminary finals edition of Versus.
Michael Hurley ($558,000, DEF)

V

Michael Hibberd ($545,000, DEF)

I can't remember a genuine key defender scoring as well as Hurley has in 2017. As someone who has played up forward and in defence, Hurley has been a mainstay in the Bombers lineup since making his debut in 2009. Taken with the fifth pick of the 2008 national draft, Hurley had never been a massive Fantasy point scorer, pumping out season averages expected of a key position player. Injury had restricted him from ever managing to play all 22 games. However in 2017, after spending a year away from the game, the Victorian native has managed to not only play every game, but score very well.

Hurley is a fiercely competitive player on the field and, as proven on multiple occasions in the recent loss to Adelaide, hates to be beaten by his opponent. He is big and strong at 193cm and 92kg but also has neat skills for a centre half back of his stature and style. Having been named at CHB in the 2015 All-Australian side alongside Alex Rance, Hurley is likely to again partner with the Richmond star in the tall defender department this year. Along with most of his more senior Essendon teammates, Hurley sat out the entire 2016 season through suspension. But in round one, he and the Bombers hit the ground running, defeating the Hawks by 25 points at the G. It took Hurley another four games before he managed to crack the Fantasy ton. But since then he has managed a further seven tons and just three scores below 90.

The thing that has propelled Hurley above all other key defenders in 2017 ,when it comes to Fantasy points, is his ability to find the football. Most KPD focus solely on, in basic terms, stopping their opponent from having an impact up forward. But Hurley is able to not only win 95% of his match-ups but launch attacks from the defensive 50. Hurley has recorded plenty of marks playing as a lock-down defender (ranked fourth in the league for total marks) but collects the disposal numbers of a midfielder (averaging 25 disposals, 8 up on his career average). He is using the Sherrin as well as a flanker with an excellent disposal efficiency of 79%. And to top it all off, Hurls is leading the competition for rebound 50's, further highlighting his ability to peel off opponents.

I've always had a natural tendency to stay away from selecting key defenders. I'd much prefer going with a half-back type as their role generally sees them scoring more points. But Hurley has been scoring so well, it may be hard to resist him anymore. Especially when you take into account his next two opponents, Fremantle and Gold Coast. He isn't what I'd call cheap at $558,000, but expect him to finish off the home and away season with a pair of hundreds.
From a current Bomber to a past one in Michael Hibberd. In fact Hurley and Hibberd have actually had pretty similar seasons in terms of output. I can't imagine it would've been easy to restart the engine after having the previous year off, and injuries stopped Hibberd from making his debut in the red and blue until round five, but he hit the ground running and fitted in perfectly.
Hibberd is your typical defensive linkman and is in many ways the Demons general down back. His foot skills, cleanness both in the air and at ground level and ability to read the play are exceptional. It's easy to see why the Dees look for him when transitioning from defence into the forward line more often than not. Hibberd is undoubtedly one of Melbourne's most important players in the lead up to the finals series. As was the case with Hurley, he took a few weeks before hitting the three figure mark but Hibberd is currently enduring a career best season Fantasy wise which puts his name forward in the ongoing All-Australian discussion.
Despite being extremely influential in most games throughout 2017, Hibberd has not yet attracted an out-and-out tag. And that has allowed him to mop up a fair amount of forward 50 entries before generating rebound. Similar to Hurley, Hibbo has also been required to pay more attention to his opponents but again proved he is a very capable one-on-one defender. This is particularly encouraging given the fact that many rebounding defenders attack first and can sometimes become a defensive liability. The best example of this came in round 8 when Hibberd was able to stop Adelaide's Tom Lynch but still manufactured 9 rebound 50s in what was a best on ground showing.
The Demons look pretty set on making the finals for the first time since 2006. But they clash with Collingwood and the Lions before being able to break that drought. A quick glance at Cal's Scale Of Hardness for the preliminary finals will show you that the Demons have one of the easiest last fortnight's. The 'Pies and Lions are both around the middle of the pack in terms of total points against for the year. However this season, Nathan Buckley's team have conceded the third least amount of 100's per game and the second least 120's. Hibberd was held to his lowest score of the year against Collingwood earlier on in the year and Brisbane are not exactly bleeding points either. And the more specific stats don't deliver much better results, with Collingwood ranked first for 100's against. So the run home may be a bit tricky for Hibbo but he is a pretty cost-effective option.
Verdict: It's hard to go past Hurley here. He has been very productive this year and last weekend against the Crows was a fine example of his ability to not only defend but find the ball himself. He has the better finish to the year as well and is just a few dollars more expensive than Hibbo.
Marcus Bontempelli ($573,000, MID)

V

Sam Menegola ($536,000, MID/FWD)

There's not much more Marcus Bontempelli would've wished to have achieved after just four years in the big league. He already has a premiership medallion, Charles Sutton Medal (Western Bulldogs B&F), AFLCA best young player award, AFLPA Best First Year Player award, was named in last years All-Australian team and came very close to winning goal of the year back in 2014.

When I think of the Bont, class is the first thing that comes to mind. Has has the rare ability to be able to not only win it at the contest but then proceed to use it to damaging the opposition. Marcus is extraordinarily clean above and below his knees and often pushes forward to good effect. A member of Northern Knights TAC Cup side back in 2013, Bontempelli's foot skills and poise were utilised across half-back for the early part of the season before a switch to the midfield in the latter half really pushed his name up amongst the top echelon of draft hopeful's. His best outing that year came whilst playing for Marcelin. On that day he managed a cool 50 touches and 10 goals.

In his debut season, Bontempelli averaged 69 Fantasy points and backed it up with 92 in 2015. Last season, whilst helping the Dogs to the most unlikely of trophies, the Bont again improved his Fantasy output, this time averaging 98. And that trend has continued in 2017. Despite how good a player he is, Marcus has never really been shown the respect he probably deserves in Fantasy circles. After kicking off the year with an 89, Bontempelli then scored seven consecutive tons. Since then he has put up a further four triple figure scores but has also managed six 90's. His scoring power is underrated, I believe.

Plain and simple, Bontempelli is a freak,  a star and will likely be the best midfielder in the league once Dangerfield and Dusty depart. His 2017 season is worthy of selection in the All-Australian 22 and a top 10 placing in the Brownlow. And in terms of Fantasy production, Marcus has been quality. The Bulldogs conclude their home and away season with games against Port Adelaide and Hawthorn. Whilst the Power have been reasonably good at restricting their opponents (ranked seventh for points against), Hawthorn have been the second easiest team to score against. He hasn't been able to quite reach triple figures consistently of late, but two tons are expected in the next couple of weeks.
Sam Menegola's story is one of the best in footy. Having originally been drafted with the 19th pick of the 2011 rookie draft, the midfielder spent only one year at Hawthorn before being delisted at the seasons conclusion. He was then thrown a lifeline by the Dockers who snapped him up as a rookie with selection 44. This time, Menegola managed to spend three years at the club, but due to lack of opportunity and injury was unable to make his AFL debut. After being cut by Fremantle, the WA-born Menegola returned to WAFL club Subiaco and, despite not playing until round 11, finished third in the Sandover Medal. He was picked up by Geelong at the end of the year, this time in the national draft, and in 2016 finally broke through for a senior game.
Menegola is one of those midfielders who can play on the inside and outside of the contest whilst also being used across the forward flanks. Sam's greatest strength is his endurance, which must be said is elite. He finished second in Geelong's time trial to Mark Blicavs which is why I was surprised to see some of his time on ground number dropping below 70%. However the time on ground figures are not affecting his output given he has gone below 90 just twice in eight games of under 80% TOG. Finding the football is also not a problem but Menegola's tackling is what stands out on the stats sheets. The downside to his game is that he doesn't often damage the opposition by foot. Menegola's goalkicking is also questionable, having kicked 9 goals and 16 behinds in 2017. However neither of those aspects make a significant impact on his Fantasy output.
His game style has always been well adapted to Fantasy. Having averaged 92 from five 2016 games, Menegola is going at just under a ton this year. After missing the first two games of the year, Sam put up 102 and 133 before being rubbed out of the round five clash with St.Kilda for a dangerous sling tackle on Luke Hodge. Since then he has managed six tons and dipped under the 80 point mark three times. Granted MID/FWD DPP status in round twelve saw his ownership rise above 2% for the first time this year. As a midfielder only, there are simply too many better options than Menegola. But up forward he was far more relevant.
Although his average looks reasonable, I certainly wouldn't be calling Menegola a premium option. At this time of year especially, you need your premos to be firing. Although he is on a run of three consecutive hundreds, Menegola has not been consistently hitting the three-figure mark all season. Collingwood and GWS are Geelong's next two opponents. They are two of the more difficult sides to score well against. Sam did score 93 and 113 on those sides earlier in the year. Could be a winner but may just as easily prove to be a mediocre pick.
Verdict: Menegola is in the better form of at the moment and he is available for less with the handy DPP. I feel the Bont is the safer option here and I'd lean towards him if you have the cash as Menegola hasn't been able to string together more than three tons all year and also faces a couple of stingier opponents in the run home.