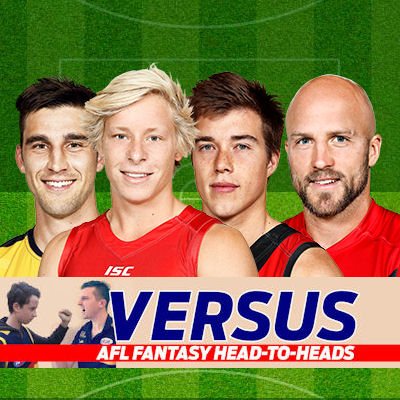 It's that time again and for the last time in 2017, here is this weeks Versus. 
Elliott Yeo ($495,000, MID/FWD)
V
Isaac Heeney ($490,000, MID/FWD)
It's been a tale of two halves for Elliott Yeo's 2017 season. He launched out of the blocks and was looking like a lock for the All-Australian team after the first 11 rounds. However as the Eagles continued to struggle for any sort of consistency, both at home and away, Yeo's scoring has dropped off considerably. But with just one game remaining, his price could make Yeo a lucrative option either in the midfield or up forward.
Born in Western Australia, Yeo is a genuine utility. Size may well be his greatest asset. At 190cm and 88kg he is able to hold down a role as a third tall at either end of the ground, but also has stints in the middle. For a guy of his size, he is a good kick of the footy and is a prolific marker of the sherrin – currently sitting equal seventh in the competition alongside Joe Daniher for total marks. When in defence, Yeo generates rebound through intercept marking, however on occasions where he has been forced to play a more accountable role, the former Lion was somewhat of a liability. His clash with Hawthorn's Jack Gunston was a clear example of this.
From rounds 1 through to 11, Yeo managed eight tons, six of which exceeded 110. But although his scoring of late hasn't been horrendous (two 90's, four 80's and a pair of 70's prior to last weekend), he was unable to hit triple figures until the Eagles weekend loss to GWS. As expected, his Fantasy price reached its peak around mid-season but is now back to where it started at sub-500k. For those looking to round off their forward line with an 'almost' premo – Yeo could be your man.
If you aren't one of the 29% of coaches who own him, obviously you are looking for the best option for the final week for the 2017 AFL Fantasy season. Yeo, who is coming off a sensational 113 point game against the Giants, and his Eagles will face the Crows on Sunday in what will be the last game at Subiaco. Yeo has traditionally been a fan of 'Subi' and its wide expanses. He has not gone under 80 at home all season whilst managing to put up some big tons as well. The Crows have been the second best side when it comes to points against, second only to the Giants. They are also fourth for 120's against and 100's against. So there are no guarantees he will hit the triple-figure mark.
Yeo is suited to the coaches who can't afford an upgrade to one of the bigger premos. As has been previously alluded to, at $495,000 you are getting a guy who undoubtedly has the capacity to go big for the Fantasy Grand Final. It may just be a personal feeling but I get a sense Yeo is just the type of bloke to be the hero in your head-to-head league GF.
Isaac Heeney does things on the footy field that make you question his age and games played. At just 21 with just 55 games under his belt, the Swans would have been counting their lucky stars when he made his way up from Newcastle to join the team, after being taken as an academy player in 2014. Of course that was the final year before the bidding system was introduced and Heeney was always headed to the big smoke at pick 18. That is what I call a bargain.
Growing up in Newcastle, he developed his physical approach after playing rugby league. Upon joining the Swans Academy, Heeney was always destined to become a star. He spent the majority of his junior games in the centre as a real in-and-under midfielder. But given the Swans depth in the middle, Isaac has been forced onto the half forward line. Although he is probably better used in the midfield, Heeney's overhead marking brings real x-factor in attack. He is a ferocious tackler and thrives on the hard stuff but is good for a goal a game and has shown he can still find plenty of the pill up forward. Basketball-converts such as Pendlebury and Greenwood are often blessed with poise, composure and evasiveness, and Heeney is proof that rugby-converts bring with them relentless tackling pressure.
Heeney averaged 66 Fantasy points in his debut year before backing that up with 72 from 19 games in 2016. I talk about it a lot but heaps of players have 'breakout' seasons in their third year in the system. Heeney was certainly expected to be one of these given the potential he had previously shown. A combined 60 disposals against Geelong and Adelaide in last years finals serious further outlines his talent and Fantasy potential. With Tom Mitchell headed south beyond the border, a midfield spot appeared to be their for Heeney to take. Although he's probably spent a fair bit of time in the middle, his presence and toughness up forward is always vital.
Isaac missed the first month of the year with a rather severe case of glandular fever. The Swans did not win a game whilst he was out of the side but, as we know, even a 0-6 start looks unlikely to prevent them from having a crack at another Grand Final appearance. After managing a return of 61 from 72% TOG in his first match back against the Giants, Heeney then backed it up with three tons. A further four hundreds have been scored since round 8 mixed in with three 70's and three 80's and two 90's. If he is to be considered a premium forward, Heeney will need to convert those 80's and 90's into tons.
Heeney plays the Blues this weekend as the Swans look to round out what can only be described as a remarkable year. He scored 120 on them back in round six – his second highest score of the year. The Blues ladder position doesn't reflect their rank for total amount of Fantasy points conceded. It's not often a guy has class, physicality and the ability to find the footy. Heeney will be a superstar and I'm tipping him to crack triple figures this week after coming off second best in his head-to-head battle with Sloane on Friday night.
Verdict: Yeo is the winner here. As I write this there is just something about the bloke that just screams match winner. I realise he is also the type to be placed on the never-again list after a sub-60 GF score.
Zach Merrett ($583,000, MID)

V

Nathan Jones ($572, MID)

Zach Merrett has quite simply taken the footy world (and fantasy world for that matter) by storm in the past two seasons. A second-round selection at the 2013 National Draft, that pick already looks to have been one of the all time best draft steals – and that's says something about how far Zach has come in the space of four years at the highest level.
You'll often find that many of the best midfielders are balanced, meaning they have the ability to play inside and outside of the contest. Zach is one of these. Whilst he has the ability to win it and lay his fair share of tackles, he is even better when the ball is fed out to him, allowing Merrett to use his vision and impeccable foot skills to hit up a leading target more often than not. Zach, the younger brother of teammate Jackson, is renowned for his ability to find an abundance of the ball but also distribute it as well as anyone.
With so many key Bombers sitting out last year, someone was going to have to step up and really take their game to the next level. It's fair to say Zach did just that. He capped off a brilliant year, which included 18 hundreds and a 117 average, by winning the Bombers best and fairest (youngest player to do so) and placing equal ninth in the Brownlow Medal. He also racked up the most ever total disposals in a season by an Essendon player. But of course these outstanding figures meant he would start the 2017 season at $710,000. And not many started with him, some believing he would struggle with the return of Watson, Heppell and co. Others thought he wouldn't be able to justify his hefty price tag. They were soon to be proven wrong. Even the future Fantasy-pig's biggest fans couldn't have wished for a better start to the season from Zerrett. He managed twelve tons of a possible thirteen at the start of 2017. Nine of these hundreds were in excess of 120, highlighting both his immense ceiling and remarkable consistency. It's one thing to average 117 one year, but to match that the season after is quite brilliant actually.
In my eyes Merrett is one of, if not the most complete player in the comp. He quite frankly does it all. He would be able to find the footy blindfolded and probably hit a target with the preceding kick too. Merrett is averaging 4.4 marks and 5.6 tackles too. There is no easier player to write about than Zach. I'm confident that when Danger, Rocky  and Dusty leave us, Merrett will be the best Fantasy player in the land. Ceiling, consistency, ability to beat a tag, easy fixture and despite not managing a ton since round 17, I'm confident he will turn 90's into a ton for Fantasy Grand Final week.
The Demons are going along pretty well this season and look set to have a real good crack at a flag within the next four or five years. But it has taken a long, long time for this moment to come. For years the Demons were the AFL's easy beats. As a club they had it tough. But during these down times, Nathan Jones, Melbourne's then-best player and skipper, was the shining light on-field.
Nothing about Jones the footballer is flashy. He's your typical inside bull, winning the contested ball winner, laying strong tackles and performing on a consistent basis every week. Jones is not a fantastic kick – very few inside midfielders are but what he does well is the hard stuff. Despite virtually holding the team together during the rough patches, I feel Nathan's work goes largely unrewarded, at least amongst the broader footballing community. Viney and Petracca attract much of the attention, largely because they are more attractive players to watch. But Jones is very good at what he does.
We witnessed Jones' full Fantasy potential back in 2014 where he averaged 101 points after playing all 22 matches. Coincidentally this was his first year as skipper of the Dees. To me, this says a lot about his character, attitude and leadership ability. I don't know him personally, nor have I ever met him before, but you just get the sense that Jones genuinely loves the Melbourne Football Club.
But enough about his personality, Jones is also on track to have a career best season. This comes despite the much talked about pre-season accusation of Jordan Lewis who plays a similar game to Nathan. Jones' year was split into two halves due to a quad injury which saw him sidelined for six weeks. Prior to sustaining the injury in round 13, Jones had put up seven tons, a pair of 90's and an array of 70's. I understand this doesn't exactly scream consistency but that pretty much an irrelevant prerequisite at this point in the season. Jones is currently ranked 24th for total disposals and is one of the more well-rounded midfielders when it comes to the key statistics.
Jones has scored 92, 118 and 105 since returning to action. Collingwood is the last hurdle requiring accomplishment before the finals hit. The 'Pies sit mid-table for total points against and 120+ scores conceded over the past three weeks. Jones went 118 on them last time they met and Collingwood gave up tons to midfielders Menegola, Dangerfield and Duncan on the weekend. His ownership, a couple of ticks under 1%, makes him more of a left-field choice, but definitely one to consider.
Verdict: This is one of the easiest comparisons of the season and there aren't any prizes for guessing who my tip is out of the pair. Zach simply is the better scorer and, although he hasn't fired for a number of weeks now, surely the Bomber caps of the year with a ton. If you have held onto Zerrett over the past month, perhaps Jones could be the unique Grand Final hero.
That's obviously the final Versus article of the year. I'm sure Leighroy would agree with me that the season has been an enjoyable one. Congratulations and good luck if you've made it this far in your leagues. It's been a wild ride, but then again, every season seems to be. A total o f72 players have been analysed and compared during the home and away rounds, and we'll be doing it all again next year. Hope you've enjoyed the articles, seeya in 2018.

Click here to subscribe on iTunes. (Please leave a rating and review as a thank you for the year!!).