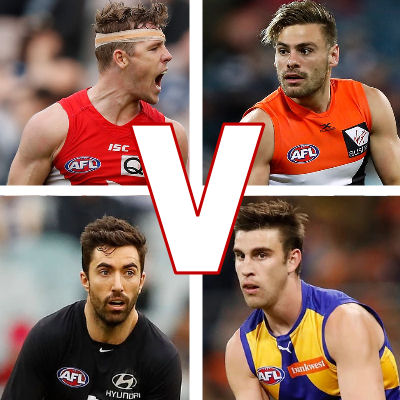 With round one out of the way, attentions have quickly turned to the second week. And with that, Versus makes its return for the year. As has been the case for a couple of seasons now, each week I'll be comparing some of the in-form players, providing a bit of analysis and statistics in order to help coaches make some key decisions. This week, under-priced midfielders Luke Parker and Stephen Coniglio are compared, along with premium defenders Kade Simpson and Elliott Yeo. And just on a side note, I've trialled a slightly different format for this season, let me know in the comments if you have any ideas for further improvement.
Luke Parker ($709,000, MID)

VS

Stephen Coniglio ($693,000, MID)

Positives: Value For Money: Luke Parker is undoubtedly one of the best midfielders in the competition and a Fantasy star when fit and firing. Unfortunately for his owners, he struggled early on last year, totalling just one ton for the first half of the season. Despite finishing the back half season reasonably well, with eight hundreds from 12 games, a season average of 98 was considered by many as a disappointing, perhaps even frustrating year, having averaged 111 in 2016. Priced at only $709,000 after a healthy $16k round one rise, the Swans on-baller is certainly undervalued and tipped by some to return to a 110+ average.

Impressive Start: His game will be remembered for a brilliant goal-of-the-year contender to seal the game late in the 4th quarter, however Parker looked to be back to his Fantasy best against the Eagles at Optus Stadium, tallying 32 disposals (17 kicks, 15 handballs), 3 marks, 9 tackles, 1 goal and 127 Fantasy points. However, looking deeper into the games statistics, in 85% time on ground, Parker managed 18 contested possessions (11 uncontested possessions), 7 clearances (3 centre clearances), 3 inside-50's and attended four stoppages in what was a complete game.

Goal-kicking ability: Due to his strength overhead and in one-on-one situations, Parker is often rested up forward instead of heading to the bench for a break. He kicked 14 majors last year but has recorded season tallies of 25, 18, 25 and 22 in previous years. Expect Parker to be good for a goal a game, and +6's always help the scores.

Negatives: Tough Next Fortnight: Sydney appear near-certain to lock down a top four position and, with Buddy up and about, will be typically difficult to beat, particularly at the SCG. They face Port and GWS in next two weeks, albeit both at the Sydney Cricket Ground. The two sides have made impressive starts to their 2018 campaigns and boast supremely strong midfield units. In terms of Fantasy, the Power ranks third for points against and the Giants second, with neither side allowing an opposition score of 120+ and each only conceding  two tons. Brad Ebert spent much of the clash with Fremantle opposed to Nat Fyfe, who he restricted to just 67 points. He may get sent to Parker, however that hasn't affected his scoring in the past. Parker managed scores of 86 and 79 against GWS last year, suggesting they will again prove hard to score against. The statistics suggest this next fortnight will be particularly difficult, with the Bulldogs and Crows to cap off the first five rounds.
Positives: Massive Round One: The Giants are simply a better team when Stephen Coniglio is in the lineup. In fact, I'm willing to argue he is their most important midfielder. Pardon the pun, but he is the vital 'cog' in the Greater Western Sydney engine room. Coniglio's tough, contested ball winning, in-and-under approach beautifully compliments the Giants plethora of outside players, headlined by stars Josh Kelly and Lachie Whitfield. Unfortunately, a range of injuries restricted the on-baller to just seven home and away matches last year, ending 2017 with an average of 95 points from seven games. This meant he started the year significantly under-priced at $663,000. He is much better than that and if round one was anything to go by, Conigs looks set to launch himself into fantasy's top mids, after averaging 86, 90 and 105 in the past three campaigns. In what proved to be an easy victory for the home side, Coniglio recorded 21 kicks, 11 handballs, 8 marks, 7 tackles, 2 goals and 146 Fantasy points. Now if his price and terrific start isn't enough to convince you, the following points should.
No Threat Of Tag: Despite Conigs' ball-winning ability, with the more-damaging Kelly, Shiel and Whitfield in the side, you just don't tag him. And that is certainly a positive for Fantasy coaches. However the Giants have turned to Stephen in order to execute there own tagging roles. Throughout the 2016 season, he was sent to the likes of Jack Steven, Sam Mitchell, Adam Treloar and Daniel Wells. All of which were restricted to 100 or less points, further demonstrating Coniglio's value. Interestingly, Coniglio was able to outscore his opponent on three of the four occasions, even producing scores of 123 and 119. At-times throughout this year, the Giants will likely look to him to restrict an opposition mid, but rest assured his scoring will not suffer.
Favourable Fixtures: Whilst Parker and the Swans have a tough set of fixtures for the near-future, Coniglio's Giants have an easier run, at-least in terms of Fantasy. On Saturday afternoon, the Giants head to the MCG to face Collingwood. Nathan Buckley's side is ranked 12th for points against, after allowing Tom Mitchell to run all over the top of them. Whilst it would be reasonably safe to assume the Pies midfielder will tighten the screws on opposition on-ballers, Conigs and co will be expected to dominate. And when GWS wins, their midfielders generally go big, as was made clear against the 'Dogs. In round three, the two NSW sides clash in what could be an early Grand Final preview. Despite the victory over West Coast, they allowed four opposition tons. Fremantle, ranked 17th for points against, concludes the opening month of footy. Not only will this likely be a drubbing, Coniglio loves StarTrack Oval and should be pencilled in for a 120+ outing.
Negatives: Prone To Sub-100 Spells: In his past 45 AFL games (stretching back from 2015 to 2017), Coniglio has totalled 25 scores of under 100 – most of which land in the 75-99 bracket. This suggests that, despite his awesome start, he is known to frustrate coaches by not being able to crack the ton on a regular basis. In addition, history shows that when he fails to hit three figures, he struggles to do so for a number of games to follow. Throughout the middle of 2015 he went seven games in a row without cracking the ton and had three game layoffs twice later that season. In 2016, Coniglio went under 100 eight times, only managing to return to three figures the next week on one occasion. And as recently as 2017, Stephen went on another three game lay off. I hope that made sense like it did when I had the statistics right in front on me. But in summary, he is prone going on a run of sub-100 games. Some of these games he still scored in the 90's, but is that what you want from your premium midfielder?
Verdict: Both midfielders are under-priced at this stage and, if you don't own them already, should definitely be considered as potential trade targets. With Zach Merrett in doubt for round two and certain to leak some cash, these two guys should be in your plans. Despite his tendency to go without a triple-figure score for a stretch of time, I'd lean towards Cogs here. He looks in top nick and has a relatively easy run. But make no mistake, both are excellent prospects.
Loading ...
Kade Simpson ($705,000, DEF)

VS

Elliott Yeo ($694,000, DEF)

Positives: Durability: Kade Simpson has unquestionably been a terrific player for Carlton over the space of 15 years now. Whether deployed on the wing or across half-back, Simmo's courage, sure foot skills and ability to read the play has been invaluable for the Blues. Despite posting strong Fantasy averages in the first ten years of his career, Kade Simpson has really improved with age, leading the young Blues through their rebuild stage. The half-back partnership with Sam Docherty has not restricted his point-scoring ability, instead they have both been able to flourish and provide owners with regular tons as two of the games most popular defenders. Simpson's durability is remarkable, especially considering the courage he displays on the field. Simmo has played under 20 games in a season just once in the past ten years, when he managed 19 games in 2012. Yes, he is getting older and that could be seen as an issue, however age hasn't affected him of late. Fingers crossed he will continue to stay on the park.

High Ceiling And Strong Round One: Last season, Simpson managed nine tons, including scores of 126, 161, 137 and 123, proving he has a reasonably high ceiling. In the opening match of the year, last Thursday night, the Tigers allowed Simpson to mop up everything across the half-back line. He scored 77 points in the first half when the Blues were on top but even when Richmond took over the game, he contributed a further 52 points. Carlton love it when Simpson has ball in hand exiting the defensive-50, and will look to get him the Sherrin whenever possible, particularly in the absence of counterpart Docherty. A real strength of Simpson's is that he is a proven performer whether the Blues win or loose.

Positive Fixtures: The Blues face Gold Coast, Collingwood, North Melbourne, West Coast and the Western Bulldogs in their next five games. Now I know we've played only one round of football, but all of those sides except for the Gold Coast are ranked in the bottom half of sides in terms of points against. Expect the Suns to drop down severely sooner rather than later as they won't play North in Cairns, surrounded by atrocious conditions every week.

Negatives: Opposition Attention: As was stated above, Simmo was allowed to do whatever he fancied against the Tigers which allowed him to rack up 35 touches, 6 marks, 4 tackles and 129 Fantasy points. Although, in the end, Richmond were able to get the win fairly comfortably, against lower ranked sides, Simpson could be the difference between four points and a loss. His impact off half-back warrants added opposition attention, whether that be in the form of a tag or by making him more accountable defensively. Either way, it would make sense for rival sides to do more in order to quell his influence over the course of the season.

Questionable Consistency: Without looking at any numbers, I had assumed Simpson would be one of the more consistent defenders. However in 2017, he recorded scores of under 90 on six occasions (53, 74, 71, 83, 81, 64 and 79). This year, rookies are already the cause of many an issue, so if you fork out top dollar ($705,000) for one of Fantasy's better defensive prospects, you expect tons on a regular basis. Although he has a high ceiling, positive fixtures and elite durability, history hints that high scores may not always be the outcome from Simpson.
Positives: Potential Midfield Time: Elliott Yeo is arguably the AFL's best swingman. He is a great size at 190cm, which allows Adam Simpson to deploy him as a marking target up forward, big-bodied midfielder or third-tall defender. Having come across from the Lions in a trade which has paid big dividends for the Eagles, Yeo spent the majority of the first game in the midfield, where his tall frame, precise and powerful foot skills and contested ball winning are put to good use. However, thanks to his flexibility, Yeo was thrown forward in the final quarter in an attempt to steal the four points. He did manage to hit the scoreboard but the Swans headed back to the harbour city with the precious four points. With the potential for more midfield time throughout the year, Yeo looms as a near certainty to become a top six defender.
High Ceiling: Elliott Yeo has demonstrated in past years that his ceiling is high, especially for a defender. In 2017, he ran rampant against the Dockers, notching up 24 kicks, 8 handballs, 14 marks and 6 tackles for a fantasy score of 152. That night his marking ability across half-back was elite and showed us coaches just how big he can go on his night. This should be the template game, however Fremantle weren't exactly top-notch opposition on the day. In addition to what was an excellent first half of the season, Yeo also posted scores of 120, 116, 124, 110 and 118. When he is allowed to glide in front of opposition forwards, take intercept marks and distribute the ball with accuracy, Yeo looks a million bucks.
Progression: In his six prior seasons at AFL level, Yeo has improved his average each year. He averaged 81 in 2016 before managing 98 last year. This progression, combined with his flexibility and high ceiling points towards last years best and fairest winner and All-Australian member cracking into three figures in 2018.
Negatives: Harsh Upcoming Schedule: West Coast face the Western Bulldogs this week at Etihad Stadium, which looks set to be a cracking game, given both sides will be eager to get off the mark. Geelong awaits in round three, but from rounds 4 to 6, the Eagles play Gold Coast, Carlton and Fremantle – sides who will leak Fantasy points left, right and centre. However after that stretch, the Power, Giants, Tigers, Hawks and Saints stand in their way before the Eagles mid-season bye. With Essendon, Adelaide and GWS to follow, the the middle of the year will be a tough period, with the majority of the aforementioned sides destined to be difficult, but far from impossible to score against.
Consistency: We've all given Elliott a bit of stick over the years for his lack of consistency, at-times labelling him 'Yeo-Yeo'. Last season, Yeo flew out of the blocks, averaging 107 by round 11 with eight tons. However he dropped off, only managing an average of 88 in the back half, recording only one triple-figure score (113 in the 21-point loss to GWS). In 2016, Yeo only managed two consecutive hundreds once, following high scores with efforts of 38, 40 and 34, along with five scores within the 60-75 range. Thankfully for coaches, the days of his 'Yeo-Yeo'-like scoring appear to be behind him, however his numbers late in 2017 must be considered before trading him in.
Verdict: It's a tough call, but Elliott Yeo is my pick here. It has to be acknowledged that Simmo's age will more than likely get to him at some stage during the year, particularly as he is the go-to guy in the back half and could face the threat of increased opposition attention. Yeo's potential midfield time and expected progression see him edge out the Blues veteran for me.
Loading ...