Versus – Round 15
Vote now on the head-to-heads in this week's Versus.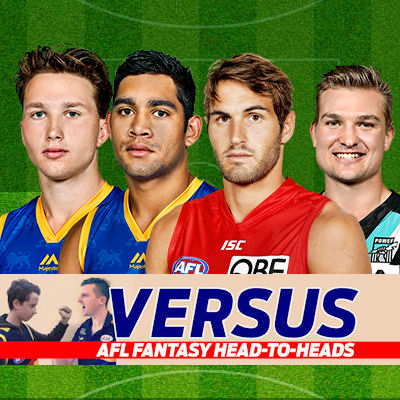 Today in Versus, Brisbane Lions draftees Alex Witherden and Cedric Cox come under the microscope. Both have endured very different and at-times difficult paths to the big time. Two of the best pure inside bulls, Josh P. Kennedy and Ollie Wines also feature.
Alex Witherden (DEF,MID, $225,000)

 V

Cedric Cox (DEF, $211,000)
In most recent drafts, there has been a player selected despite having been injured for a chunk of his draft year. In 2017, Alex Witherden was one of those. A rebounding defender who can at-times be deployed on the wing, Witherden impressed scouts back in 2015 for his TAC Cup side the Geelong Falcons. Just two games into his draft year, Alex ruptured his ACL whilst playing school football for Geelong College and was consequently ruled out for the remainder of the year. This meant he was unable to strut his stuff in front of talent scouts throughout the all-important Under-18 Championships. But from all reports, the AFL Academy member helped out wherever and whenever he could. To be drafted just outside of the first round and debut in his first season, on the back of very little game time in 2016, is a testament to Witherden's hard work and talent.
Witherden's greatest strength is his foot skills. His precise and direct kicking make him a perfect attacking defender who can launch plays from the back-line. This role is also ideal for Fantasy. Alex has also displayed composure with ball in hand and the ability to read the play which has seen him likened to Essendon's Brendon Goddard when used off half-back.
Before selecting the Geelong Falcon, Brisbane had two picks inside the first round which they used on Hugh McCluggage and Jarrod Berry. Witherden was then taken at 23 ahead of Cedric Cox. What's interesting about those four is that they all originated from country Victoria, joining fellow country boys Josh Schache, Rhys Mathieson and Sam Skinner who headed north in 2015. Brisbane, who are obviously is a developing stage, clearly made this a pre-draft focus. With the number one pick for this years draft looking almost certain to be an asset of the Lions, it makes sense for them to be blooding plenty of youngsters. And last weekend, Alex Witherden was given his first taste of AFL footy after playing consistently strong football in the NEAFL.
In the hefty loss to the Giants, Alex was very good. He found plenty of the ball (20 disposals including 12 kicks and 8 handballs), took 7 marks and managed a total of 77 points. On top of these promising statistics, it was nice to see Witherden spend 83% of time on ground on debut given endurance was one of his perceived weaknesses going into the draft.
After selecting Alex, the Lions would have given him no pressure to play straight away. After all, he hadn't played much footy for almost a year. I'm a little surprised to see him feature at senior level so soon. But his NEAFL form has been very good and I'd suggest we'll see and hear a lot more of Witherden in the coming weeks as he looks to cement his place in the Lions best 22. The 2016 draft is already looking like a winner for Brisbane with all four top 25 draft picks making a name for themselves already. Witherden clearly has a high ceiling for a first year player, as has been proven at both levels, and will be given every opportunity to make his mark. At $225,000, he really does excite me as a downgrade option.
Whilst Witherden may be the feel-good story of the 2016 draft class, Cedric Cox's journey through the ranks has been something to behold. Originally born in the Western Australian town of Halls Creek, Cox elected to make the huge geographical move to country Victoria, Camperdown to be precise, to better improve his footballing ability. Cox was no different to many other indigenous kids from rural areas in that he had raw skill to burn. And in hindsight all it took was greater opportunity.
After finding work at the local bakery in Camperdown, Cedric would play club footy as he was not yet signed up to a TAC Cup side. It didn't take long for the North Ballarat Rebels to secure his services. Even after joining the Rebels, Cox was still largely unknown to scouts and draft analysts. Throughout the TAC Cup season, Cox was a running machine, consistently clocking up huge numbers in relation to work rate and endurance. Coming off no pre-season, this was enough to catch the attention of junior footy watchers.
His cousin, Carlton's Sam Petrevski-Seton joined him at October's Draft Combine in which Cox performed well. He clocked up solid numbers in the 3km time trial, beep test and repeat sprint – all indicators of his enormous running ability. Coming into the draft, Cedric was viewed as someone who could go anywhere between the late first round and early third. In the end, he headed to the Lions with pick 24. This is probably the best club he could've hoped to land at given the Lions would grant him plenty of time to fulfill his large potential.
Cox's playing style reminded draft watchers of Gold Coast's Adam Saad. Both are able to create high impact with every possession and tear apart opposition lines with blistering speed, run and carry. Cox's skill set is also appealing in the fact he can kick it effectively off both feet. However the two weaknesses he was viewed as carrying, production and consistency, are not exactly what you look for in a Fantasy player. These skinny outside midfielders don't normally provide much scoring wise. And that's what we saw once he was given an opportunity in round 4. He scored 47 and 37 before returning to the NEAFL. I doubted whether he would be given a crack before the half-way mark of the season, so a debut so early in the piece says something about how highly the Lions rate him.
Since dropping back down to the reserves, Cox has been deployed both off half back and on the wing – positions where he is encouraged to unleash his strengths. From all reports, he hasn't put a foot wrong, showing real class with ball in hand and last weekend collected 26 touches. He looks increasingly likely to be included for this weekends clash with the Bombers.
For someone who did not play genuine under-18 footy until he joined the Rebels last season and did not even speak English until his early teens, it's fair to say he has progressed remarkably well. Whilst he didn't exactly light it up in his first two games, Cox will no-doubt be handed a chance either this week or in the very near future. At $211,000 he is a downgrade option to watch.
Verdict: Both of these draftees were considered risks upon being selected for their respective reasons. They have defied what I expected of them in 2017 and are proving to be downgrade options. For me, it has to be Witherden here. He has started life as an AFL footballer exceptionally well and looks to have solid job-security, a good ceiling and added DPP flexibility.
Josh Kennedy (MID, $581,000)

V

Ollie Wines (MID,$571,000)

Ever since making the switch from Hawthorn to Sydney, Josh Kennedy has been one of the leagues premier midfielders. Big, strong and tough, JPK thrives on the contested-ball and is one of, if not the best at winning it in tight. He excels in tight around the stoppages and regularly accumulates 25+ touches. In a midfield containing stars such as Luke Parker and Dan Hannebery, he could well the best of the lot. But what sets him apart from many other midfielders is his ability to consistently hit the scoreboard.
In past seasons, Josh Kennedy has been renowned for his steady Fantasy scores in first half of the season before exploding in the run to the finals. His past three season averages of 107, 107 and 105 were largely because of his dominant finishes. And up until round seven, with just the two tons to his name to go with three sub-90 scores, 2017 looked to be a continuation of the previous couple of stints. But as the Swans started to improve on their unexpected loosing start to the year, Kennedy's output has lifted to another level. 37 disposals, 6 marks, a goal and 122 Fantasy points kicked off the run with efforts of 105, 112, 112, 102 and 118 to follow.
JPK has always been one to feature highly on awards nights. He has been an All-Australian three times ('12, '14 and '16), named best and fairest on three occasions ('12, '15 and '16) and the Swans players player another three times ('12, '15 and '16) – a fair list. He also always seems to be amongst the front runners by Brownlow night and has received 96 votes over the years.
Another reason as to why you should be considering bringing Kennedy into your midfield is because he is simply a big game, big moment player. Despite the loss, he was one of the Swans best on Grand Final day, kicking a career-high 3 goals. With Sydney likely to face a tough battle to make the final eight, blockbuster games against GWS, Geelong and Adelaide are just the type of matches where JPK is at his hard working best. Interestingly, those three match-ups are all away games. But taking a more short-term look, the Swans play an up-and-about Melbourne and Gold Coast in the next fortnight. The Demons are certainly a tough side Fantasy wise, ranking second for average points against, third for 100's against and third for 120's against. Gold Coast, on the other hand, are more lenient, ranking in the middle for key statistics against.
Josh P. Kennedy is undisputedly one of the best mids in it. He is a beast when it comes to anything in-and-under, often racking up 5+ tackles. JPK currently sits second for total contested possessions behind only Patty Dangerfield. Perhaps the only issue with Josh is his kick:handball ratio. Whilst it would be preferable if he flipped his current ratio (averaging 12.1 kicks and 17.7 handballs), his role requires him to win the ball then offload it to teammates by hand. Also enticing is his price which sees him cheaper than the likes of Ross, Treloar, Duncan and Sidebottom. A round 15 breakeven of 97 will see this rise over the next few weeks, so get on-board now. The combination of current form and price make him close to irresistible in my opinion.
It's fair to say Ollie Wines took to AFL like a duck to water. He was taken by the Power with pick 7 back in 2012 as a ready-made inside midfielder. He managed to play all 22 games in his inaugural season in the top flight, averaging an impressive 74 Fantasy points. From that point on, Wines has been considered a premium midfielder but never seems to attract the same attention levels of the more popular big guns. Having managed averages of 91, 92 and 99 over the past three years, 2017 could be the year that coaches start to pay more attention to the Power star.
Wines was given the nickname quadzilla almost as soon as he made his way to Alberton – and for good reason too. He uses his brute strength, large frame and power to advantage in the midfield. A big contested-ball winner, Wines is as heavy as most key position players at 97kg. Judging by the key statistics, Wines is enduring a career best season. In comparison to his career numbers, Ollie has increased his average disposals per game by 4.
Ollie has been a consistent Fantasy contributor for the past three seasons, often cracking at least 90 and rarely dipping below. His ceiling is not massive, however, having managed just two scores over 130 in the past two seasons. And this season has yet to buck any trends in that field. Six of his seven hundreds have been under the 120 point mark. I'd put this down to the fact that he does everything well but not great. For example, he will get you 25-30 touches a game, 5 or so tackles, a couple of marks and perhaps a goal. Whilst those numbers will net you a regular ton, they don't have the capacity to hit the big scores. So if you're after a captain option, Wines is not the type of guy.
His 2017 season kicked off nicely, netting three tons in the first three matches. Then came a slump of six matches without hitting triple-figures. They weren't terrible scores, mainly 80's and 90's, but that's not what you want from a midfield premium. Thankfully, his scoring has returned to it's regular heights over the past five weeks, producing four hundreds and a 95. All up, apart from a 68 in the loss to West Coast at Adelaide Oval, Wines has been solid.
It was interesting to see, despite being in the system for five years, Wines' time on ground numbers often failing to reach 80%. In fact, he has spent below 80% TOG eight times for an average of 78%. These figures are surprisingly low for a midfielder and prove he is never far from the action when on field. The Power vice-captain is owned by just 4.12% of Fantasy coaches and, at less than $600k, would slot in appropriately as a consistent M6/7 come the end of the season.
Verdict: As you would expect, JPK wins out here. No disrespect to Wines, whom I rate highly as a player, but Kennedy simply has him covered in all areas. At the end of the day, you want to be trading in top 8 midfielders and I'm not sure Ollie has what it takes. He does offer a point of difference though, but JPK is on a roll at the moment and will be at his cheapest price for a while.