Versus – Round 14
Head-to-head today is Bryce v Mitch.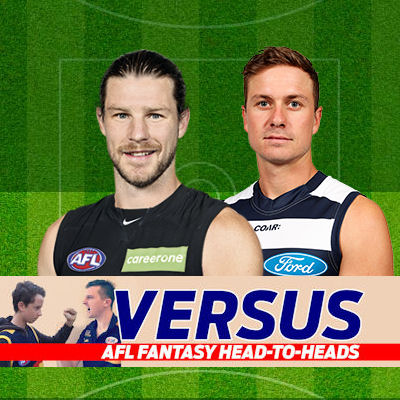 Bryce Gibbs and Mitch Duncan certainly weren't predicted to be in the running for a top 8 mid spot by the end of the bye rounds. But both are in the middle of career-best seasons. I'd argue that neither are the primary midfielders in their respective sides, particularly for Duncan and Geelong. This weeks edition of Versus takes an in-depth look at Bryce and Mitch who could both prove to be invaluable premiums, and come attached with relatively low ownership rates.

Click here to subscribe on iTunes.
Bryce Gibbs (MID, $678,000)

V 

Mitch Duncan (MID, $646,000)
Last week belonged to Bryce Gibbs.
Much of the media's attention this week has focused on Gibbs' form and value and rightly so. The man who made all sorts of headlines during the preseason, predominantly focusing on his desire to move back to Adelaide, came out and played a game for the ages amassing 43 touches, 10 tackles and 2 clutch goals leading Carlton to a 10 point victory on opposition turf. Those who had doubts over whether Gibbs was fully invested in the Blues after his trade request were left sat in a corner eating humble pie.
Alas, this story had been done to within an inch of its life this week so I will bore you no more with the man bun love. We're here to talk about Gibbs' Fantasy relevance and how he compares to those around him and at a lofty price of $678k this might just be his undoing……….Let me explain.
Make no mistake, Gibbs is an exceptional player. In practically every facet of his game he is a class above. However, in Fantasy land, players are often compared with those around the same price tag as them. This can be a misleading way to judge a player due to myriad reasons, but mostly due to the fact a players price is often a reflection of their form during the last 2-3 games, rather than their overall Fantasy prowess. Slight Injuries, early game concussions ie; Lloyd or even unexpected tags can often throw even the most revered player's prices plummeting. Conversely, rare games where a player smashes their usual ceiling by say 40 or 50 points, ie: Gibbs last week, has the opposite effect and will continue to increase his price beyond the 700k mark in the coming fortnight. This is the nature of our game, and for some players this is an opportunity to make some quick cash by playing the breakevens, but due to the relatively form based nature of our pricing system, this can often lead to some coaches chasing last weeks points and failing to see the outlying reason why a player is in the company of those whom they would otherwise be beneath for most of the season. In simpler terms, if I asked you to rate these 5 players in order from most to least 'FANTASY RELEVANCE': Rocky, Zerrett, Zorko, Ablett and Gibbs, I think most out there would have Gibbs towards the bottom of that list even though he's currently not the cheapest one from the bunch. Again this is purely a reflection of past Fantasy relevance as opposed to the quality of the player in the AFL, (That's a whole different kettle of fish, Gibbs would be very near the top in my humble opinion). In even simpler terms, if you are in the market for a new premium of that price range, and you didn't already have them, you would need to preclude Ablett, Rocky, Zerrett and Zorko in favour of Gibbs to sit in your team until essentially the end of the year.
Onto more positive points though, Gibbs hasn't dipped below 90 all year with his lowest outing of 93 against the restricting Melbourne side in round 2. He's well rounded in terms of scoring meaning he accumulates points via a variety of ways and kicks the pill more often than he handballs it which is always nice to see. At 11 goals so far this season, he's not the most scoreboard damaging mid going around but again he's far from being the worst. In terms of tagging order at Carlton I'd say he sits below Murphy and even Cripps so there's a big tick and after his 194 last week he's clearly found a new ceiling with which to tempt us.
I haven't delved into Gibbs' nitty gritty stats too much because I believe that when you're in the market for a top tier premo like the above mentioned guys, the decision really comes down to who YOU feel the most comfortable with sitting in your team. There are a plethora of arguments for and against each premo but if you can genuinely feel good with picking one over the other then that's your decision to make. I for one would have no qualms in picking Gibbs this week. His BE is 69!!! his ceiling is huge, his confidence is sky high and he's far more durable than let's say Ablett with his dodgy shoulder and "managed" rounds.
A bit of a mixed review this one. It wouldn't have been fair for me to just jump aboard the 194 score without taking a step back first.
A genuine set and forget premium who will be over 700k next week. Shout out to those who somehow put the C on him last week, you're the real MVP.
We all know that Patrick Dangerfield and Joel Selwood form the most formidable double act in the country. But after losing the preliminary final to the Swans, in order for Geelong to advance further, second-tier guys like Scott Selwood and Mitch Duncan needed to up their games. It's safe to say they have both done just that. Today, Mitch Duncan is in the spotlight.
A midfielder who is equally suited to the inside and outside, Mitch Duncan headed south with the 28th pick of the 2009 National Draft. In just his first season, he came on as the sub in non-other than the Grand Final and played his role in the Cats victory – not a bad introduction to life in the fast lane. In terms of Fantasy ability, Mitch has always shown potential. After averaging a solid 67 from his 8 2010 games, Duncan reinforced this with a 77 the following year before hitting 81 in 2012. He managed to play all 22 games for the first time in 2013 and an average of 88 reflected this ability to stay on the park. The second-round draft pick put up 90+ averages in 2014 and 2016, but a disappointing in-between season (average of just 79) saw his stocks drop.
Whilst he produced career-best numbers last year on the Fantasy side of things, Duncan's season was patchy and he was unable to really lend a hand to Selwood or Dangerfield which no-doubt would have been his overall aim. But so far in 2017, Duncan has more than made up for it. For starters, he has been one of the most consistent performers, averaging a massive 115 yet only dipping below the three figure mark on three occasions. And those three blemishes were hardly poor games seeing he scored 95, 91 and 97. Duncan's nine tons have included outputs of 169, 128, 134 and 128 – highlighting his high ceiling. What's impressive about these scores is that only half have come when he has spent more than 80% time on ground. This sees him ranked highly when it comes to points per minute. His best score, 169 against the Bulldogs, came about because of a career-best 18 tackles, on top of 31 touches and 7 marks. And whilst he often racks up big disposals numbers, his marking, tackling and at-times his scoreboard impact (has kicked 7 goals this year, all of which came before round 8) combined make Duncan one of the most well-rounded mids.
From rounds four to seven, Duncan was at his productive best. Not only did he accumulate four tons on the trot, but the midfielder was also able to score more than the two more highly fancied teammates in question on all bar one occasion. Duncan's price has only dropped twice throughout the seasons entirety. Not many coaches could say they started with him at the price of $571,000. Mitch's price tag has since risen to the current level of $646,000 – firmly entrenching himself as an out-and-out premium. The next step for him will be to reach uber-premium status and if this season continues to exceed expectations, I'd suggest he'd be rated amongst the elite coming into next year.
Going up against a guy like Gibbs, who has just banged out a casual 194, it's going to take a fair effort to convince you as to why you should pick Duncan over the blue. To be honest, there are probably only three genuine arguments going in Mitch's favour. First is his lower ownership. Next is the fact he is playing in a winning side, compared to Bryce who will loose more often than not despite a recent purple patch. Whether that leads to more points is a separate argument. On the back of a massive game, expect to see Gibbs be targeted by opposition taggers more regularly. But on the other hand, you'd be a fool to tag Duncan when Danger/Jelwood are in the side.
The bottom line is, this guy is having a massive season. You could even call it a breakout year given he has never previously averaged in excess of one-hundred. But at this stage of the year, you want to be trading in big-time midfielders who will be amongst the best come the seasons conclusion. The big guns will be there, the likes of Dangerfield and Merrett, but I believe Duncan will claim a top 8 midfield spot as well. No signs suggest he will drop back off and when a guy like Duncan is on, he is really on, more often than not displaying his large ceiling. He has been one of the biggest improvers of the year both on-field and in the Fantasy arena. I say get on board either this week or next because, after all, who doesn't like the sound of a potential top 8 midfielder with a current ownership of just 2.74% available at sub-$650k?