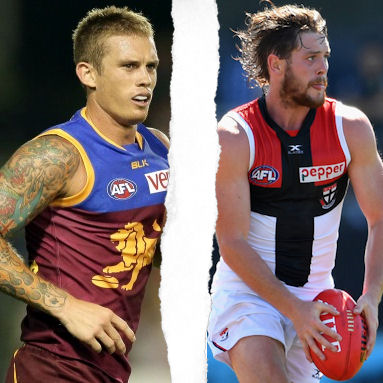 It's week seven of the AFL Fantasy 2017 season and most of us are 'happy' with our team selection.  Given what we know now, I'm sure a lot of you, including myself would make one or two (maybe four) changes to our Fantasy squad.  However, it is what it is and I hope this write up will guide you in your strategy moving forward.  I was ranked just outside the top 400 last week (Team Ricontop – 426), so I started looking at the data and the make-up of the teams in front of me. In week 6 the top 400 team vanilla side consists of the players below.
Top 400 Vanilla Team Round 6
DEF
Marchbank (98%), T. Adams (97%), A Otten (95%), C. Hampton (94%), R. Laird (87%), Newman (64%)
MID
Beams (97%), P. Dangerfield (84%), T. Mitchell (82%), A. Treloar (73%), N. Fyfe (69%), H.Balic (66%), T. Rockliff (62%), M. Murphy (42%)
RUC
Martin (93.5 %), T. Nankervis (58.5%)
FWD
Hoskin-Elliot (93%), L. Dahlhaus (91%), A. Neal-Bullen (75%), D. Houston (72%), D. Butler (68%), J. Steele (65%)
Last week my team had 15/22 vanilla selection as per listed above.  At the start of the season, I made a choice of not starting with both Patrick Dangerfield and Tom Rockliff.  Every week I cringe at Rocky's scores wishing he was in my team and although Dangerfield had a low score last round, he can easily pump a 150. Like most on the AFL Fantasy selection table each week, the big question is, do we go vanilla or unique? Last week, I had a choice of selecting Dangerfield/Rockliff or bring in a unique like Zach Merrett who was in just 7.5% or 30/400 teams.  I knew that Warnie was keen on Merrett and when Calvin named him as number 1 captain choice, I welcomed Merrett onto my team and slapped a 'C' on him!  Last week, I was 'kissed on' and progressed my ranking to from 426th to 54th overall.
Top 400 Vanilla Team Round 7
Defenders
Adams $657K Ownership 53% Top 400 Ownership 96%
Otten $341K Ownership 41% Top 400 Ownership 94%
Marchbank $375K Ownership 42% Top 400 Ownership 93%
Hampton $358K Ownership 46% Top 400 Ownership 91%
Laird $598K Ownership 37% Top 400 Ownership 85%
Newman $305K Ownership 23% Top 400 Ownership 59%
These six players represent the most common defenders in the top 400.  It is no surprise that Taylor Adams is in 96% of the teams, he has been both consistent and one of the most durable defender this year.  After Adams, most teams in the top 400 will have Andy Otten, Caleb Marchbank, Curtly Hampton and Rory Laird. It will be interesting to see the make-up of the top 6 defenders as we upgrade from rooks to guns progressing through this season.  The 'Doc' scored 159 last week, although Sam Docherty's top 400 ownership is far from unique (54%), I am still surprised that he is not in more teams in the top 400. If that was a crime, I present to you Kade Simpson, take a bow, with 161 points last week. His top 400 ownership is only 4%.  Another unique pick is Dylan Roberton, is he the real deal?  A question for The Traders.
Simpson $575K Ownership 7% Top 200 Ownership 4%
Roberton $566K Ownership 4% Top 200 Ownership 6%
Midfielders
Beams $581K Ownership 38% Top 400 Ownership 96%
Mitchell $678K Ownership 21% Top 400 Ownership 84%
Dangerfield $649K Ownership 52% Top 400 Ownership 72%
Balic $222K Ownership 36% Top 400 Ownership 64%
Rockliff $701K Ownership 21% Top 400 Ownership 63%
Treloar $671K Ownership 24% Top 400 Ownership 62%
Fyfe $565K Ownership 47% Top 400 Ownership 58%
Murphy $638K Ownership 28% Top 400 Ownership 39%
Who do you think will be in the top 8 midfielders by the end of the year?  I am sure this is one of the questions that "The Traders" will cover soon on their podcasts so make sure you follow them. The most selected Midfielder in the top 400 is no other than Dayne Beams.  He had a less than average game last week and there will be 382 coaches in the top 400 who will be forced to trade him out this week.
If you choose vanilla, my picks are still either Tom Rockliff or Patrick Dangerfield.  Out of the two, my pick is still Rockliff, this week comes against Sydney (oink oink).  As for unique, I present to you Gary Ablett (GOAT), it is a crime that his percentage ownership is so low both overall and in the top 400. AFL Fantasy team 'SOAG' is currently the number 1 ranking team.  Last week he was ranked 26.  Guess which unique player he had which leapfrogged him from 26 to number 1 (Hint first name Gary).  If you want super unique then what about Jack Steven? A sideways trade from Beams to Steven will cost only $2K.  Steven is owned by only 1 team in the top 400!
Ablett $645K Ownership 7% Top 400 Ownership 5%
Steven $583K Ownership 2% Top 400 Ownership 0.3%
Ruck
Stefan Martin $614K Ownership 32% Top 400 Ownership 91%
Nankervis $472K Ownership 50% Top 400 Ownership 67%
Toby Nankervis is owned by 50% of all AFL Fantasy coaches and about 91% of the top 400 coaches.  Out of the 364 top 400 coaches, 67% (267/400) play him as 2nd Ruck. If Braydon Preuss ($316K, Ownership 53% Top 400 Ownership 82%) is named this week, the vanilla pick would be to play Preuss and either hold Nankervis or trade him via DPP and upgrade another line.  If unique in your choice, Sam Jacobs is on only 1% of the top 400 teams!
Grundy $616K Ownership 17% Top 400 Ownership 30%
Jacobs $556K Ownership 6% Top 400 Ownership 1%
Forwards
Dahlhaus $565K Ownership 44% Top 400 Ownership 90%
Hoskin-Elliot $428K Ownership 41% Top 400 Ownership 84%
Steele $492K Ownership 32% Top 400 Ownership 76%
Black $220K Ownership 26% Top 400 Ownership 72%
Macrae $585K Ownership 35% Top 400 Ownership 64%
Butler $297K Ownership 23% Top 400 Ownership 61%
If you have been kicking with Alex Neal-Bullen and Dan Houston in your team, you would have been enjoying watching them every week as they both have produced more than acceptable scores. Last round, both had bad AFL Fantasy scores of 31 and 44 respectively and may be the reason for the ranking shuffle in the top 400. The Western Bulldog's duo of Luke Dahlhaus and Jack Macrae are the two most selected premiums in the top 400.  If you want unique, Nick Riewoldt (Yes I said unique) is currently owned by just 1.8% of the teams in the top 400. If you are fortunate enough this week to escape injuries and team selection issues, trade him in.  If you are a bit short on cash Isaac Heeney is cheap and he is also unique. However, personally, I would like to see one or two more weeks from him before I pull that trigger.
Riewoldt $629K Ownership 6% Top 200 Ownership 2%
Heeney $443K Ownership 8% Top 200 Ownership 4%
I will be compiling a list of the top 400 teams weekly and will aim to have something written up every 3 weeks.  If there is anything specific you want answered, make sure you add me on Twitter @magtuto so I can answer your Q's.  Go unique!
A full and raw list of players and their % representation can be found on the excel spreadsheet. Click here to download.