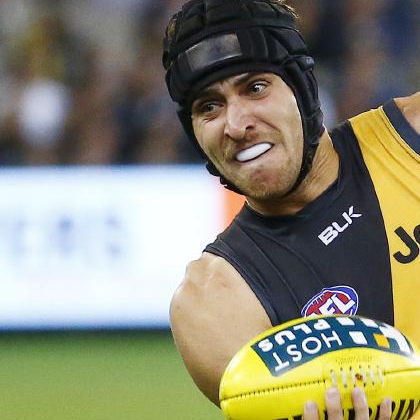 WARNING: The following article contains satire. I do not take responsibility for you actually selecting any of these players … unless they turn out to be really good picks … then I want FULL credit.
It's lonely at the bottom.
These players are real people just trying their best to succeed in one of the most demanding sports on the planet and yet when lined up with the rest of the competition, they're left standing there while everyone else is picked to go play.
I'm here to tell you why you should pick those guys with thoroughly researched and well thought out arguments.
Remember, there are 90,000 or so people currently playing AFL Fantasy…
Ben Griffiths (FWD, $403,000)
Currently in 51 teams
Ben Griffiths has had a lot of injury issues in his career and has never played more than 15 games in a season, but with Ty Vickery now at the Hawks, Griffiths has a clean run at becoming the Tigers' second option up forward. While none of this sounds particularly convincing, if you look at Vickery's output early in seasons, particularly in round one games against Carlton, you'll find he averages a solid 76 across the last four years. Now, I know it's only one game and he costs $400,000 and there's no possible way of knowing if Griffiths will match the output of Vickery, so if you're not convinced and want someone cheaper, we move onto…
Ryan Davis (FWD, $380,000)
Currently in 46 teams
Remember Ryan Davis? He was in a lot of teams at one point as a mature rookie and he scored 84 points in round 22 last year – coming into 2017 with good form! Ignoring the possibility he's left out of Gold Coast's round one side, Davis actually produced some semi-decent scores last year, including a 98 in round 11! Looking for a Suns forward, but not feeling any love for Davis? No worries…
Jarrad Grant (FWD, $334,000)
Currently in 43 teams
Did you see him kick three goals against the Lions in the first week of the JLT Series? There's no need for context, he kicked three goals and scored 72 points. Spindleshanks Grant doesn't even need explanation. He picks himself and good on the 43 people who had the courage to see through his odd microphone-like haircut and take a punt on the great man.
Jed Lamb (FWD, $348,000)
Currently in 45 teams
The ex-Giant may be on the outskirts of the Blues' best 25, but when it comes to players with animal-based names, he's definitely top five in the AFL… I don't actually know… I didn't research players with animal-like names. If your name is Noah and you're making a Fantasy team and you don't have Jed Lamb, well then I don't know what you're doing.
Jamaine Jones (FWD, $150,000)
Currently in 42 teams
I don't understand why Jamaine is only in 42 teams. Everyone knows a Fantasy player who picks their rookies at random because they have no idea who any of them are and yet only 42 have stumbled across the Geelong rookie with the excellently alliterated name? Freo draftee Luke Ryan is in 16,434 teams and his name could not be any more boring. Lift your game, casual coaches.
Ben Kennedy (FWD, $409,000)
Currently in 40 teams
Gee, there are a lot of forwards in the bottom 10… Anyway, Ben Kennedy moved to the Demons from Collingwood and started off 2016 with a respectable average of 75 across the first eight weeks. He only played another seven more games, but one of them was a massive 113. Come on guys, Ben Kennedy deserves to be in more teams than Ryan Davis… I'm going to need 10 of you to bite the bullet and bring him in to boost his numbers. #TenForBenKen
Josh Walker (FWD, $336,000)
Currently in 33 teams
I got nothing…
Cameron Pederson (FWD, $386,000)
Currently in 27 teams
Pederson is the second least selected player in AFL Fantasy which is actually the worst position of the lot. If you're going to be so totally ignored by the community, at least be dead last so you're at least at the top of the list. Being second last is just awkward. Anyway, Pederson's only real full season of footy was in 2014 and he averaged a respectable 67. Now, he may not have DPP status. There may be multiple forwards and ruckmen ahead of him at the Dees and he may be sitting at an incredibly awkward price, BUT he has a very detailed Wikipedia page which is more than I can see for a lot of these players and that has to count for something!
Darren Minchington (FWD, $325,000)
Currently in 20 teams
This is it; the bottom of the barrel.  Darren Minchington takes the honours as the least selected player in AFL Fantasy and that probably is equal parts due to his price/average of 54 last year and the fact that he's named Darren. He's the only Darren in the AFL and that's probably because club list managers don't trust Darren's either. Are you named Darren? Don't get offended – get loyal. Put this man in your AFL Fantasy side and #StandByDazza
Did I convince you to bring any of these guys into your team? No? Okay… I mean, you didn't have to be so harsh about it… I guess there's a reason these guys are the least selected players in the game.