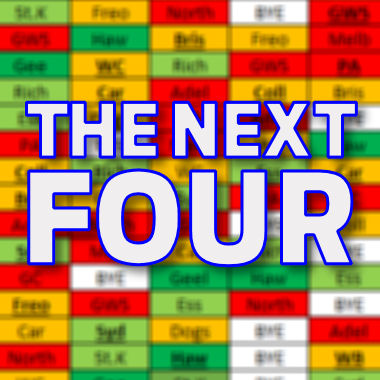 G'day boys and girls. What's this you ask? Where has this been all season? Yes, yes, I hear your plea and Chris is here to satisfy your wants. First time writer, long time reader. I won't go into too much detail about my fantasy, but essentially, I'm good. The birth of this beauty of an article began when I became curious about the fixtures of certain teams.
Through many previous seasons there is a trend that some teams are easier to score against than others. Picking a cash cow who has a good month ahead of them or a premium that has a good upcoming fantasy draw is often vital in securing that league win or a spot in the prized cap position (Top 100). It can also assist in knowing what cash cows need to be traded out. With an excel spreadsheet in conjunction with my trusty iPhone calculator, I've managed to analyse which teams have the best upcoming runs.
I know some of you don't care about how this was formulated, so simply, the "difficulty rank" table on the right has ranked the teams from hardest to score against to easiest, considering the season averages as well as their form in the last three, which accounts for any change in form as well as tactical changes.
As well as teams form, I have also considered the "home ground advantage". Obviously, this doesn't apply to Adelaide playing Port at AO, or Bulldogs playing St Kilda at ES, however it calculates which home teams dominate the travelling teams. It will calculate how many points a team has scored above its usual average, this is then added onto the opposing team's total points against, moving the up in the "difficulty rank", thus an easier team to score against, if that makes sense?!
Not surprising, it was found that both Port Adelaide and Adelaide dominate teams over at the Adelaide Oval. On average these teams are scoring 110 points more on their opposition than what they usually give up, increasing all players scores by a minimum 5 points! Huge!!! Other notable home dominators are Richmond who in these early parts of the season have scored 95 points more than usual, however I wouldn't expect this trend to continue. WCE across at Domain also are found to be dominating as they add 100 points extra to their score. GWS at Spotless and Manuka add 50 points extra points for and both Bulldogs and St Kilda are found to be adding 30-40 points per Etihad Game when they play an "outsider".
Below are the teams next four fixtures (not including their bye). If you would like to see a team's full "hardness" fixture feel free to tweet me @hedge59.
Wowie. Unbelievable. Teams in the green have been giving up bucket loads of points, you want to play them. Those in the red, you don't want to play them, they have been very restrictive. I've underlined and even made bold the teams that have a "home game advantage"
So, what does this all mean? Well, for you lazy ones, I've made a nice little list of teams with the best run in the next four, seen on the right. Trade in players at the top of the list – Trade out cash cows at the bottom of the list (remember, don't trade your premiums!)
Those that are still holding onto ANB, now's the time to trade with Adelaide, North and Gold Coast in the next three. All very hard teams to score against. Despite Geelong not having a great run statistically, I still Duncan and Tuohy. Geelong plays 3 of their next 4 down at Kadina Park. A ground where they have been dangerous before. Ill talk about some worthwhile mid-price and premium targets below (in no particular order).

Click here to subscribe on iTunes.
People to Consider
Defenders
Rory Laird ($598,000, Avg. 108, Next 4: Melb, Bris, Freo, Geel)
Should be everyone's second pick back there. Laird is as reliable as it gets and just floats along Adelaide's half back line. Guaranteed to get you 95+ points each week, if you don't have him, move along.
Zach Tuohy ($535,000, Avg. 97.6, Next 4: Ess, Dogs, Port, Adel)
An interesting pick here. Was raved about in pre-season but many coaches didn't pull the trigger. Tuohy has now shown that he can make it with the big dogs averaging 116 in his last three games. Has a tough draw by the statistics coming up, but I genuinely believe that Geelong will flick that ball around down at Kadina and Tuohy will benefit. One to consider as a top 10 Backman.
Heath Shaw ($497,000, Avg. 84.9, Next 4: Coll, Rich, WC, ESS)
Oh yes, how much I love this man. Shaw is genuinely one of the cleanest and nicest players that have graced the football field in recent years. With that aside, Shaw's looming as a potential pickup as he has plummeted $117k from his starting price. I believe this was due to Nick Haynes present in the backline, taking many of the marks and the elusive kick ins that Heath used to own. With a low BE of 72, averaging 94.3, could be he back to his best? I think it's possible. For under $500k its worth a punt.
Others to Consider:
Jake Lloyd ($561,000, Avg. 101.3, Next 4: NM, St.k, Haw, Bye, Dogs)
Jason Johannisen ($483,000, Avg. 84.3, Next 4: WC, Geel. St.k, Bye, Syd)
Midfielders
Tom Rockliff ($714,000, Avg. 129.1, Next 4: Haw, Adel, Coll, Bye, Freo)
We all know and love him. I was one of the silly ones to not start with him this season. "He will get injured, he's overpriced, he's unsettled". We've heard it all, but Rocky has gone and shoved that in everyone's faces. Luckily, I made the switch from Beams to him last week. If you don't own him, now is the time to get him in whilst his price is low. Will soon become unreachable pumping out unbelievable scores. If you don't own him, and have no intentions of getting him, see you in 2018!
Zach Merrett ($697,000, Avg. 124.1, Next 4: Geel, WC, Rich, GWS)
Amazing how we thought the inclusion of the Banned Bombers would affect his output. Nup. Merrett has continued strong with a low score of 97, going over 115 five times this season. Unbelievable. Still only owned by less than 10% of teams, those that don't own him, what you doing!!!!! A bonus of owning Merrett is watching him play, and having BT shout Orazzzioooooo all game long. What can go wrong with Zerrett? Get him in ASAP.
Stephen Coniglio ($623,000, Avg. 115, Next 4: Coll, Rich, WC, Ess)
Coniglio has only played the one game this year after being sidelined for six weeks with an ankle injury. A huge point of difference here. Only owned by 599 people, mmmhhh so tasty! Showed us last year he can be classified as a premium, averaging a respectable 103.3 points. Coniglio is a great run with player, often shutting down his opponent whilst gathering disposals himself. I genuinely believe Coniglio can average 108+, but is that enough this year given the output of midfielders? Your call. Certainly on my radar. Maybe a cheeky pickup after his bye.
Lachie Neale ($600,000, Avg. 104.9, Next 4: Rich, Car, Adel, Coll)
After breaking last year's disposal record, many were backing Neale in for an even stronger season with the return of Fyfe and inclusion of Hill. Neale disappointed those who picked him up starting the year with scores of 92, 97 and 88. However, is he back? With scores of 119, 86, 114, 138 in the past four weeks it seems so. I'm hearing reports from Pavlich that he was playing sore in these opening weeks. He's apparently back to somewhat full fitness and collecting touches willy nilly as he streams through the midfield once again. With their upcoming draw, Neale is a cheeky, under-priced selection
Others to Consider:
Rory Sloane ($703,000, Avg. 122, Next 4: Melb, Bris, Freo, Geel)
Marcus Bontempelli ($596,000, Avg. 106.4, Next 4: WC, Geel, St.k, Bye, Syd)
Ruck
Other than the obvious choice in Stefan Martin (who should be everyone's number 1 target in the ruck) the R2 spot is currently up for grabs. With cox, still present in Collingwood's team, this reduces Grundy's scoring by 15-20 points. The next best is….
Sam Jacobs ($574,000, Avg. 101.9, Next 4: Melb, Bris, Freo, Geel)
The tall man is certainly enjoying this year with the disappearance of the third man up rule. Jacobs gone from strength from strength, improving on last year's disappointing average of 88.8. Jacobs is averaging 113 in his last three games with a monster score of 158 coming against Nankervis of Richmond. If Martin or a Cox-less Grundy (lolmao) doesn't fancy you, then Jacobs is your next best option
Others to Consider:
Shane Mumford ($500,000, Avg. 86.6, Next 4: Coll, Rich, WC, Ess)
Forwards
Bradley Hill ($513,000, Avg. 97.3, Next 4: Rich, Car, Adel, Coll)
Wow. Hawthorn has lost an absolute gem here. His pace and carry is unbelievable and Hill is enjoying the wide-open spaces of Domain stadium. Currently 96k up on his starting price, he hasn't become too expensive. I don't see Hill maintaining his current average of 97.3 but there is no reason why he can't average 90+. A nice option considering the lack of forward options available.
Luke Dahlhaus ($576,000, Avg. 102.4) and Jack Macrae ($576,000, Avg. 102.3) – (Next 4: WC, Geel, St.K, Bye, Syd)
Both these doggy boys would have been the first selected in many coaches forward lines this year. Dahlhaus has scored a single point more than Macrae this year and both these doggies are fantastic players. If you were in the position where you were choosing to bring one in, I would choose the Dahlhaus variety. Tackles more for my liking. Both are must haves in your forward line however.
Isaac Heeney ($463,000, Avg. 94.3, Next 4: North, St.k, Haw, Bye, Dogs)
We all had him cemented in our teams' preseason. However, he was caught locking lips too much! Glandular fever has allowed us to pick up a steal, two months into the fantasy season! Isaac Heeney played one game in JLT, scored 99 points and went at 1.2 PPM. Many have questioned his fitness with his preseason set back. Isaac has played three games in his return with scores of 61 (72% TOG), 120 (89% TOG) and 102 (81% TOG). In that last game, he was sitting on a whopping 58 points at the quarter. Does this question his tank or does it only mean things are going to be better? A 44k upgrade from our cold-blooded friend Hoskin-Elliot looks the goods, something I will be doing myself this week.
Others to Consider:
Lance Franklin ($536,000, Avg. 98.7, Next 4: North, St.k, Haw, Bye, Dogs)
Toby Greene ($510,000, Avg. 87.7, Next 4: Coll, Rich, WC, Ess)
Cheers for the read guys. If you want any information on how things were calculated or any long-term fixtures feel free to tweet me @hedge59. I'll be back in four weeks hopefully to look at the next four fixtures!