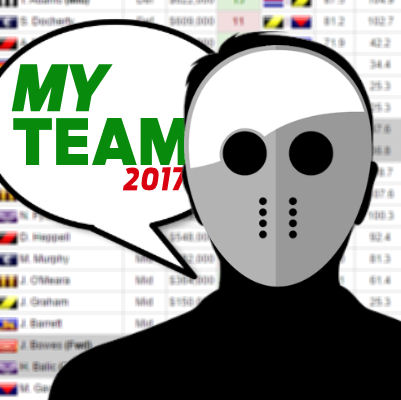 The JLT Series is over. 27 games of data and we have a better idea of where our teams are at – although it has been tough to #StayStrongJLT.
Post your team (in an easy to read format) and discuss where it's at in the comments below. Now that we have My Team cranking, discuss any players, team structure, etc in the comments. As always, keep it civil and if you want advice, make sure you dish out some of your own (make sure it well thought out and not blatant trolling – we're totally over that after 10+ years of DT Talk!).
Get keen for a massive season ahead.
| PLAYER | CLUB | POS | PRICE | AVG | GMS | $PP |
| --- | --- | --- | --- | --- | --- | --- |
| Aaron Hall | GC | MID | 635000 | 124 | 2 | 5121 |
| Ben Reid | COLL | DEF | 442000 | 122 | 1 | 3623 |
| Andrew Gaff | WCE | MID | 564000 | 115 | 2 | 4904 |
| Heath Shaw | GWS | DEF | 614000 | 114.5 | 2 | 5362 |
| Luke Dahlhaus | WB | MID/FWD | 557000 | 107.5 | 2 | 5181 |
| Mark LeCras | WCE | FWD | 498000 | 107.5 | 2 | 4633 |
| Dayne Beams | BL | MID | 519000 | 107 | 2 | 4850 |
| Josh Smith | COLL | DEF | 461000 | 104.5 | 2 | 4411 |
| Dayne Zorko | BL | MID | 640000 | 104 | 3 | 6154 |
| Josh J. Kennedy | WCE | FWD | 536000 | 104 | 2 | 5154 |
| Sam Mitchell | WCE | MID | 602000 | 103 | 2 | 5845 |
| Sharrod Wellingham | WCE | DEF | 367000 | 99.7 | 3 | 3682 |
| Andrew Mackie | GEE | DEF | 451000 | 99.5 | 2 | 4533 |
| Isaac Heeney | SYD | FWD | 442000 | 99 | 1 | 4465 |
| Toby Greene | GWS | FWD | 560000 | 99 | 2 | 5657 |
| Tom Mitchell | HAW | MID | 638000 | 98 | 2 | 6510 |
| Rory Laird | ADEL | DEF | 584000 | 97.3 | 3 | 6000 |
| Bachar Houli | RICH | DEF | 563000 | 96 | 1 | 5865 |
| Bryce Gibbs | CARL | MID | 636000 | 96 | 2 | 6625 |
| Matt Crouch | ADEL | MID | 564000 | 95.7 | 3 | 5895 |
| Joel Selwood | GEE | MID | 619000 | 95.5 | 2 | 6482 |
| Michael Barlow | GC | MID | 583000 | 95.3 | 3 | 6115 |
| Luke Shuey | WCE | MID | 597000 | 94.5 | 2 | 6317 |
| Stephen Hill | FRE | MID | 548000 | 94.3 | 3 | 5809 |
| Josh Kelly | GWS | MID | 542000 | 94 | 3 | 5766 |
| Nat Fyfe | FRE | MID | 595000 | 93.7 | 3 | 6352 |
| Matthew Kreuzer | CARL | RUC | 431000 | 93.5 | 2 | 4610 |
| Jake Lloyd | SYD | DEF/MID | 521000 | 93 | 2 | 5602 |
| Alex Sexton | GC | MID | 384000 | 92.5 | 2 | 4151 |
| Callan Ward | GWS | MID | 579000 | 92.5 | 2 | 6259 |
| Matthew Suckling | WB | DEF | 469000 | 92.5 | 2 | 5070 |
| Chris Masten | WCE | MID | 443000 | 92.3 | 3 | 4798 |
| Tom Phillips | COLL | MID/FWD | 391000 | 92.3 | 3 | 4235 |
| Zach Tuohy | GEE | DEF | 442000 | 91.7 | 3 | 4822 |
| Josh Jenkins | ADEL | FWD | 483000 | 91.5 | 2 | 5279 |
| Lance Franklin | SYD | FWD | 569000 | 91.5 | 2 | 6219 |
| Jack Steele | STK | MID/FWD | 432000 | 90.3 | 3 | 4782 |
| Zach Merrett | ESS | MID | 710000 | 89.5 | 2 | 7933 |
| Patrick Dangerfield | GEE | MID | 712000 | 89.3 | 3 | 7970 |
| Jack Billings | STK | MID/FWD | 479000 | 89 | 3 | 5382 |
| Matt Priddis | WCE | MID | 623000 | 88.5 | 2 | 7040 |
| Jordan de Goey | COLL | MID/FWD | 455000 | 88 | 1 | 5170 |
| Jack Viney | MELB | MID | 611000 | 87.3 | 3 | 6996 |
| Adam Treloar | COLL | MID | 673000 | 87 | 2 | 7736 |
| George Horlin-Smith | GEE | MID | 240000 | 87 | 2 | 2759 |
| Tom Hickey | STK | RUC | 471000 | 87 | 2 | 5414 |
| Clayton Oliver | MELB | MID | 416000 | 86.7 | 3 | 4800 |
| Lachie Neale | FRE | MID | 671000 | 86.5 | 2 | 7757 |
| Rory Atkins | ADEL | MID | 441000 | 86 | 3 | 5128 |
| Brad Ebert | PORT | MID | 510000 | 85.5 | 2 | 5965 |
| Isaac Smith | HAW | MID/FWD | 538000 | 85.5 | 2 | 6292 |
| Elliot Yeo | WCE | MID/FWD | 477000 | 85.3 | 3 | 5590 |
| Jordan Lewis | MELB | MID | 623000 | 85 | 3 | 7329 |
| Kade Simpson | CARL | DEF | 611000 | 85 | 2 | 7188 |
| Trent Dumont | NMFC | MID | 457000 | 85 | 3 | 5376 |
| Zak Jones | SYD | DEF | 333000 | 85 | 3 | 3918 |
| Brodie Grundy | COLL | RUC | 609000 | 84 | 2 | 7250 |
| Gary Ablett | GC | MID | 611000 | 84 | 1 | 7274 |
| Touk Miller | GC | MID/FWD | 493000 | 84 | 3 | 5869 |
| Toby Nankervis | RICH | RUC/FWD | 365000 | 83.7 | 3 | 4363 |
| Tendai MZungu | GWS | MID | 339000 | 83 | 1 | 4084 |
| Lachie Hunter | WB | MID | 625000 | 82.5 | 2 | 7576 |
| Sam Docherty | CARL | DEF | 609000 | 82.5 | 2 | 7382 |
| Kade Stewart | HAW | FWD | 307000 | 82.3 | 3 | 3729 |
| Dom Tyson | MELB | MID | 561000 | 82 | 1 | 6841 |
| Dustin Martin | RICH | MID | 646000 | 82 | 3 | 7878 |
| Dylan Shiel | GWS | MID | 591000 | 82 | 2 | 7207 |
| Jobe Watson | ESS | MID | 477000 | 82 | 3 | 5817 |
| Matthew Wright | CARL | FWD | 509000 | 81.5 | 2 | 6245 |
| Brandon Ellis | RICH | MID | 540000 | 81.3 | 3 | 6639 |
| Darcy Parish | ESS | MID | 446000 | 81 | 3 | 5506 |
| Devon Smith | GWS | FWD | 483000 | 81 | 2 | 5963 |
| Dylan Roberton | STK | DEF | 421000 | 81 | 2 | 5198 |
| Marcus Bontempelli | WB | MID | 595000 | 81 | 1 | 7346 |
| Rohan Bewick | BL | MID | 405000 | 81 | 3 | 5000 |
| Darcy Lang | GEE | FWD | 375000 | 80.3 | 3 | 4668 |
| Jack Steven | STK | MID | 630000 | 80.3 | 3 | 7842 |
| Shannon Hurn | WCE | DEF | 420000 | 80 | 2 | 5250 |
| Jeremy McGovern | WCE | DEF | 407000 | 79 | 2 | 5152 |
| Sam Kerridge | CARL | MID | 485000 | 79 | 3 | 6139 |
| Taylor Adams | COLL | DEF/MID | 622000 | 79 | 2 | 7873 |
| Will Langford | HAW | MID | 427000 | 78.7 | 3 | 5428 |
| Jack Gunston | HAW | FWD | 530000 | 78.5 | 2 | 6752 |
| Jesse Hogan | MELB | FWD | 477000 | 78.3 | 3 | 6089 |
| Ollie Wines | PORT | MID | 607000 | 78.3 | 3 | 7749 |
| Stefan Martin | BL | RUC | 538000 | 78.3 | 3 | 6868 |
| Jarryd Roughead | HAW | FWD | 373000 | 78 | 3 | 4782 |
| Jeremy Cameron | GWS | FWD | 386000 | 78 | 2 | 4949 |
| Keegan Brooksby | GC | DEF | 340000 | 78 | 1 | 4359 |
| Nathan Jones | MELB | MID | 593000 | 78 | 3 | 7603 |
| David Armitage | STK | MID | 518000 | 77.7 | 3 | 6670 |
| Jarrad Waite | NMFC | FWD | 505000 | 77.5 | 2 | 6516 |
| Caleb Marchbank | CARL | DEF | 205000 | 77.3 | 3 | 2651 |
| Dom Sheed | WCE | MID | 361000 | 77.3 | 3 | 4668 |
| Max Gawn | MELB | RUC | 642000 | 77.3 | 3 | 8302 |
| Caleb Daniel | WB | FWD | 479000 | 77 | 2 | 6221 |
| Jarryd Lyons | GC | MID | 539000 | 77 | 1 | 7000 |
| Liam Picken | WB | MID | 529000 | 77 | 2 | 6870 |
| Tom Ruggles | GEE | DEF | 388000 | 77 | 3 | 5039 |
| Ed Curnow | CARL | MID | 614000 | 76.7 | 3 | 8009 |
| Shane Savage | STK | DEF | 454000 | 76.7 | 3 | 5922 |
| Shaun Higgins | NMFC | FWD | 484000 | 76.7 | 3 | 6313 |
| Bradley Hill | FRE | MID/FWD | 417000 | 76.3 | 3 | 5463 |
| Curtly Hampton | ADEL | DEF | 204000 | 76.3 | 3 | 2672 |
| Mitch Duncan | GEE | MID | 571000 | 76.3 | 3 | 7480 |
| Tim Taranto | GWS | MID/FWD | 248000 | 76.3 | 3 | 3249 |
| Callum Mills | SYD | DEF | 441000 | 76 | 3 | 5803 |
| Christian Salem | MELB | DEF | 383000 | 76 | 3 | 5039 |
| Jack Newnes | STK | MID | 535000 | 76 | 3 | 7039 |
| Sam Butler | WCE | DEF | 352000 | 76 | 1 | 4632 |
| Nick Riewoldt | STK | FWD | 667000 | 75.5 | 2 | 8834 |
| Sam Mayes | BL | DEF | 405000 | 75.3 | 3 | 5376 |
| Tom Rockliff | BL | MID | 704000 | 75.3 | 3 | 9345 |
| Dion Prestia | RICH | MID | 561000 | 75 | 2 | 7480 |
| Mark Hutchings | WCE | MID | 414000 | 75 | 3 | 5520 |
| Michael Walters | FRE | FWD | 493000 | 75 | 3 | 6573 |
| Luke Parker | SYD | MID | 663000 | 74.7 | 3 | 8879 |
| Sam Menegola | GEE | MID | 505000 | 74.7 | 3 | 6763 |
| Jake Melksham | MELB | MID | 349000 | 74.3 | 3 | 4695 |
| Jack Macrae | WB | MID/FWD | 596000 | 74 | 3 | 8054 |
| Lachlan Tiziani | GWS | FWD | 150000 | 74 | 1 | 2027 |
| Jaeger O'Meara | HAW | MID | 364000 | 73.7 | 3 | 4941 |
| Tom Cutler | BL | DEF | 431000 | 73.5 | 2 | 5864 |
| Tom Liberatore | WB | MID | 491000 | 73.5 | 2 | 6680 |
| Zach Guthrie | GEE | DEF | 150000 | 73.5 | 2 | 2041 |
| Ryan Lester | BL | FWD | 317000 | 73.3 | 3 | 4323 |
| Shaun McKernan | ESS | FWD | 436000 | 73 | 3 | 5973 |
| Tom J. Lynch | GC | FWD | 520000 | 72.5 | 2 | 7172 |
| Luke Dunstan | STK | MID | 416000 | 72.3 | 3 | 5751 |
| Richard Douglas | ADEL | MID/FWD | 453000 | 72.3 | 3 | 6263 |
| Toby McLean | WB | FWD | 438000 | 72.3 | 3 | 6055 |
| Brodie Smith | ADEL | DEF | 466000 | 72 | 3 | 6472 |
| Josh Hill | WCE | FWD | 352000 | 72 | 2 | 4889 |
| Pearce Hanley | GC | MID | 506000 | 72 | 3 | 7028 |
| Shaun Grigg | RICH | MID | 574000 | 72 | 3 | 7972 |
| Andy Otten | ADEL | DEF | 150000 | 71.7 | 3 | 2093 |
| Josh Bruce | STK | FWD | 366000 | 71.7 | 3 | 5107 |
| Ben McEvoy | HAW | RUC | 394000 | 71 | 2 | 5549 |
| Dyson Heppell | ESS | MID | 548000 | 71 | 2 | 7718 |
| Jamie MacMillan | NMFC | DEF | 442000 | 71 | 3 | 6225 |
| Jake Stringer | WB | FWD | 397000 | 70.7 | 3 | 5618 |
| Lewis Taylor | BL | FWD | 356000 | 70.7 | 3 | 5038 |
| Mitch McGovern | ADEL | FWD | 345000 | 70.5 | 2 | 4894 |
| Jack Crisp | COLL | MID | 507000 | 70.3 | 3 | 7209 |
| Jack Riewoldt | RICH | FWD | 476000 | 70.3 | 3 | 6768 |
| Rhys Stanley | GEE | RUC/FWD | 384000 | 70.3 | 3 | 5460 |
| Dane Rampe | SYD | DEF | 411000 | 70 | 2 | 5871 |
| David Zaharakis | ESS | MID | 564000 | 70 | 2 | 8057 |
| Easton Wood | WB | DEF | 414000 | 70 | 2 | 5914 |
| Jack Watts | MELB | FWD | 481000 | 70 | 1 | 6871 |
| Josh P. Kennedy | SYD | MID | 653000 | 70 | 3 | 9329 |
| Tom Bell | BL | FWD | 417000 | 70 | 2 | 5957 |
| Bernie Vince | MELB | DEF/MID | 554000 | 69.7 | 3 | 7952 |
| Lewis Jetta | WCE | MID/FWD | 322000 | 69.7 | 3 | 4622 |
| Brent Stanton | ESS | MID | 574000 | 69.5 | 2 | 8259 |
| Eddie Betts | ADEL | FWD | 482000 | 69.5 | 2 | 6935 |
| Billy Hartung | HAW | MID | 437000 | 69.3 | 3 | 6303 |
| Christian Petracca | MELB | FWD | 409000 | 69.3 | 3 | 5899 |
| David Mundy | FRE | MID | 538000 | 69.3 | 3 | 7760 |
| Todd Goldstein | NMFC | RUC | 582000 | 69 | 2 | 8435 |
| Tomas Bugg | MELB | MID | 437000 | 69 | 3 | 6333 |
| Angus Brayshaw | MELB | MID/FWD | 422000 | 68.3 | 3 | 6176 |
| Harris Andrews | BL | DEF | 290000 | 68.3 | 3 | 4244 |
| Steele Sidebottom | COLL | MID | 624000 | 68.3 | 3 | 9132 |
| Jayden Hunt | MELB | DEF | 342000 | 68 | 3 | 5029 |
| Marc Murphy | CARL | MID | 482000 | 68 | 2 | 7088 |
| Matt Dea | ESS | DEF | 435000 | 68 | 1 | 6397 |
| Karl Amon | PORT | MID/FWD | 354000 | 67.7 | 3 | 5232 |
| Nathan Hrovat | NMFC | MID/FWD | 380000 | 67.7 | 3 | 5616 |
| Matt Rosa | GC | MID | 457000 | 67.5 | 2 | 6770 |
| Stephen Coniglio | GWS | MID | 625000 | 67.5 | 2 | 9259 |
| Anthony Miles | RICH | MID | 521000 | 67.3 | 3 | 7738 |
| Jacob Weitering | CARL | DEF | 347000 | 67.3 | 3 | 5153 |
| Mitch Robinson | BL | MID | 510000 | 67.3 | 3 | 7574 |
| Dean Towers | SYD | FWD | 427000 | 67 | 2 | 6373 |
| Jack Martin | GC | DEF/FWD | 453000 | 67 | 2 | 6761 |
| Lin Jong | WB | MID/FWD | 458000 | 67 | 3 | 6836 |
| Rhys Palmer | CARL | FWD | 393000 | 67 | 3 | 5866 |
| Ricky Henderson | HAW | DEF/MID | 468000 | 67 | 1 | 6985 |
| Kyle Langford | ESS | MID/FWD | 422000 | 66.7 | 3 | 6330 |
| Tom Stewart | GEE | DEF | 172000 | 66.7 | 3 | 2580 |
| Ryan Griffen | GWS | MID | 509000 | 66.5 | 2 | 7654 |
| Jared Polec | PORT | MID | 451000 | 66.3 | 3 | 6799 |
| Kurt Tippett | SYD | RUC | 510000 | 66.3 | 3 | 7688 |
| Dale Morris | WB | DEF | 349000 | 66 | 1 | 5288 |
| Francis Watson | WCE | DEF | 150000 | 66 | 1 | 2273 |
| Nathan Wilson | GWS | DEF | 384000 | 66 | 2 | 5818 |
| Sam Gibson | NMFC | MID | 546000 | 66 | 2 | 8273 |
| Matthew Kennedy | GWS | FWD | 194000 | 65.7 | 3 | 2954 |
| Brendon Goddard | ESS | MID | 596000 | 65.3 | 3 | 9122 |
| Trent Cotchin | RICH | MID | 585000 | 65.3 | 3 | 8954 |
| Aaron Young | PORT | FWD | 454000 | 65 | 2 | 6985 |
| Harry Cunningham | SYD | DEF/FWD | 362000 | 65 | 3 | 5569 |
| Jake Barrett | BL | MID | 150000 | 65 | 3 | 2308 |
| Josh Dunkley | WB | MID/FWD | 486000 | 65 | 2 | 7477 |
| Shane Biggs | WB | DEF | 475000 | 65 | 2 | 7308 |
| Shaun Burgoyne | HAW | DEF | 520000 | 65 | 2 | 8000 |
| George Hewett | SYD | FWD | 349000 | 64.7 | 3 | 5397 |
| Orazio Fantasia | ESS | FWD | 441000 | 64.5 | 2 | 6837 |
| David Swallow | GC | MID | 355000 | 64.3 | 3 | 5518 |
| Jeremy Howe | COLL | DEF | 497000 | 64.3 | 3 | 7725 |
| Josh Caddy | RICH | MID/FWD | 517000 | 64.3 | 3 | 8036 |
| Billy Longer | STK | RUC | 281000 | 64 | 2 | 4391 |
| Reece Conca | RICH | MID | 356000 | 64 | 3 | 5562 |
| Taylor Walker | ADEL | FWD | 453000 | 64 | 3 | 7078 |
| Andrew Swallow | NMFC | MID | 499000 | 63.7 | 3 | 7838 |
| Anthony McDonald-Tipungwuti | ESS | DEF | 395000 | 63.7 | 3 | 6204 |
| Cyril Rioli | HAW | FWD | 512000 | 63.7 | 3 | 8042 |
| Aaron Sandilands | FRE | RUC | 450000 | 63.5 | 2 | 7087 |
| Billy Stretch | MELB | MID | 417000 | 63.3 | 3 | 6584 |
| Ben Keays | BL | FWD | 288000 | 63 | 3 | 4571 |
| Conor McKenna | ESS | DEF | 323000 | 63 | 1 | 5127 |
| Jackson Ramsay | COLL | DEF | 383000 | 63 | 3 | 6079 |
| Jake Kelly | ADEL | DEF | 210000 | 63 | 3 | 3333 |
| Nic Newman | SYD | DEF | 150000 | 63 | 1 | 2381 |
| Shaun Atley | NMFC | DEF | 356000 | 63 | 3 | 5651 |
| Travis Colyer | ESS | FWD | 380000 | 63 | 3 | 6032 |
| Brayden Fiorini | GC | MID | 512000 | 62.3 | 3 | 8214 |
| Darcy Tucker | FRE | MID | 394000 | 62 | 3 | 6355 |
| Harrison Wigg | ADEL | MID | 150000 | 62 | 2 | 2419 |
| Levi Greenwood | COLL | MID/FWD | 484000 | 62 | 2 | 7806 |
| Mark Blicavs | GEE | MID | 519000 | 62 | 3 | 8371 |
| Sam Gray | PORT | MID | 526000 | 62 | 3 | 8484 |
| Sebastian Ross | STK | MID | 594000 | 62 | 3 | 9581 |
| Shane Edwards | RICH | MID/FWD | 414000 | 62 | 2 | 6677 |
| James Aish | COLL | MID | 384000 | 61.7 | 3 | 6227 |
| Kade Kolodjashnij | GC | DEF | 437000 | 61.7 | 3 | 7086 |
| Mason Cox | COLL | FWD | 316000 | 61.7 | 3 | 5124 |
| Robert Murphy | WB | DEF | 486000 | 61.5 | 2 | 7902 |
| Jack Ziebell | NMFC | MID | 573000 | 61.3 | 3 | 9342 |
| Jackson Thurlow | GEE | DEF | 282000 | 61.3 | 3 | 4598 |
| Nathan Vardy | WCE | RUC | 352000 | 61.3 | 3 | 5739 |
| Nick Vlastuin | RICH | DEF | 398000 | 61.3 | 3 | 6489 |
| Tom Lonergan | GEE | DEF | 293000 | 61.3 | 3 | 4777 |
| Colin Garland | MELB | DEF | 331000 | 61 | 1 | 5426 |
| Dale Thomas | CARL | MID | 451000 | 61 | 3 | 7393 |
| Ed Langdon | FRE | MID/FWD | 370000 | 61 | 3 | 6066 |
| Jason Johannisen | WB | DEF | 563000 | 61 | 2 | 9230 |
| Matt Shaw | GC | MID | 424000 | 61 | 1 | 6951 |
| Will Hoskin-Elliott | COLL | FWD | 230000 | 61 | 3 | 3770 |
| Charlie Cameron | ADEL | FWD | 402000 | 60.7 | 3 | 6626 |
| Darcy Gardiner | BL | DEF | 262000 | 60.7 | 3 | 4319 |
| Hamish Hartlett | PORT | DEF/MID | 474000 | 60.7 | 3 | 7813 |
| Jade Gresham | STK | FWD | 369000 | 60.7 | 3 | 6082 |
| Justin Westhoff | PORT | FWD | 488000 | 60.7 | 3 | 8044 |
| Lachie Henderson | GEE | DEF | 417000 | 60.7 | 3 | 6874 |
| Michael Johnson | FRE | DEF | 361000 | 60.7 | 3 | 5951 |
| Tom Lynch | ADEL | FWD | 545000 | 60.3 | 3 | 9033 |
| Zac Williams | GWS | DEF | 498000 | 60.3 | 3 | 8254 |
| Adam Tomlinson | GWS | DEF | 300000 | 60 | 3 | 5000 |
| Billie Smedts | CARL | MID/FWD | 259000 | 60 | 3 | 4317 |
| Braydon Preuss | NMFC | RUC | 150000 | 60 | 3 | 2500 |
| Mason Wood | NMFC | FWD | 417000 | 60 | 1 | 6950 |
| Paddy McCartin | STK | FWD | 248000 | 60 | 3 | 4133 |
| Patrick Ryder | PORT | RUC/FWD | 411000 | 60 | 3 | 6850 |
| Alex Neal-Bullen | MELB | MID/FWD | 255000 | 59.7 | 3 | 4274 |
| Clay Smith | WB | FWD | 392000 | 59.5 | 2 | 6588 |
| Lindsay Thomas | NMFC | FWD | 366000 | 59.3 | 3 | 6169 |
| Ben Cunnington | NMFC | MID | 454000 | 59 | 3 | 7695 |
| Daniel Rich | BL | MID | 494000 | 59 | 3 | 8373 |
| Oscar McDonald | MELB | DEF | 356000 | 59 | 3 | 6034 |
| Patrick Cripps | CARL | MID | 601000 | 59 | 2 | 10186 |
| Travis Cloke | WB | FWD | 450000 | 59 | 2 | 7627 |
| Travis Boak | PORT | MID | 541000 | 58.7 | 3 | 9222 |
| Danyle Pearce | FRE | MID | 484000 | 58.3 | 3 | 8297 |
| Jamie Cripps | WCE | FWD | 429000 | 58 | 2 | 7397 |
| Luke Breust | HAW | FWD | 474000 | 58 | 2 | 8172 |
| Tom Scully | GWS | MID | 579000 | 58 | 2 | 9983 |
| Wayne Milera | ADEL | FWD | 286000 | 57.7 | 3 | 4960 |
| Brad Sheppard | WCE | DEF | 387000 | 57.5 | 2 | 6730 |
| Jayden Laverde | ESS | FWD | 364000 | 57.5 | 2 | 6330 |
| Steven May | GC | DEF | 414000 | 57.3 | 3 | 7221 |
| Aaron Black | GEE | FWD | 150000 | 57 | 2 | 2632 |
| Dan Hannebery | SYD | MID | 655000 | 57 | 3 | 11491 |
| Daniel Currie | GC | RUC | 381000 | 57 | 2 | 6684 |
| Kurt Mutimer | WCE | MID | 150000 | 57 | 1 | 2632 |
| Lukas Webb | WB | MID/FWD | 239000 | 57 | 2 | 4193 |
| Luke Hodge | HAW | DEF | 525000 | 57 | 1 | 9211 |
| Sam J. Reid | GWS | FWD | 301000 | 57 | 1 | 5281 |
| Travis Varcoe | COLL | FWD | 410000 | 57 | 3 | 7193 |
| Taylor Hunt | RICH | DEF | 428000 | 56.7 | 3 | 7553 |
| Ty Vickery | HAW | FWD | 311000 | 56.7 | 3 | 5488 |
| Jordan Murdoch | GEE | FWD | 372000 | 56.5 | 2 | 6584 |
| Brayden Maynard | COLL | DEF | 411000 | 56.3 | 3 | 7296 |
| Connor Blakely | FRE | MID | 453000 | 56.3 | 3 | 8041 |
| Drew Petrie | WCE | FWD | 363000 | 56 | 2 | 6482 |
| Shaun Edwards | SYD | MID/FWD | 271000 | 56 | 1 | 4839 |
| Stewart Crameri | WB | FWD | 375000 | 56 | 3 | 6696 |
| Tom Hawkins | GEE | FWD | 455000 | 56 | 3 | 8125 |
| James Sicily | HAW | FWD | 361000 | 55.7 | 3 | 6485 |
| Kayne Turner | NMFC | FWD | 216000 | 55.7 | 3 | 3880 |
| Ryan Burton | HAW | DEF/FWD | 260000 | 55.7 | 3 | 4671 |
| Teia Miles | HAW | MID/FWD | 150000 | 55.7 | 3 | 2695 |
| Tom McDonald | MELB | DEF | 457000 | 55.7 | 3 | 8210 |
| Ben Stratton | HAW | DEF | 315000 | 55.3 | 3 | 5693 |
| Brett Eddy | PORT | FWD | 150000 | 55.3 | 3 | 2711 |
| Daniel Robinson | SYD | MID/FWD | 329000 | 55.3 | 3 | 5946 |
| Ben Long | STK | DEF/FWD | 202000 | 55 | 1 | 3673 |
| Chad Wingard | PORT | FWD | 432000 | 55 | 2 | 7855 |
| Riley Bonner | PORT | DEF | 358000 | 55 | 3 | 6509 |
| Sam Jacobs | ADEL | RUC | 534000 | 55 | 3 | 9709 |
| Aaron vandenBerg | MELB | FWD | 369000 | 54.5 | 2 | 6771 |
| Nick Haynes | GWS | DEF | 447000 | 54.5 | 2 | 8202 |
| Mabior Chol | RICH | DEF/FWD | 150000 | 54 | 1 | 2778 |
| Robbie Tarrant | NMFC | DEF | 418000 | 54 | 2 | 7741 |
| Alex Fasolo | COLL | FWD | 424000 | 53.7 | 3 | 7901 |
| Cam McCarthy | FRE | FWD | 211000 | 53.7 | 3 | 3932 |
| Jackson Nelson | WCE | DEF | 284000 | 53.7 | 3 | 5292 |
| Joshua Begley | ESS | FWD | 190000 | 53.5 | 2 | 3551 |
| Dan Butler | RICH | FWD | 150000 | 53.3 | 3 | 2812 |
| Ed Vickers-Willis | NMFC | DEF | 150000 | 53.3 | 3 | 2812 |
| Garrick Ibbotson | FRE | DEF | 400000 | 53.3 | 3 | 7500 |
| Lee Spurr | FRE | DEF | 463000 | 53.3 | 3 | 8681 |
| Brandan Parfitt | GEE | MID/FWD | 200000 | 53 | 3 | 3774 |
| Darcy Byrne-Jones | PORT | DEF | 355000 | 53 | 2 | 6698 |
| Jackson Merrett | ESS | MID/FWD | 413000 | 53 | 1 | 7792 |
| Nick Robertson | BL | DEF/MID | 310000 | 53 | 3 | 5849 |
| Paul Puopolo | HAW | FWD | 410000 | 53 | 2 | 7736 |
| Nathan Wright | STK | FWD | 281000 | 52.7 | 3 | 5335 |
| Jesse Lonergan | GC | MID | 405000 | 52.5 | 2 | 7714 |
| Levi Casboult | CARL | FWD | 311000 | 52.5 | 2 | 5924 |
| David Mackay | ADEL | MID | 455000 | 52.3 | 3 | 8694 |
| James Frawley | HAW | DEF | 354000 | 52.3 | 3 | 6764 |
| Jonathon Griffin | FRE | RUC | 378000 | 52.3 | 3 | 7223 |
| Troy Menzel | ADEL | FWD | 199000 | 52.3 | 3 | 3803 |
| David Astbury | RICH | DEF | 363000 | 52 | 3 | 6981 |
| Fraser McInnes | WCE | DEF/FWD | 245000 | 52 | 1 | 4712 |
| James Kelly | ESS | DEF/MID | 597000 | 52 | 2 | 11481 |
| Jeremy Finlayson | GWS | DEF | 150000 | 52 | 1 | 2885 |
| Jesse Joyce | GC | DEF | 255000 | 52 | 3 | 4904 |
| Luke McDonald | NMFC | DEF | 343000 | 51.7 | 3 | 6639 |
| Tom Boyd | WB | RUC/FWD | 347000 | 51.7 | 3 | 6716 |
| Josh Gibson | HAW | DEF | 494000 | 51.5 | 2 | 9592 |
| Marley Williams | NMFC | DEF | 332000 | 51.5 | 2 | 6447 |
| Nakia Cockatoo | GEE | FWD | 365000 | 51.3 | 3 | 7110 |
| Craig Bird | ESS | MID | 497000 | 51 | 1 | 9745 |
| Joel Smith | MELB | DEF | 150000 | 51 | 2 | 2941 |
| Michael Hartley | ESS | DEF | 290000 | 51 | 1 | 5686 |
| Nick Graham | CARL | MID/FWD | 485000 | 51 | 1 | 9510 |
| Peter Wright | GC | FWD | 392000 | 51 | 2 | 7686 |
| Taylor Duryea | HAW | DEF | 415000 | 51 | 3 | 8137 |
| Tom Clurey | PORT | DEF | 254000 | 51 | 3 | 4980 |
| Lachie Weller | FRE | FWD | 378000 | 50.7 | 3 | 7461 |
| Alex Rance | RICH | DEF | 461000 | 50.5 | 2 | 9129 |
| Jarrod Witts | GC | RUC | 328000 | 50.5 | 2 | 6495 |
| Josh Green | ESS | FWD | 351000 | 50.5 | 2 | 6950 |
| Shane Mumford | GWS | RUC | 513000 | 50.5 | 2 | 10158 |
| Steven Motlop | GEE | FWD | 499000 | 50.5 | 2 | 9881 |
| Harry Taylor | GEE | DEF | 389000 | 50.3 | 3 | 7728 |
| Michael Close | BL | FWD | 287000 | 50.3 | 3 | 5702 |
| Declan Watson | NMFC | DEF | 184000 | 50 | 1 | 3680 |
| Jordan Cunico | GEE | MID/FWD | 150000 | 50 | 1 | 3000 |
| Nathan Krakouer | PORT | DEF | 362000 | 50 | 1 | 7240 |
| Zac Smith | GEE | RUC | 397000 | 50 | 3 | 7940 |
| Ryan Schoenmakers | HAW | FWD | 265000 | 49.7 | 3 | 5336 |
| Adam Kennedy | GWS | DEF | 337000 | 49.5 | 2 | 6808 |
| David Cuningham | CARL | MID | 262000 | 49.5 | 2 | 5293 |
| Dennis Armfield | CARL | FWD | 385000 | 49.5 | 2 | 7778 |
| Zaine Cordy | WB | FWD | 242000 | 49.5 | 2 | 4889 |
| James Stewart | ESS | FWD | 227000 | 49.3 | 3 | 4601 |
| Jimmy Webster | STK | DEF | 356000 | 49.3 | 3 | 7216 |
| Daniel Lloyd | GWS | MID | 150000 | 49 | 2 | 3061 |
| Darcy MacPherson | GC | FWD | 290000 | 49 | 1 | 5918 |
| Darren Minchington | STK | FWD | 325000 | 49 | 1 | 6633 |
| Griffin Logue | FRE | DEF | 236000 | 49 | 1 | 4816 |
| Harrison Himmelberg | GWS | DEF | 251000 | 49 | 1 | 5122 |
| Mark Baguley | ESS | DEF | 473000 | 49 | 2 | 9653 |
| Sam Gilbert | STK | DEF | 367000 | 49 | 2 | 7490 |
| Lachie Plowman | CARL | DEF | 298000 | 48.7 | 3 | 6123 |
| Mitchell Hibberd | NMFC | DEF/MID | 150000 | 48.7 | 3 | 3082 |
| Charlie Curnow | CARL | FWD | 237000 | 48.5 | 2 | 4887 |
| Dawson Simpson | GWS | RUC | 182000 | 48.5 | 2 | 3753 |
| Cameron Sutcliffe | FRE | DEF | 441000 | 48.3 | 3 | 9124 |
| Jason Castagna | RICH | DEF | 293000 | 48.3 | 3 | 6062 |
| Jonathon Patton | GWS | FWD | 367000 | 48.3 | 3 | 7593 |
| Brandon Matera | GC | FWD | 396000 | 48 | 2 | 8250 |
| Darcy Cameron | SYD | RUC/FWD | 156000 | 48 | 3 | 3250 |
| Heath Hocking | ESS | MID | 400000 | 48 | 1 | 8333 |
| Jake Carlisle | STK | DEF/FWD | 359000 | 48 | 3 | 7479 |
| Nick Smith | SYD | DEF | 342000 | 48 | 3 | 7125 |
| Sam Powell-Pepper | PORT | MID | 216000 | 48 | 3 | 4500 |
| Jake Spencer | MELB | RUC | 281000 | 47.7 | 3 | 5895 |
| Michael Hurley | ESS | DEF | 447000 | 47.7 | 3 | 9378 |
| Rory Lobb | GWS | FWD | 406000 | 47.7 | 3 | 8517 |
| Archie Smith | BL | RUC | 342000 | 47.5 | 2 | 7200 |
| Maverick Weller | STK | FWD | 444000 | 47.5 | 2 | 9347 |
| Bailey Dale | WB | MID/FWD | 262000 | 47 | 2 | 5574 |
| Colin O'Riordan | SYD | DEF | 150000 | 47 | 1 | 3191 |
| Dean Gore | ADEL | MID | 150000 | 47 | 1 | 3191 |
| Harry Perryman | GWS | DEF/MID | 224000 | 47 | 1 | 4766 |
| Ivan Soldo | RICH | RUC | 150000 | 47 | 1 | 3191 |
| Jackson Trengove | PORT | RUC | 417000 | 47 | 3 | 8872 |
| Jarrad Grant | GC | FWD | 334000 | 47 | 2 | 7106 |
| Jeremy Laidler | SYD | DEF | 274000 | 47 | 1 | 5830 |
| Sam Wright | NMFC | DEF | 405000 | 47 | 1 | 8617 |
| Tom Jonas | PORT | DEF | 297000 | 46.7 | 3 | 6364 |
| Eric Mackenzie | WCE | DEF | 333000 | 46.3 | 3 | 7187 |
| Daniel Talia | ADEL | DEF | 398000 | 46 | 3 | 8652 |
| Jake Long | ESS | MID/FWD | 226000 | 46 | 1 | 4913 |
| Jesse White | COLL | FWD | 437000 | 46 | 3 | 9500 |
| Oliver Florent | SYD | MID/FWD | 230000 | 45.7 | 3 | 5036 |
| Hugh Greenwood | ADEL | MID/FWD | 150000 | 45.5 | 2 | 3297 |
| Sam Reid | SYD | FWD | 294000 | 45.3 | 3 | 6485 |
| Bailey Rice | STK | DEF | 150000 | 45 | 1 | 3333 |
| Jack Darling | WCE | FWD | 420000 | 45 | 2 | 9333 |
| Jeff Garlett | MELB | FWD | 345000 | 45 | 1 | 7667 |
| Lachlan Keeffe | COLL | DEF | 184000 | 45 | 1 | 4089 |
| Martin Gleeson | ESS | DEF | 396000 | 45 | 3 | 8800 |
| Matthew Taylor | NMFC | DEF | 150000 | 45 | 1 | 3333 |
| James Harmes | MELB | DEF | 404000 | 44.7 | 3 | 9045 |
| Jarryd Blair | COLL | FWD | 420000 | 44.7 | 3 | 9403 |
| Matt Buntine | GWS | DEF | 264000 | 44.7 | 3 | 5910 |
| Dylan Grimes | RICH | DEF | 319000 | 44.3 | 3 | 7195 |
| Mitch Brown | ESS | FWD | 420000 | 44.3 | 3 | 9474 |
| Dan Houston | PORT | FWD | 150000 | 44 | 3 | 3409 |
| Liam Shiels | HAW | MID | 499000 | 44 | 3 | 11341 |
| Majak Daw | NMFC | RUC/FWD | 354000 | 44 | 2 | 8045 |
| Michael Talia | SYD | DEF | 289000 | 44 | 1 | 6568 |
| Ryan Bastinac | BL | MID | 468000 | 44 | 3 | 10636 |
| Sam Naismith | SYD | RUC | 359000 | 44 | 2 | 8159 |
| Eric Hipwood | BL | FWD | 290000 | 43.5 | 2 | 6667 |
| Oleg Markov | RICH | DEF | 377000 | 43.5 | 2 | 8667 |
| Darcy Moore | COLL | FWD | 316000 | 43.3 | 3 | 7292 |
| Jordan Ridley | ESS | DEF/FWD | 208000 | 43 | 1 | 4837 |
| Josh Cowan | GEE | MID | 391000 | 43 | 3 | 9093 |
| Luke Partington | WCE | MID | 150000 | 43 | 1 | 3488 |
| Jack Redden | WCE | MID | 392000 | 42.7 | 3 | 9188 |
| Declan Mountford | NMFC | MID | 150000 | 42.5 | 2 | 3529 |
| Jack Frost | BL | DEF | 273000 | 42.5 | 2 | 6424 |
| Jasper Pittard | PORT | DEF | 496000 | 42.5 | 2 | 11671 |
| Sam Durdin | NMFC | FWD | 150000 | 42.5 | 2 | 3529 |
| Daniel Rioli | RICH | FWD | 297000 | 42.3 | 3 | 7016 |
| Bailey Williams | WB | DEF | 267000 | 42 | 1 | 6357 |
| Cedric Cox | BL | DEF | 204000 | 42 | 1 | 4857 |
| Daniel McStay | BL | DEF | 300000 | 42 | 1 | 7143 |
| Jack Leslie | GC | DEF | 208000 | 42 | 3 | 4952 |
| Jarrod Pickett | CARL | MID/FWD | 150000 | 42 | 3 | 3571 |
| Sam Lloyd | RICH | FWD | 408000 | 41.7 | 3 | 9792 |
| Ben Howlett | ESS | MID/FWD | 404000 | 41.5 | 2 | 9735 |
| Jack Silvagni | CARL | FWD | 303000 | 41.5 | 2 | 7301 |
| Jack Sinclair | STK | FWD | 318000 | 41.5 | 2 | 7663 |
| Jy Simpkin | NMFC | FWD | 228000 | 41.5 | 2 | 5494 |
| Jack Hombsch | PORT | DEF | 306000 | 41.3 | 3 | 7403 |
| Koby Stevens | STK | MID/FWD | 517000 | 41.3 | 3 | 12508 |
| Simon White | CARL | DEF | 369000 | 41.3 | 3 | 8927 |
| Chris Mayne | COLL | FWD | 466000 | 41 | 3 | 11366 |
| Dylan Clarke | ESS | MID | 150000 | 41 | 1 | 3659 |
| Hugh McCluggage | BL | MID/FWD | 246000 | 41 | 2 | 6000 |
| Isaac Cumming | GWS | DEF | 212000 | 41 | 1 | 5171 |
| Jay Kennedy-Harris | MELB | FWD | 150000 | 41 | 2 | 3659 |
| Jed Bews | GEE | DEF | 288000 | 41 | 1 | 7024 |
| Tim Mohr | GWS | DEF | 150000 | 41 | 1 | 3659 |
| Will Setterfield | GWS | MID | 242000 | 41 | 2 | 5902 |
| Callum Ah Chee | GC | FWD | 336000 | 40.7 | 3 | 8262 |
| Lewis Melican | SYD | DEF | 150000 | 40.7 | 3 | 3689 |
| Jack Lonie | STK | FWD | 296000 | 40.3 | 3 | 7339 |
| Jack Bowes | GC | MID/FWD | 232000 | 40 | 2 | 5800 |
| Jamie Elliott | COLL | FWD | 330000 | 40 | 1 | 8250 |
| Will Brodie | GC | MID | 234000 | 39.7 | 3 | 5899 |
| Corey Wagner | NMFC | FWD | 177000 | 39.5 | 2 | 4481 |
| Joshua Schoenfeld | GC | MID | 305000 | 39.5 | 2 | 7722 |
| Hayden Ballantyne | FRE | FWD | 370000 | 39.3 | 3 | 9407 |
| Jarman Impey | PORT | FWD | 347000 | 39.3 | 3 | 8822 |
| Lynden Dunn | COLL | DEF | 328000 | 39.3 | 3 | 8339 |
| Fletcher Roberts | WB | DEF | 219000 | 39 | 2 | 5615 |
| Kieran Lovell | HAW | MID/FWD | 195000 | 39 | 2 | 5000 |
| Michael Hibberd | MELB | DEF | 428000 | 39 | 1 | 10974 |
| Riley Knight | ADEL | FWD | 241000 | 39 | 1 | 6179 |
| Ryan Clarke | NMFC | MID/FWD | 293000 | 38.7 | 3 | 7578 |
| Luke Brown | ADEL | DEF | 415000 | 38.5 | 2 | 10779 |
| Mitch Honeychurch | WB | MID/FWD | 342000 | 38.5 | 2 | 8883 |
| Joel Hamling | FRE | DEF | 261000 | 38.3 | 3 | 6809 |
| Cameron Zurhaar | NMFC | FWD | 150000 | 38 | 1 | 3947 |
| Daniel McKenzie | STK | DEF | 311000 | 38 | 2 | 8184 |
| Jake Batchelor | RICH | DEF | 295000 | 38 | 1 | 7763 |
| Joe Atley | PORT | MID | 188000 | 38 | 3 | 4947 |
| Kyle Hartigan | ADEL | DEF | 322000 | 38 | 3 | 8474 |
| Sean Dempster | STK | DEF | 339000 | 38 | 2 | 8921 |
| Tyson Goldsack | COLL | DEF | 270000 | 38 | 3 | 7105 |
| Adam Saad | GC | DEF | 349000 | 37.7 | 3 | 9265 |
| Harry Marsh | SYD | DEF | 212000 | 37.7 | 3 | 5628 |
| Jarryn Geary | STK | DEF | 348000 | 37.5 | 2 | 9280 |
| Cameron Polson | CARL | FWD | 150000 | 37 | 1 | 4054 |
| Charlie Dixon | PORT | FWD | 340000 | 37 | 3 | 9189 |
| Sam Rowe | CARL | DEF | 232000 | 37 | 3 | 6270 |
| Scott D. Thompson | NMFC | DEF | 342000 | 37 | 2 | 9243 |
| Ben Ainsworth | GC | MID/FWD | 244000 | 36.7 | 3 | 6655 |
| Kamdyn McIntosh | RICH | DEF | 371000 | 36.5 | 2 | 10164 |
| Matthew Leuenberger | ESS | RUC | 440000 | 36.3 | 3 | 12110 |
| Blaine Boekhorst | CARL | MID/FWD | 305000 | 36 | 1 | 8472 |
| Corey Ellis | RICH | DEF | 373000 | 36 | 2 | 10361 |
| Daniel Menzel | GEE | FWD | 443000 | 36 | 2 | 12306 |
| Joe Daniher | ESS | FWD | 435000 | 36 | 2 | 12083 |
| Matthew Hammelmann | BL | DEF | 200000 | 36 | 2 | 5556 |
| Scott Pendlebury | COLL | MID | 641000 | 36 | 2 | 17806 |
| Thomas Cole | WCE | DEF | 216000 | 36 | 1 | 6000 |
| Tim Membrey | STK | FWD | 449000 | 35.7 | 3 | 12589 |
| Hayden Crozier | FRE | DEF | 454000 | 35.5 | 2 | 12789 |
| Jed Lamb | CARL | FWD | 348000 | 35 | 2 | 9943 |
| Patrick Ambrose | ESS | DEF | 303000 | 35 | 2 | 8657 |
| Sam Fisher | SYD | FWD | 150000 | 35 | 1 | 4286 |
| Tom Williamson | CARL | DEF | 150000 | 35 | 1 | 4286 |
| Robbie Fox | SYD | MID | 150000 | 34 | 3 | 4412 |
| Tarir Bayok | WCE | MID/FWD | 150000 | 34 | 1 | 4412 |
| Tom Lamb | WCE | FWD | 220000 | 34 | 1 | 6471 |
| Ryan Harwood | BL | DEF | 323000 | 33 | 1 | 9788 |
| Sean Lemmens | GC | DEF | 304000 | 33 | 2 | 9212 |
| Tom Campbell | WB | RUC | 446000 | 33 | 1 | 13515 |
| Henry Schade | COLL | DEF | 284000 | 32.3 | 3 | 8784 |
| Sam Weideman | MELB | FWD | 150000 | 32.3 | 3 | 4639 |
| Jordan Foote | SYD | MID | 195000 | 32 | 3 | 6094 |
| Rory Thompson | GC | DEF | 279000 | 31.7 | 3 | 8811 |
| Grant Birchall | HAW | DEF | 490000 | 31.5 | 2 | 15556 |
| Harry Dear | ADEL | FWD | 150000 | 31.5 | 2 | 4762 |
| Reilly O'Brien | ADEL | RUC | 340000 | 31.3 | 3 | 10851 |
| Ben Sinclair | COLL | DEF | 344000 | 31 | 1 | 11097 |
| David Myers | ESS | MID | 197000 | 31 | 1 | 6355 |
| Jordan Snadden | WCE | MID/FWD | 150000 | 31 | 1 | 4839 |
| Thomas Gorter | WCE | DEF | 150000 | 31 | 1 | 4839 |
| Alex Silvagni | CARL | DEF | 298000 | 30 | 1 | 9933 |
| Andrew McGrath | ESS | DEF/MID | 250000 | 30 | 3 | 8333 |
| Callum Sinclair | SYD | RUC/FWD | 370000 | 30 | 1 | 12333 |
| Josh Schache | BL | FWD | 286000 | 30 | 1 | 9533 |
| Kieran Collins | WB | DEF | 150000 | 30 | 1 | 5000 |
| Lincoln McCarthy | GEE | FWD | 317000 | 30 | 2 | 10567 |
| Michael Apeness | FRE | FWD | 150000 | 30 | 1 | 5000 |
| Roarke Smith | WB | DEF | 235000 | 30 | 1 | 7833 |
| Jacob Allison | BL | MID/FWD | 150000 | 29.5 | 2 | 5085 |
| Liam Jones | CARL | FWD | 281000 | 29 | 1 | 9690 |
| Tyson Stengle | RICH | FWD | 150000 | 29 | 1 | 5172 |
| Nathan J. Brown | STK | DEF | 271000 | 28.7 | 3 | 9453 |
| Phil Davis | GWS | DEF | 300000 | 28.5 | 2 | 10526 |
| Mason Redman | ESS | FWD | 171000 | 28 | 1 | 6107 |
| Matthew Boyd | WB | DEF | 617000 | 27.5 | 2 | 22436 |
| Claye Beams | BL | DEF | 329000 | 27 | 2 | 12185 |
| Jack Henry | GEE | FWD | 150000 | 27 | 1 | 5556 |
| Matthew Lobbe | PORT | RUC | 441000 | 27 | 3 | 16333 |
| Timothy English | WB | RUC | 214000 | 27 | 2 | 7926 |
| Shane Kersten | FRE | FWD | 375000 | 26.7 | 3 | 14062 |
| Blake Acres | STK | MID/FWD | 431000 | 26.5 | 2 | 16264 |
| Brad Lynch | WB | DEF | 150000 | 26.5 | 2 | 5660 |
| Myles Poholke | ADEL | MID/FWD | 164000 | 26.5 | 2 | 6189 |
| Blake Hardwick | HAW | FWD | 176000 | 26 | 2 | 6769 |
| Malcolm Karpany | WCE | MID/FWD | 172000 | 26 | 1 | 6615 |
| Ben Lennon | RICH | FWD | 300000 | 25.5 | 2 | 11765 |
| Zac Fisher | CARL | MID | 198000 | 25.5 | 2 | 7765 |
| Cam Ellis-Yolmen | ADEL | MID/FWD | 362000 | 25 | 1 | 14480 |
| Jake Waterman | WCE | FWD | 150000 | 25 | 1 | 6000 |
| Matt White | PORT | MID/FWD | 284000 | 25 | 1 | 11360 |
| Rhys Mathieson | BL | MID | 426000 | 25 | 1 | 17040 |
| Jonathan Freeman | BL | FWD | 182000 | 24 | 1 | 7583 |
| Matthew Scharenberg | COLL | DEF | 234000 | 24 | 2 | 9750 |
| Steve Johnson | GWS | FWD | 501000 | 24 | 2 | 20875 |
| Will Schofield | WCE | DEF | 253000 | 24 | 1 | 10542 |
| Marcus Adams | WB | DEF | 404000 | 23.3 | 3 | 17314 |
| Aidan Corr | GWS | DEF | 189000 | 23 | 3 | 8217 |
| Kane Lambert | RICH | FWD | 383000 | 23 | 1 | 16652 |
| Ben McKay | NMFC | FWD | 150000 | 22.5 | 2 | 6667 |
| Harrison Macreadie | CARL | DEF | 158000 | 22.5 | 2 | 7022 |
| Ben Griffiths | RICH | FWD | 403000 | 22 | 2 | 18318 |
| Jack Maibaum | SYD | DEF | 162000 | 22 | 1 | 7364 |
| Kym Lebois | CARL | FWD | 150000 | 22 | 1 | 6818 |
| Harry McKay | CARL | FWD | 150000 | 21.5 | 2 | 6977 |
| Jordan Gallucci | ADEL | MID/FWD | 222000 | 21.5 | 2 | 10326 |
| Jack Fitzpatrick | HAW | RUC | 299000 | 21 | 1 | 14238 |
| Josh Rotham | WCE | DEF | 178000 | 21 | 1 | 8476 |
| Josh Thomas | COLL | MID/FWD | 274000 | 21 | 1 | 13048 |
| Lachlan Hansen | NMFC | DEF | 304000 | 21 | 1 | 14476 |
| Tom Barrass | WCE | DEF | 308000 | 21 | 3 | 14667 |
| Will Hayward | SYD | FWD | 210000 | 21 | 2 | 10000 |
| Declan Hamilton | WB | MID/FWD | 150000 | 20.5 | 2 | 7317 |
| Tom Downie | GWS | RUC/FWD | 253000 | 20 | 1 | 12650 |
| Heath Grundy | SYD | DEF | 375000 | 19.5 | 2 | 19231 |
| Ivan Maric | RICH | RUC | 392000 | 19 | 2 | 20632 |
| Zachary Sproule | GWS | DEF/FWD | 150000 | 19 | 1 | 7895 |
| Jake Neade | PORT | FWD | 320000 | 18.5 | 2 | 17297 |
| Jarrad Jansen | BL | MID/FWD | 318000 | 18 | 1 | 17667 |
| Nathan Mullenger-McHugh | WB | RUC | 150000 | 18 | 1 | 8333 |
| Josh Daicos | COLL | FWD | 150000 | 17.5 | 2 | 8571 |
| Cameron Guthrie | GEE | MID | 485000 | 17 | 1 | 28529 |
| Dion Johnstone | MELB | FWD | 150000 | 17 | 1 | 8824 |
| Lewis Young | WB | FWD | 154000 | 17 | 1 | 9059 |
| Matthew Flynn | GWS | FWD | 150000 | 17 | 1 | 8824 |
| Aidyn Johnson | PORT | FWD | 150000 | 16 | 2 | 9375 |
| Conor Nash | HAW | DEF | 150000 | 16 | 1 | 9375 |
| Dylan Buckley | CARL | FWD | 349000 | 16 | 2 | 21812 |
| Tommy Sheridan | FRE | DEF | 410000 | 16 | 1 | 25625 |
| Zac Dawson | FRE | DEF | 199000 | 15.3 | 3 | 12978 |
| Brandon Jack | SYD | MID/FWD | 233000 | 14 | 1 | 16643 |
| Matthew Korcheck | CARL | RUC | 150000 | 14 | 1 | 10714 |
| Patrick Lipinski | WB | MID/FWD | 196000 | 14 | 1 | 14000 |
| Jonathon Beech | ADEL | FWD | 150000 | 12 | 1 | 12500 |
| Robbie Gray | PORT | MID | 590000 | 11.5 | 2 | 51304 |
| Paddy Brophy | WCE | DEF | 150000 | 11 | 1 | 13636 |
| Sean Darcy | FRE | RUC | 176000 | 11 | 3 | 16000 |
| Jacob Townsend | RICH | MID/FWD | 406000 | 9 | 1 | 45111 |
| Sam Day | GC | DEF/FWD | 354000 | 9 | 1 | 39333 |
| Dallas Willsmore | HAW | MID | 150000 | 8 | 1 | 18750 |
| Willem Drew | PORT | MID/FWD | 186000 | 7.3 | 3 | 25364 |
| Jordan Roughead | WB | RUC | 411000 | 7 | 1 | 58714 |
| Kurt Heatherley | HAW | DEF | 244000 | 7 | 2 | 34857 |
| Nick Larkey | NMFC | DEF/FWD | 150000 | 7 | 1 | 21429 |
| Nick Suban | FRE | MID | 350000 | 7 | 2 | 50000 |
| Marc Pittonet | HAW | RUC | 189000 | 6 | 2 | 31500 |
| Daniel Gorringe | CARL | RUC/FWD | 327000 | 5 | 1 | 65400 |
| Matt Taberner | FRE | FWD | 369000 | 5 | 1 | 73800 |
| Sam Murray | SYD | FWD | 150000 | 4 | 1 | 37500 |
| Harry Morrison | HAW | DEF | 150000 | 3 | 1 | 50000 |
| Josh Wagner | MELB | DEF | 413000 | 2 | 1 | 206500 |
| Josh Walker | BL | FWD | 336000 | 2 | 1 | 168000 |
| Brendan Whitecross | HAW | FWD | 404000 | 0 | 2 | 0 |