2016 AFL Fixture and Fantasy
Warnie gives his initial thoughts on the 2016 fixture including the MBRs, partial lockouts and the week off after round 23.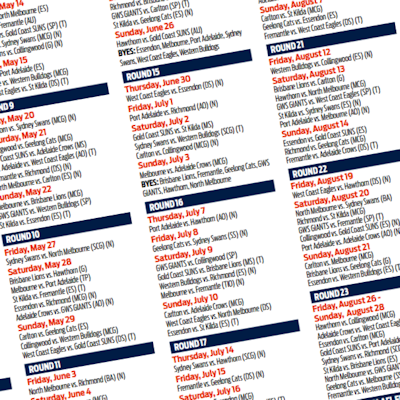 The 2016 AFL Fixture has been released and we can start planning some of our weekend for next year. Of course, that planning doesn't just revolve around our life… it's Fantasy as well. But I guess Fantasy is Life! On Tuesday the NAB Challenge fixture was announced which will be an integral part of our fantasy pre-season. Those 27 games kick-off on March 18 and will run for four weeks. Every game will be shown live on Fox Footy and the AFL app.
Let's get into the main points fantasy coaches need to know for the 2016 fixture.
Click here for the full fixture.
ROUND 23 FINALS ARE GO
The best news out of the fixture announcement for Fantasy coaches was that there will be a week off between round 23 and the first week of finals. This is to curb the restings in round 23 that plagued our fantasy grand final weekend (oh, and the game itself).
The grand final is pushed to October 1 as a result.
SuperCoach moved their grand final to round 22 because of the amount of players rested in the final round. Hopefully this will 'fix' that problem as teams won't want players missing two weeks on the eve of the final series. With this, I assume that AFL Fantasy will continue to play finals in round 23.
Looking ahead, there could be some fantasy relevant fixtures in the grand final week. Straight up, we will be keen on some Cats when they take on the Dees. Also, Bombers v Blues may bring us some decent scores to bring us home in the GF as that is likely to be Sunday arvo.
We'll be looking at some more fixture analysis over the pre-season to look at who has favourable draws at what times of the season. Remember that in most cases, the double-up game will be played against teams finishing in the same third of the ladder as last year.
Load up on the Dogs early in all forms of fantasy. https://t.co/xINPEn1MOG

— Fantasy Freako (@FantasyFreako) October 28, 2015
thank you @AFLFantasy gods! GF becomes relevant again. Cats vs Dees Rnd 23 = load up on Cats players! @NailsdeWinter @WarnieDT #AFLFixture

— Ricky Cahn (@thekidcahny) October 28, 2015
ROUND ONE
In the slow leak of information around the fixture, round one was announced last week and it will be held over the Easter weekend. The traditional Richmond v Carlton clash will take place on the Thursday night at the MCG and this will be where the first lockout will kick in. It will be a partial lockout being a Thursday game. There are no games on Good Friday next year. The round resumes on Saturday afternoon and will go right through to Monday for the Geelong v Hawthorn clash.
Thursday, March 24
Richmond v Carlton, MCG
Saturday
Melbourne v Greater Western Sydney, MCG
Gold Coast v Essendon, Metricon Stadium
Sydney Swans v Collingwood, ANZ Stadium
North Melbourne v Adelaide, Etihad Stadium
Sunday
Western Bulldogs v Fremantle, Etihad Stadium
Port Adelaide v St Kilda, Adelaide Oval
West Coast v Brisbane Lions, Domain Stadium
Monday
Geelong v Hawthorn, MCG
With no sub rule, this doesn't become as much of an issue, but with the Easter Monday game we won't know the final 22s until late Saturday afternoon (approx. 4pm). This would be after the full lockout which usually happens at the start of the first Saturday game. Vote in the poll below for which lockout you would prefer. The regular partial lockout that we always have when the opening round falls on the Easter weekend, or a full rolling lockout (for round one only) so we can pick our initial squads knowing all information available to us.
MULTI-BYE ROUNDS
The bane of our existence, but in 2016 they will be a little bit later. Occurring from rounds 13-15, many teams are getting quite settled… so strategy may change here from years past. The spread of teams with regard to fantasy relevance over the byes looks pretty good at this early stage of the season. There will be more on bye round strategy throughout the next few months.
ROUND 13
Adelaide, Carlton, Collingwood, Gold Coast, Richmond, St Kilda
ROUND 14
Essendon, Melbourne, Port Adelaide, Sydney, West Coast, Western Bulldogs
ROUND 15
Brisbane, Fremantle, Geelong, GWS, Hawthorn, North Melbourne
PARTIAL LOCKOUTS
There are five Thursday night games this season. The aforementioned Easter / Opening Round game and then four from rounds 14 to 17.
What does this mean? Well, quite simply we will have a partial lockout on the Thursday night through to, what we assume, the normal Friday lockout. With these all chances for the loophole, make sure you are reading Calvin's Captains for the best tips for the loop-de-loop!
There are three Monday games. Easter Monday to get us going, but also the ANZAC Day game in round 5 and the Queens Birthday game in round 12. The drama with this is of course not knowing full teams before we are locked out.
Discuss the fixture and your initial thoughts (or deeper thoughts if you have had a look through it) in the comments.