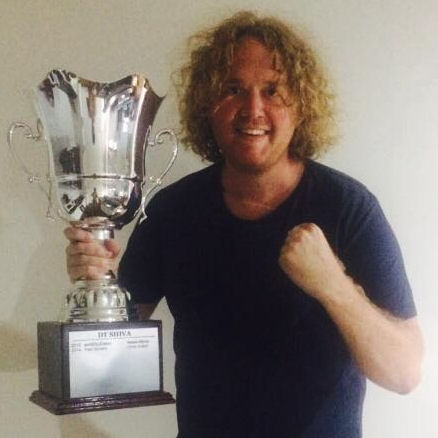 For all of you that follow me on twitter (@cruttonhutton), or are familiar with the DT Shiva, you'd be well aware that amongst Fantasy Football royalty, I was crowned the 2014 Division 1 DT Shiva Champion. Complete with trophy, a wad of cash and bragging rights for the next 12 months (until of course I go BACK2BACK), it was the peak of my Fantasy Football career.
For those who don't know, the DT Shiva is a promotion/relegation league, which in 2014 had over 110 members (spanning 12 leagues), run through the platform (my new personal favourite) Ultimate Footy. Get involved – we have a draft day, a Facebook page and a hell of a lot of banter, it's a great league to be part of – get onto Douth – @douthteez. We have already ticked over 150 registrations this year, so jump on board the best competition out there!
Click here for more info on the DT Shiva.
Fellow DT Talk writers Warnie, Rainman, Griff, McRath, Dunny and 2013 Champion Aki, among other legends, were all competing members in the 2014 DT Shiva. So how, amongst some of the greatest names in Australian Fantasy Football, did I manage to hoist the trophy?
Firstly – this article is intended as "Drafting 101". Some more intense, draft strategy articles will follow throughout the preseason. This is just to get those minds ticking!
Well, without giving too much away (of course – a magician never reveals his secrets), here are some hints when it comes to succeeding in a draft league.
Pre-Draft
You are currently on this website, because you know the importance of pre-season when it comes to Fantasy Football. And in draft leagues, it is even more so important. While the standard Guns 'n' Rookies approach is a sure fire way to be competitive in standard Fantasy format, in draft leagues, you'll need to look a heck of a lot deeper. You will draft players that you wouldn't consider in standard format. David Zaharakis, Jack Watts (ha!), Ben Cunnington, Jeremy Howe, Mark Baguley… the list goes on. Prior to the draft – nominate 4-6 players from each team you will keep your eye on – and know their role!
I was bullish about the role Jack Newnes and Brad Hill would play in 2014, so I used late picks on them. They turned out to be 2 very important players in my team. You'll need to cast the net wide in your research.
The Draft
I'm a firm believer that you don't win your draft with your first 5 picks – you win it with your last 5 (well, not necessarily the last 5 – but value picks late in the draft will make or break your team). My top 5 picks in 2014 were Deledio, Jelwood, Chad Wingard, Luke Parker and Dyson Heppell. All very good players, and Luke Parker was probably my best pick in the draft (closely followed by Heppell in the 5th round!), but all the guns come off the board in the early rounds. If you don't have 5 guns with your first 5 picks – you've done something very wrong! Some of my value picks included Jack Darling in Round 14, Burgoyne in Round 15, Jamie Elliott in Round 16, and Brad Hill in Round 20 (who started the season on fire before dropping off a bit) – but these guys formed an integral part of my team in 2014.
In the DT Shiva in 2014, Ben McGlynn was picked up in Round 20, Jack Viney in Round 25, Ollie Wines in Round 16, Dom Tyson in Round 15, Cam Guthrie in Round 17 and Jordan Lewis in Round 11! Some drafts do drag on, but keep your wits about you, and you will get some guns late that propel you to the top of your league!
I also focused heavily on picking up DPP players, hence why Deledio (B/C), Wingard (C/F) and Parker (C/F) were 3 of my first 4 picks. While you do need those solid, consistent, high scoring mid types (Jelwood, Fyfe, Stevie J etc), I can guarantee that there will be 80-90+ scoring midfielders (either on last seasons form or potential breakout players) that you can get deep in the draft. The talent in the forward and back lines drop off pretty quickly, so get those points in those positions while you can (it looks like a very thin back line stock in 2015!).
Last point about the draft – don't panic. I maintained that I wasn't going to pick up a ruckman until at least round 8 – so when Cox, Goldstein, Ryder, Minson, Sandilands etc were all off the board early, I kept my cool, and stuck to my structure. I picked up Matthew Lobbe in round 9. Mind you – big sauce Jacobs was still available until the 10th! I'm not necessarily telling you not to pick up a ruckman early – I'm telling you to stick to your guns. Don't panic.
Trading
Trading in the fantasy draft format is what sets it apart from the others. There is only one GAJ. One Rocky. THERE IS ONLY ONE TOBY GREENE. Oh yeah, I love a good trade. And my fellow DT Shiva competitors knew it. Yep, more often than not, I was trying to pull the wool over their eyes (which is hard to do with these guys!). But don't be scared off. Remember, in draft leagues, there is (within reason) no such thing as a "fair trade". Sometimes, you may have to sacrifice a 100 point mid for an 80 point defender. Do the maths. If you have a 90 point mid on your bench, but your D5 is only scoring you 50 points per week, that is actually an upgrade of 20 points.
Offer trades, accept trades, reject and counter trades as you see fit! A massive trade in the DT Shiva was between myself and League Commissioner Douth, prior to Round 18. I gave up midfield guns Dyson Heppell and Joel Selwood (with Shaun Higgins thrown in as the steak knives) for Michael Hibberd, Dayne Zorko and the one and only Toby Greene. Whilst luck ultimately fell on my side (Heppell injury late in the season and Toby averaged over 130 over the last 5 rounds), I gave up 2 absolute jets to get this trade through. The trade on face value? Not in my favour. In reality? Absolutely in my favour – because my team ultimately benefited where I needed the points. I needed help in my forward line and defence, and I had the midfield bench cover to allow me to sacrifice my two guns. It helped me win the league!
The Waiver Wire (Free Agents)
Arguably the most important aspect when it comes to succeeding in a draft league. 2014 Free agents included Stefan Martin, Levi Greenwood, Stephen Hill, Anthony Miles, Taylor Adams, Lachie Neale, Dylan Shiel, Josh Caddy and Sam Docherty, amongst others. There were certainly others that appeared on the waiver wire at some stage throughout the season as well, typically around the bye weeks (this time is waiver wire GOLD). Keep that team ticking over; you'll add and drop players throughout the year. I can guarantee you your final team will not even closely resemble your drafted team! Don't be stubborn – you did not draft the perfect team!
Know Your League Rules
You need to know the lockout rules. If you have a Utility player, and you have rolling, or Saturday lockout rolls, get creative. Put a Friday night player, who has the ability to score well, in your emergency utility position. If he goes bang, open up the spot on the ground! If he spuds it up, keep another player on the ground. Have two cracks at it! Brad Hill was often my emergency utility given the amount of Friday night games the hawks played – when he scored well, I kept his score. When he didn't, I threw someone else in there! Same goes with ruckmen, however – this obviously has its limitations. You can do it for your defenders, forwards and midfielders as well – however this opens it up to bad beats with late withdrawals throughout the weekend.
Luck!
Last, and certainly not least, is luck! In the grand final, I copped a huge blow 90 minutes before the start of the Brisbane vs Geelong game, when Dayne Zorko was a late withdrawal. But you can imagine my glee, when my opponent, who had Tom Rockliff, copped his late withdrawal an hour later! So help an old lady cross the road, donate blood, keep those good karma gods on your side – because ultimately, luck plays a huge part in the game!
In competitive draft leagues, there is not a lot that separates the top from the bottom. After starting the season 9-2, I lost 7 consecutive games. I only just managed to scrape into 6th position – but, all I needed was a chance and a little stroke of luck to win the title!
Good luck to you all (except the DT Shiva Division 1 guys!), and have a successful year in the fantasy draft format! If you have any draft related questions you want to throw my way – @cruttonhutton!