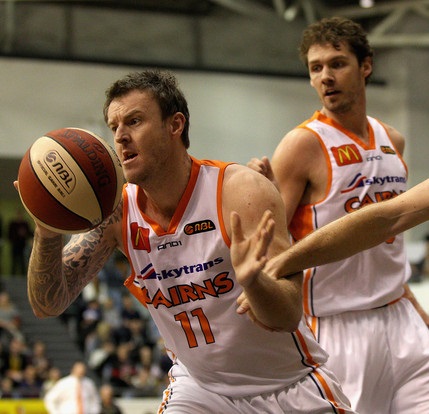 Now that we've all had a week off to prepare for Christmas and to recover from the low scoring round 10, it's time to get back into it as Melbourne and Wollongong go head to head twice in round 11.
Big Scorers
It wasn't a great round for big scores with Cameron Tragardh (64),  Cameron Gliddon (56) and Brian Conklin (52) the only double match players to clear the half century. Meanwhile, with only a single match, Sydney put themselves back on people's radars with Sam Young and AJ Ogilvy getting 58 and 54 respectively.
Disappointments
 Where do I start? Josh Pace (40) and Alex Loughton (44) were the favourite captain choices and both failed to deliver. 60 should be the minimum acceptable from guys like these two. Jamar Wilson (30) and Steven Markovic (40) were also popular alternate captain choices who, after their huge round nine scores, felt very dissapointing.
Chris Goulding seems to be on a form slump with another 14. He's not taking as many shots which means he's not catching on fire every game now. Scott Morrison has failed to deliver after his huge round eight score and got a lowly 14 also. Rotnei Clarke ended his solid run with a 12, while Rhys Martin got 10. Charles Carmouche (10) and Ben Madgen (8) have had some slow weeks.
Gary Wilkinson injured himself during his match and only produced 6, the same score as Alex Pledger who doesn't seem to have any reason at all for his poor current form. Gary Ervin also continued his mini slump with an 8.
Double Match Trade Targets
Melbourne and Wollongong both play two matches this round and they are both against each other. Melbourne has the home game on the 27th before both teams roll up to Wollongong for a New Years Eve rematch. This probably suits Melbourne better than it suits Wollongong, however given the currently temperamental form of the players on both teams I don't think this will be a crucial factor. More importantly Melbourne also has a double match again next round. This is probably a good things but could see reduced court time per match for some players to keep the team fresh.
Melbourne Trade Targets
Grab: Mark Worthington has returned to form after a patch of low scores and looks solid. He's a great option due to his reduced price. Mustapha Farrakhan has a lot of room for improvement, is showing that he's an exceptional shot, and the week off should have helped him further settle into Melbourne's structures.
Maybe: Chris Goulding is having a form slump at the moment and is losing money at a rapid rate. With the addition of Farrakhan and Tomlinson's improvement, Goulding is taking less shots and thus not firing up every game. Scott Morrison is expensive, but has a track record of scoring big when the Tigers play double match rounds. Adam Ballinger had a really big match last round, is very cheap and will jump in price, but it's unclear how much court time he will get. Nate Tomlinson has been delivering consistently across all the stat lines but is priced about his value. Lucas Walker is risky given his price but will deliver some great scores if he stays on court.
Avoid: Tommy Greer is only just back from injury and needs to get his match fitness back. Auryn MacMillan and Owen Odigie are doing great things for the Tigers but neither is getting sufficient court time to be a good dream team choice.
Wollongong Trade Targets
Grab: Rotnei Clarke has been Wollongong's best scorer this year, but his consistency is a real concern. Will probably be the highest scorer from Wollongong and if he has two big games could explode. Kevin Tiggs looks to be improving and his price is down below where it should be for a player of his quality. Larry Davidson is back from a few weeks off and has had a nice price drop and should jump in value again over the coming weeks..
Maybe: Oscar Forman, David Gruber, and Rhys Martin have all been somewhat inconsistent and are priced around what they've been delivering. Any of the three could improve dramatically if they find consistency though. Tim Coenraad is quite cheap given his potential and could turn things around but has been having some very quiet games. Tyson Demos is minimum price and is actually an ok option if you need cash for another trade.
Other Trade Targets
Cameron Gliddon finally got some decent scores again and was by far the best option for trading in last week. Hindsight doesn't really help, but he's still worth grabbing at his current price particularly given that Cairns has a few more double match rounds approaching. The other Cairns options come from Steindl and Young who both had a great round ten and will gain some immediate value.
Kerron Johnson scored 44 last round and is very cheap after being an early season superstar. If he's got his body right again then definitely jump on. Jarrid Frye is even cheaper after his ankle concerns but put up 26 and could be on the mend. Peter Crawford also showed some form as he returns from his injury and is very cheap.
Finally AJ Ogilvy started going back up in value again this round. Sydney have the double match in round fourteen and if like me you traded him out it's time to start planning how to get him back before then.
Captain Choice
After a run of sub-par performances from my captain choices, it's hard to know who to suggest. Worthington is back in form and is probably the safest choice. Goulding is in a slump but could turn it around and go big. Rotnei Clarke could also go big but his inconsistency makes him a risk. As I don't have Worthington I'm thinking I'll put the C on Morrison as he's scored big both times Melbourne has had a double in the past.
Merry Christmas Everyone!
Tristan
Coach of the Statismathgicians