Port Adelaide AFL Fantasy Prices 2014
We've got Chad Wingard as a MID/FWD now for the Power and we're all hoping that Jared Polec can make the side in Round 1 due to being so cheap.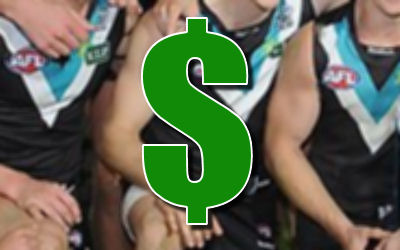 New recruit Jared Polec ($135,500) will be a deadset bargain if he's selected in Round 1. A lot of coaches are thinking long and hard about Chad Wingard ($474,000) due to his MID/FWD status.
Click here for the AFL Fantasy Advent Calendar.
| | | | | |
| --- | --- | --- | --- | --- |
| Kane | Cornes | Port Adelaide | MID | $578100 |
| Travis | Boak | Port Adelaide | MID | $543300 |
| Brad | Ebert | Port Adelaide | MID | $537300 |
| Chad | Wingard | Port Adelaide | FWD/MID | $474000 |
| Justin | Westhoff | Port Adelaide | FWD | $473900 |
| Hamish | Hartlett | Port Adelaide | MID | $446600 |
| Angus | Monfries | Port Adelaide | FWD | $441500 |
| Matthew | Lobbe | Port Adelaide | RUC | $439300 |
| Jay | Schulz | Port Adelaide | FWD | $415400 |
| Oliver | Wines | Port Adelaide | MID | $402300 |
| Robbie | Gray | Port Adelaide | FWD/MID | $391700 |
| Matthew | Broadbent | Port Adelaide | DEF | $388000 |
| Cameron | O'Shea | Port Adelaide | DEF | $384300 |
| Andrew | Moore | Port Adelaide | MID | $370000 |
| Tom | Logan | Port Adelaide | DEF | $324200 |
| Jack | Hombsch | Port Adelaide | DEF | $318800 |
| Matt | White | Port Adelaide | MID | $317100 |
| Jasper | Pittard | Port Adelaide | DEF | $311100 |
| Jarrad | Redden | Port Adelaide | RUC | $298100 |
| Sam | Colquhoun | Port Adelaide | DEF/MID | $297400 |
| Domenic | Cassisi | Port Adelaide | MID | $295900 |
| Campbell | Heath | Port Adelaide | DEF | $286800 |
| Lewis | Stevenson | Port Adelaide | DEF | $282700 |
| Paul | Stewart | Port Adelaide | FWD | $265600 |
| Kane | Mitchell | Port Adelaide | MID | $263900 |
| Alipate | Carlile | Port Adelaide | DEF | $254700 |
| Jake | Neade | Port Adelaide | FWD | $252400 |
| Jackson | Trengove | Port Adelaide | DEF | $250000 |
| Aaron | Young | Port Adelaide | MID | $249800 |
| Tom | Jonas | Port Adelaide | DEF | $245000 |
| John | Butcher | Port Adelaide | FWD | $208900 |
| Jarman | Impey | Port Adelaide | FWD | $208700 |
| Brent | Renouf | Port Adelaide | RUC | $179700 |
| Tom | Clurey | Port Adelaide | DEF | $163500 |
| Mason | Shaw | Port Adelaide | FWD | $161200 |
| Cameron | Hitchcock | Port Adelaide | FWD | $151300 |
| Mitch | Harvey | Port Adelaide | FWD | $143600 |
| Karl | Amon | Port Adelaide | MID | $135500 |
| Darcy | Byrne-Jones | Port Adelaide | DEF | $135500 |
| Jared | Polec | Port Adelaide | MID | $135500 |
| Brendon | Ah Chee | Port Adelaide | MID | $115200 |
| Daniel | Flynn | Port Adelaide | DEF | $115200 |
| Sam | Gray | Port Adelaide | MID | $115200 |
| Ben | Newton | Port Adelaide | MID | $115200 |
| Sam | Russell | Port Adelaide | DEF | $115200 |