Hawthorn Hawks AFL Fantasy Prices 2014
To finish the AFL Fantasy price leaks, we have the 2013 Premiers list for you today. Mitchell and Hodge are DEF/MIDS while Suckling will prove to be a popular defensive option due to his discount.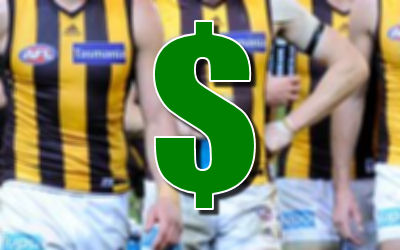 The final prices and positions are out today and it's a look at the 2013 Premiers, the Hawks. Sam Mitchell ($517,700) leads the list but the exciting thing is that he's now a DEF/MID. Luke Hodge ($491,900) has also gained DEF/MID status this year. Defender Matt Suckling ($314,400) will be a popular backline option at his discounted price.
Click here for the AFL Fantasy Advent Calendar.
| | | | | |
| --- | --- | --- | --- | --- |
| Sam | Mitchell | Hawthorn | DEF/MID | $517700 |
| Jordan | Lewis | Hawthorn | MID | $498600 |
| Luke | Hodge | Hawthorn | DEF/MID | $491900 |
| Jarryd | Roughead | Hawthorn | FWD | $470100 |
| Isaac | Smith | Hawthorn | MID | $468400 |
| Grant | Birchall | Hawthorn | DEF | $436300 |
| Shaun | Burgoyne | Hawthorn | DEF/MID | $427400 |
| Brad | Sewell | Hawthorn | MID | $418500 |
| Jack | Gunston | Hawthorn | FWD | $415400 |
| Ben | McEvoy | Hawthorn | RUC | $410200 |
| Luke | Breust | Hawthorn | FWD | $401600 |
| Cyril | Rioli | Hawthorn | FWD | $398600 |
| David | Hale | Hawthorn | FWD/RUC | $385300 |
| Paul | Puopolo | Hawthorn | FWD | $381100 |
| Brian | Lake | Hawthorn | DEF | $373700 |
| Jonathan | Simpkin | Hawthorn | MID | $360600 |
| Brendan | Whitecross | Hawthorn | DEF | $355000 |
| Liam | Shiels | Hawthorn | MID | $343800 |
| Josh | Gibson | Hawthorn | DEF | $339600 |
| Ben | Stratton | Hawthorn | DEF | $336500 |
| Bradley | Hill | Hawthorn | MID | $333700 |
| Matt | Suckling | Hawthorn | DEF | $314400 |
| Taylor | Duryea | Hawthorn | DEF | $309200 |
| Matt | Spangher | Hawthorn | FWD | $285400 |
| Sam | Grimley | Hawthorn | RUC | $279700 |
| Kyle | Cheney | Hawthorn | DEF | $228900 |
| Ryan | Schoenmakers | Hawthorn | DEF | $216700 |
| Jed | Anderson | Hawthorn | MID | $205500 |
| Billy | Hartung | Hawthorn | MID | $200500 |
| Tim | O'Brien | Hawthorn | FWD | $165800 |
| Dayle | Garlett | Hawthorn | FWD/MID | $162600 |
| Jonathon | Ceglar | Hawthorn | RUC | $156500 |
| Will | Langford | Hawthorn | DEF | $135500 |
| James | Sicily | Hawthorn | FWD | $135500 |
| Kaiden | Brand | Hawthorn | FWD | $115200 |
| Mitch | Hallahan | Hawthorn | MID | $115200 |
| Kurt | Heatherley | Hawthorn | DEF | $115200 |
| Jordan | Kelly | Hawthorn | DEF | $115200 |
| Angus | Litherland | Hawthorn | DEF | $115200 |
| Luke | Lowden | Hawthorn | RUC | $115200 |
| Ben | Ross | Hawthorn | MID | $115200 |
| Shem | Tatupu | Hawthorn | FWD | $115200 |
| Derick | Wanganeen | Hawthorn | MID | $115200 |
| Zac | Webster | Hawthorn | MID | $115200 |
| Dallas | Willsmore | Hawthorn | FWD | $115200 |
| Alex | Woodward | Hawthorn | MID | $115200 |