Geelong Cats AFL Fantasy Prices 2014
Stevie J leads the Cats prices and he's also the most expensive player in the whole competition, Jimmy Bartel is a DEF/MID and Hamish McIntosh offers some ruck value.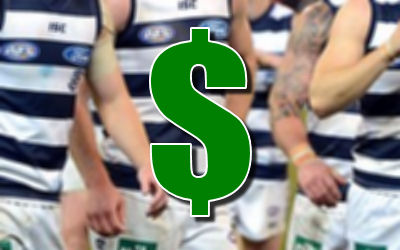 The most expensive AFL Fantasy player in 2014 is Steve Johnson ($641,600). Unfortunately he's lost DPP so he's just a MID this year. Jimmy Bartel ($514,900) is named up as a DEF/MID this year. Keep an eye on ruckman Hamish McIntosh ($344, 700) who has managed to get a 30% discount on his 2012 average.
Click here for the AFL Fantasy Advent Calendar.
| | | | | |
| --- | --- | --- | --- | --- |
| Steve | Johnson | Geelong Cats | MID | $641600 |
| Joel | Selwood | Geelong Cats | MID | $576700 |
| James | Kelly | Geelong Cats | MID | $518400 |
| Jimmy | Bartel | Geelong Cats | DEF/MID | $514900 |
| Mathew | Stokes | Geelong Cats | MID | $513100 |
| Corey | Enright | Geelong Cats | DEF | $480300 |
| Mitch | Duncan | Geelong Cats | MID | $477400 |
| Allen | Christensen | Geelong Cats | MID | $470600 |
| Andrew | Mackie | Geelong Cats | DEF | $449100 |
| Harry | Taylor | Geelong Cats | DEF | $426400 |
| Steven | Motlop | Geelong Cats | FWD | $401600 |
| Hamish | McIntosh | Geelong Cats | RUC | $344700 |
| Josh | Caddy | Geelong Cats | FWD/MID | $343500 |
| Dawson | Simpson | Geelong Cats | RUC | $335500 |
| Mark | Blicavs | Geelong Cats | RUC | $329500 |
| Tom | Hawkins | Geelong Cats | FWD | $306000 |
| Taylor | Hunt | Geelong Cats | MID | $302700 |
| Cameron | Guthrie | Geelong Cats | DEF | $301000 |
| Travis | Varcoe | Geelong Cats | FWD/MID | $298100 |
| Billie | Smedts | Geelong Cats | FWD | $292300 |
| George | Horlin-Smith | Geelong Cats | MID | $284000 |
| Nathan | Vardy | Geelong Cats | FWD/RUC | $278300 |
| Jordan | Murdoch | Geelong Cats | FWD | $271500 |
| Jackson | Thurlow | Geelong Cats | DEF | $265500 |
| Jesse | Stringer | Geelong Cats | MID | $244500 |
| Daniel | Menzel | Geelong Cats | FWD | $244300 |
| Josh | Walker | Geelong Cats | FWD | $228600 |
| George | Burbury | Geelong Cats | FWD | $222400 |
| Darcy | Lang | Geelong Cats | MID | $222200 |
| Jared | Rivers | Geelong Cats | DEF | $216300 |
| Mitchell W. | Brown | Geelong Cats | DEF | $211000 |
| Tom | Lonergan | Geelong Cats | DEF | $209900 |
| Jordan | Schroder | Geelong Cats | MID | $182200 |
| Jackson | Sheringham | Geelong Cats | MID | $179100 |
| Jarrad | Jansen | Geelong Cats | MID | $168000 |
| Jake | Kolodjashnij | Geelong Cats | DEF | $154500 |
| Lincoln | McCarthy | Geelong Cats | FWD | $135500 |
| Zac | Bates | Geelong Cats | MID | $115200 |
| Jed | Bews | Geelong Cats | DEF | $115200 |
| Nick | Bourke | Geelong Cats | MID | $115200 |
| Josh | Cowan | Geelong Cats | MID | $115200 |
| Joel | Hamling | Geelong Cats | DEF | $115200 |
| Brad | Hartman | Geelong Cats | FWD | $115200 |
| Shane | Kersten | Geelong Cats | FWD | $115200 |
| Michael | Luxford | Geelong Cats | FWD | $115200 |
| James | Toohey | Geelong Cats | DEF | $115200 |