Collingwood Magpies AFL Fantasy Prices 2014
Fasolo and Beams could be two of the big bargains to pick from the Magpies this year.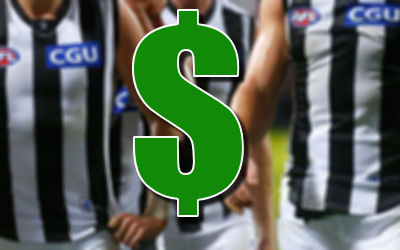 The biggest bargain I see is Alex Fasolo in the forward line at $208,400. We of course have Dayne Beams ($498,800) ridiculously cheap and then there's the Pig and Pendles. Love the 'Pies.
Click here for the AFL Fantasy Advent Calendar.
| | | | | |
| --- | --- | --- | --- | --- |
| Dane | Swan | Collingwood | MID | $636600 |
| Scott | Pendlebury | Collingwood | MID | $611200 |
| Steele | Sidebottom | Collingwood | MID | $523000 |
| Luke | Ball | Collingwood | MID | $518500 |
| Travis | Cloke | Collingwood | FWD | $502200 |
| Dayne | Beams | Collingwood | MID | $498800 |
| Heritier | Lumumba | Collingwood | DEF/MID | $475400 |
| Taylor | Adams | Collingwood | MID | $445400 |
| Paul | Seedsman | Collingwood | DEF | $429500 |
| Josh | Thomas | Collingwood | MID | $409500 |
| Jarryd | Blair | Collingwood | FWD/MID | $401600 |
| Ben | Reid | Collingwood | DEF/FWD | $387700 |
| Marley | Williams | Collingwood | DEF | $385900 |
| Jamie | Elliott | Collingwood | FWD | $366300 |
| Ben | Hudson | Collingwood | RUC | $365700 |
| Quinten | Lynch | Collingwood | FWD | $361300 |
| Brent | Macaffer | Collingwood | MID | $359300 |
| Nick | Maxwell | Collingwood | DEF | $352000 |
| Sam | Dwyer | Collingwood | FWD/MID | $349900 |
| Kyle | Martin | Collingwood | MID | $347800 |
| Jesse | White | Collingwood | FWD | $336000 |
| Brodie | Grundy | Collingwood | RUC | $335500 |
| Marty | Clarke | Collingwood | DEF | $335300 |
| Tyson | Goldsack | Collingwood | DEF | $304400 |
| Jarrod | Witts | Collingwood | RUC | $285400 |
| Ben | Sinclair | Collingwood | DEF | $277500 |
| Lachlan | Keeffe | Collingwood | DEF | $265600 |
| Matthew | Scharenberg | Collingwood | DEF | $249300 |
| Tony | Armstrong | Collingwood | DEF | $248000 |
| Ben | Kennedy | Collingwood | FWD | $248000 |
| Alan | Toovey | Collingwood | DEF | $238600 |
| Nathan | Freeman | Collingwood | MID | $238500 |
| Clinton | Young | Collingwood | MID | $218300 |
| Patrick | Karnezis | Collingwood | FWD/MID | $212700 |
| Nathan J. | Brown | Collingwood | DEF | $211900 |
| Alex | Fasolo | Collingwood | FWD | $208400 |
| Tim | Broomhead | Collingwood | FWD | $184300 |
| Jack | Frost | Collingwood | DEF | $173000 |
| Jackson | Ramsay | Collingwood | DEF | $142800 |
| Tom | Langdon | Collingwood | DEF/MID | $135500 |
| Jonathon | Marsh | Collingwood | FWD | $135500 |
| Caolan | Mooney | Collingwood | FWD | $135500 |
| Adam | Oxley | Collingwood | MID | $135500 |
| Peter | Yagmoor | Collingwood | DEF | $135500 |
| Corey | Gault | Collingwood | DEF | $115200 |