Carlton Blues AFL Fantasy Prices 2014
Bryce Gibbs can only be picked as a MID in 2014 as is new recruit Dale Thomas. Read on for the Carlton prices and positions.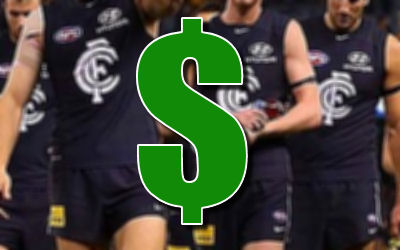 In 2014 Bryce Gibbs ($481,500) can only be selected as a MID. While he's still a bargain, Dale Thomas ($346,400) is just a MID. Will you still go there? Marc Murphy ($463,500) is worth a look in after a poor season this year.
Click here for the AFL Fantasy Advent Calendar.
| | | | | |
| --- | --- | --- | --- | --- |
| Bryce | Gibbs | Carlton | MID | $481500 |
| Andrew | Walker | Carlton | DEF | $470000 |
| Matthew | Kreuzer | Carlton | RUC | $469200 |
| Brock | McLean | Carlton | MID | $469000 |
| Marc | Murphy | Carlton | MID | $463500 |
| Kade | Simpson | Carlton | DEF | $461900 |
| Chris | Judd | Carlton | MID | $443800 |
| Heath | Scotland | Carlton | DEF | $443500 |
| Mitch | Robinson | Carlton | FWD/MID | $411600 |
| Ed | Curnow | Carlton | MID | $395400 |
| Jeff | Garlett | Carlton | FWD | $386200 |
| Robert | Warnock | Carlton | RUC | $381600 |
| Kane | Lucas | Carlton | MID | $377500 |
| Jarrad | Waite | Carlton | FWD | $372600 |
| Lachie | Henderson | Carlton | DEF/FWD | $372500 |
| Jaryd | Cachia | Carlton | MID | $355800 |
| Dale | Thomas | Carlton | MID | $346400 |
| Andrew | Carrazzo | Carlton | MID | $339800 |
| Chris | Yarran | Carlton | FWD | $329200 |
| Andrejs | Everitt | Carlton | DEF | $325500 |
| Dennis | Armfield | Carlton | FWD/MID | $305700 |
| Sam | Rowe | Carlton | FWD/RUC | $305100 |
| Levi | Casboult | Carlton | FWD | $290000 |
| Cameron | Wood | Carlton | RUC | $285300 |
| Zach | Tuohy | Carlton | DEF | $284800 |
| Tom | Bell | Carlton | MID | $277600 |
| Sam | Docherty | Carlton | DEF | $272200 |
| Michael | Jamison | Carlton | DEF | $258700 |
| Simon | White | Carlton | DEF | $238300 |
| Andrew | McInnes | Carlton | DEF | $234500 |
| Patrick | Cripps | Carlton | MID | $230300 |
| Troy | Menzel | Carlton | FWD | $227300 |
| David | Ellard | Carlton | MID | $224100 |
| Matthew | Watson | Carlton | DEF | $223900 |
| Nicholas | Graham | Carlton | MID | $185400 |
| Josh | Bootsma | Carlton | DEF | $182800 |
| Nick | Duigan | Carlton | DEF/FWD | $162700 |
| Cameron | Giles | Carlton | DEF | $159900 |
| Tom | Temay | Carlton | MID | $149700 |
| Dylan | Buckley | Carlton | MID | $135500 |
| Nick | Holman | Carlton | MID | $135500 |
| Ciaran | Byrne | Carlton | DEF | $115200 |
| Blaine | Johnson | Carlton | FWD | $115200 |
| Luke | Reynolds | Carlton | FWD | $115200 |
| Ciaran | Sheehan | Carlton | MID | $115200 |