Adelaide Crows AFL Fantasy Prices 2014
Patrick Dangerfield is set to be one of the biggest locks with his return to MID/FWD eligibility. Read on for more Crow goodness.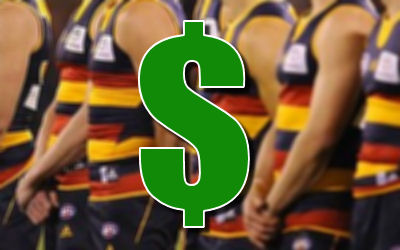 It seems that most will be locking in Patrick Dangerfield ($534,700) from the start now that we can put him in the forward line again thanks to his MID/FWD eligibility. Matt Crouch ($203,200) has a massive fantasy game and he will be great value to pick up when he eventually gets a game.
Click here for the AFL Fantasy Advent Calendar.
| | | | | |
| --- | --- | --- | --- | --- |
| Patrick | Dangerfield | Adelaide Crows | FWD/MID | $534700 |
| Richard | Douglas | Adelaide Crows | MID | $521500 |
| Rory | Sloane | Adelaide Crows | MID | $512600 |
| Scott | Thompson | Adelaide Crows | MID | $504800 |
| Brad | Crouch | Adelaide Crows | MID | $499000 |
| Tom T. | Lynch | Adelaide Crows | FWD | $472200 |
| Ricky | Henderson | Adelaide Crows | DEF | $435100 |
| James | Podsiadly | Adelaide Crows | FWD | $409500 |
| Sam | Jacobs | Adelaide Crows | RUC | $406700 |
| Rory | Laird | Adelaide Crows | DEF | $386300 |
| Sam | Kerridge | Adelaide Crows | FWD/MID | $375500 |
| Brodie | Smith | Adelaide Crows | DEF | $371600 |
| Nathan | van Berlo | Adelaide Crows | MID | $371100 |
| Matthew | Wright | Adelaide Crows | FWD/MID | $368900 |
| David | Mackay | Adelaide Crows | MID | $364800 |
| Josh | Jenkins | Adelaide Crows | FWD | $350400 |
| Lewis | Johnston | Adelaide Crows | FWD | $349200 |
| Andy | Otten | Adelaide Crows | DEF/FWD | $343900 |
| Brent | Reilly | Adelaide Crows | DEF | $342400 |
| Jarryd | Lyons | Adelaide Crows | FWD/MID | $338800 |
| Shaun | McKernan | Adelaide Crows | FWD/RUC | $332400 |
| Mitchell | Grigg | Adelaide Crows | MID | $325200 |
| Eddie | Betts | Adelaide Crows | FWD | $323200 |
| Jason | Porplyzia | Adelaide Crows | FWD | $313300 |
| Matthew | Jaensch | Adelaide Crows | DEF | $310400 |
| Luke | Brown | Adelaide Crows | DEF | $301700 |
| Kyle | Hartigan | Adelaide Crows | DEF | $301100 |
| Jared | Petrenko | Adelaide Crows | FWD | $287300 |
| Taylor | Walker | Adelaide Crows | FWD | $282900 |
| Ben | Rutten | Adelaide Crows | DEF | $281800 |
| Angus | Graham | Adelaide Crows | RUC | $258000 |
| Daniel | Talia | Adelaide Crows | DEF | $249800 |
| Matt | Crouch | Adelaide Crows | MID | $203200 |
| Sam | Shaw | Adelaide Crows | DEF | $197700 |
| Brodie | Martin | Adelaide Crows | DEF | $150300 |
| Riley | Knight | Adelaide Crows | FWD/MID | $140900 |
| Luke | Thompson | Adelaide Crows | DEF | $136600 |
| Rory | Atkins | Adelaide Crows | MID | $115200 |
| James | Battersby | Adelaide Crows | DEF | $115200 |
| Charlie | Cameron | Adelaide Crows | FWD | $115200 |
| Cameron | Ellis-Yolmen | Adelaide Crows | MID | $115200 |
| Jake | Kelly | Adelaide Crows | DEF | $115200 |
| Jack | Osborn | Adelaide Crows | RUC | $115200 |
| Sam | Siggins | Adelaide Crows | DEF | $115200 |
| Alex | Spina | Adelaide Crows | FWD/MID | $115200 |