Brisbane Lions AFL Fantasy Prices 2014
The big news for the Lions is that our boy Rocky is a MID only. Damn! Have a look at the list and highlight some potential AFL Fantasy options.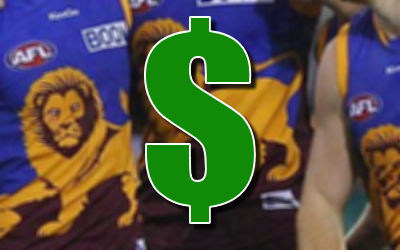 The Lions have plenty of fantasy relevance for 2014. Jackson Paine ($180,200) could be a forward option as that's where we might need to look for value. Claye Beams ($187,400) looks set to play round one and comes in very cheap. Our boy Tom Rockliff ($558,800) is the most expensive Lion but he loses his MID/FWD status and is just a MID. Still, he offers some value.
Click here for the AFL Fantasy Advent Calendar.
| | | | | |
| --- | --- | --- | --- | --- |
| Tom | Rockliff | Brisbane Lions | MID | $558800 |
| Jack | Redden | Brisbane Lions | MID | $514200 |
| Pearce | Hanley | Brisbane Lions | DEF/MID | $463700 |
| Matthew | Leuenberger | Brisbane Lions | RUC | $461500 |
| Jed | Adcock | Brisbane Lions | DEF | $451600 |
| Brent | Moloney | Brisbane Lions | MID | $428200 |
| Dayne | Zorko | Brisbane Lions | FWD/MID | $400100 |
| Mitch | Golby | Brisbane Lions | DEF | $399600 |
| Sam | Mayes | Brisbane Lions | FWD/MID | $395100 |
| Daniel | Rich | Brisbane Lions | MID | $365500 |
| Matt | Maguire | Brisbane Lions | DEF | $347900 |
| Jonathan | Brown | Brisbane Lions | FWD | $347200 |
| Ryan | Harwood | Brisbane Lions | DEF | $344800 |
| Brent | Staker | Brisbane Lions | FWD | $335700 |
| Ryan | Lester | Brisbane Lions | MID | $333700 |
| Rohan | Bewick | Brisbane Lions | FWD | $330300 |
| Joel | Patfull | Brisbane Lions | DEF | $324900 |
| Jordan | Lisle | Brisbane Lions | FWD | $310100 |
| Daniel | Merrett | Brisbane Lions | DEF/FWD | $306400 |
| Luke | McGuane | Brisbane Lions | FWD | $302600 |
| Trent | West | Brisbane Lions | RUC | $301800 |
| James | Polkinghorne | Brisbane Lions | MID | $297600 |
| Josh | Green | Brisbane Lions | FWD | $284100 |
| Andrew | Raines | Brisbane Lions | MID | $265000 |
| James | Aish | Brisbane Lions | MID | $246600 |
| Ashley | McGrath | Brisbane Lions | FWD | $239300 |
| Justin | Clarke | Brisbane Lions | DEF | $239200 |
| Marco | Paparone | Brisbane Lions | FWD | $226700 |
| Darcy | Gardiner | Brisbane Lions | DEF | $206000 |
| Stefan | Martin | Brisbane Lions | FWD/RUC | $203600 |
| Jack | Crisp | Brisbane Lions | MID | $199800 |
| Daniel | McStay | Brisbane Lions | DEF | $197800 |
| Lewis | Taylor | Brisbane Lions | FWD/MID | $189700 |
| Claye | Beams | Brisbane Lions | MID | $187400 |
| Jackson | Paine | Brisbane Lions | FWD | $180200 |
| Tom | Cutler | Brisbane Lions | DEF | $176100 |
| Nick | Robertson | Brisbane Lions | MID | $173400 |
| Michael | Close | Brisbane Lions | FWD | $156600 |
| Sam | Michael | Brisbane Lions | RUC | $137000 |
| Jonathan | Freeman | Brisbane Lions | FWD | $135500 |
| Jordan | Bourke | Brisbane Lions | FWD | $115200 |
| Isaac | Conway | Brisbane Lions | MID | $115200 |
| Nicholas | Hayes | Brisbane Lions | FWD | $115200 |
| Zac | O'Brien | Brisbane Lions | MID | $115200 |
| Archie | Smith | Brisbane Lions | RUC | $115200 |
| Patrick | Wearden | Brisbane Lions | FWD/MID | $115200 |