West Coast Eagles AFL Fantasy Prices 2014
Cox and NicNat are RUCs only in 2014. Are you considering either of them? See if you can find some value from the boys out west.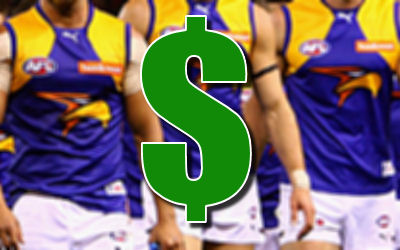 Both Dean Cox and Nic Naitanui have lost their RUC/FWD status and are just named up as straight RUCs. New recruit Xavier Ellis ($135,500) will potentially be a very popular selection if he's in for Round 1. Despite the premium put on him, Dom Sheed ($235,800) still might be an option as he is a good chance to get opportunity at the start of the season.
Click here for the AFL Fantasy Advent Calendar.
| | | | | |
| --- | --- | --- | --- | --- |
| Scott | Selwood | West Coast Eagles | MID | $587500 |
| Chris | Masten | West Coast Eagles | MID | $533400 |
| Dean | Cox | West Coast Eagles | RUC | $526000 |
| Matt | Priddis | West Coast Eagles | MID | $519300 |
| Mark | Hutchings | West Coast Eagles | MID | $480200 |
| Luke | Shuey | West Coast Eagles | MID | $479300 |
| Josh J. | Kennedy | West Coast Eagles | FWD | $466600 |
| Mark | LeCras | West Coast Eagles | FWD | $458500 |
| Beau | Waters | West Coast Eagles | DEF | $428400 |
| Nic | Naitanui | West Coast Eagles | RUC | $419800 |
| Sam | Butler | West Coast Eagles | DEF | $417700 |
| Sharrod | Wellingham | West Coast Eagles | MID | $391900 |
| Matt | Rosa | West Coast Eagles | MID | $381900 |
| Andrew | Gaff | West Coast Eagles | MID | $378700 |
| Jack | Darling | West Coast Eagles | FWD | $374500 |
| Shannon | Hurn | West Coast Eagles | DEF | $352300 |
| Josh | Hill | West Coast Eagles | FWD | $318400 |
| Ashley | Smith | West Coast Eagles | DEF | $317100 |
| Blayne | Wilson | West Coast Eagles | DEF | $315000 |
| Elliot | Yeo | West Coast Eagles | DEF | $314600 |
| Will | Schofield | West Coast Eagles | DEF | $307900 |
| Darren | Glass | West Coast Eagles | DEF | $305100 |
| Jamie | Cripps | West Coast Eagles | FWD | $298100 |
| Eric | Mackenzie | West Coast Eagles | DEF | $282600 |
| Patrick | McGinnity | West Coast Eagles | MID | $282500 |
| Scott | Lycett | West Coast Eagles | RUC | $278300 |
| Brad | Sheppard | West Coast Eagles | MID | $274700 |
| Adam | Carter | West Coast Eagles | DEF | $266300 |
| Jacob | Brennan | West Coast Eagles | DEF | $258000 |
| Callum | Sinclair | West Coast Eagles | RUC | $258000 |
| Dom | Sheed | West Coast Eagles | MID | $235800 |
| Mitchell J. | Brown | West Coast Eagles | DEF | $212500 |
| Malcolm | Karpany | West Coast Eagles | FWD | $181600 |
| Murray | Newman | West Coast Eagles | FWD | $155600 |
| Tom | Barrass | West Coast Eagles | DEF | $149000 |
| Jamie | Bennell | West Coast Eagles | MID | $135500 |
| Xavier | Ellis | West Coast Eagles | MID | $135500 |
| Dylan | Main | West Coast Eagles | MID | $135500 |
| Simon | Tunbridge | West Coast Eagles | FWD | $135500 |
| Brant | Colledge | West Coast Eagles | FWD | $126700 |
| Will | Maginness | West Coast Eagles | MID | $115200 |
| Jeremy | McGovern | West Coast Eagles | FWD | $115200 |
| Fraser | McInnes | West Coast Eagles | FWD | $115200 |
| Rowen | Powell | West Coast Eagles | DEF | $115200 |