Gold Coast Suns AFL Fantasy Prices 2014
Gary Ablett leads the Gold Coast Suns list for the prices. Nathan Bock could be a popular option if he's ready for round one at his price.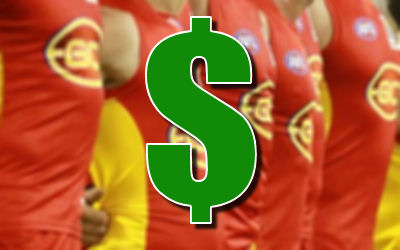 Obviously Gary Ablett ($621,200) comes in as the most expensive Sun due to his average last year and he's worth every cent. Look for some value up on the Gold Coast in Nathan Bock ($135,900) who has been heavily discounted and available as a FWD. The number 5 draft pick Kade Kolodashnij ($252,000) is one of the better fantasy players out of the current draft crop, but is the midfielder going to cost us too much to start with him?
Click here for the AFL Fantasy Advent Calendar.
| | | | | |
| --- | --- | --- | --- | --- |
| Gary | Ablett | Gold Coast Suns | MID | $621200 |
| Dion | Prestia | Gold Coast Suns | MID | $523600 |
| Jaeger | O'Meara | Gold Coast Suns | MID | $483400 |
| Harley | Bennell | Gold Coast Suns | MID | $462900 |
| Danny | Stanley | Gold Coast Suns | MID | $449600 |
| Trent | Mckenzie | Gold Coast Suns | DEF | $438100 |
| Jarrod | Harbrow | Gold Coast Suns | DEF | $438000 |
| Tom | Nicholls | Gold Coast Suns | RUC | $406900 |
| Charlie | Dixon | Gold Coast Suns | FWD/RUC | $386100 |
| Matthew | Shaw | Gold Coast Suns | DEF/MID | $383900 |
| Michael | Rischitelli | Gold Coast Suns | MID | $381400 |
| David | Swallow | Gold Coast Suns | DEF/MID | $377000 |
| Brandon | Matera | Gold Coast Suns | FWD | $364800 |
| Aaron | Hall | Gold Coast Suns | FWD | $357500 |
| Greg | Broughton | Gold Coast Suns | DEF | $352900 |
| Thomas | Murphy | Gold Coast Suns | DEF | $325500 |
| Luke | Russell | Gold Coast Suns | DEF | $324300 |
| Zac | Smith | Gold Coast Suns | RUC | $322200 |
| Tom J. | Lynch | Gold Coast Suns | FWD | $307600 |
| Rory | Thompson | Gold Coast Suns | DEF | $295000 |
| Daniel | Gorringe | Gold Coast Suns | RUC | $290300 |
| Jack | Martin | Gold Coast SUNS | MID | $268300 |
| Sam | Day | Gold Coast Suns | DEF/FWD | $267500 |
| Kade | Kolodjashnij | Gold Coast SUNS | DEF | $252000 |
| Steven | May | Gold Coast Suns | DEF/FWD | $246100 |
| Jack | Hutchins | Gold Coast Suns | DEF | $240100 |
| Seb | Tape | Gold Coast Suns | DEF | $227600 |
| Karmichael | Hunt | Gold Coast Suns | MID | $224900 |
| Jesse | Lonergan | Gold Coast Suns | MID | $224400 |
| Tim | Sumner | Gold Coast Suns | FWD | $219800 |
| Jack | Leslie | Gold Coast SUNS | RUC | $211400 |
| Andrew | Boston | Gold Coast Suns | MID | $193600 |
| Sean | Lemmens | Gold Coast SUNS | MID | $192400 |
| Josh | Hall | Gold Coast Suns | FWD | $184100 |
| Jackson | Allen | Gold Coast Suns | DEF | $174100 |
| Alex | Sexton | Gold Coast Suns | MID | $162200 |
| Matthew | Warnock | Gold Coast Suns | DEF | $148900 |
| Jeremy | Taylor | Gold Coast Suns | DEF | $146100 |
| Nathan | Bock | Gold Coast Suns | FWD | $135900 |
| Leigh | Osborne | Gold Coast Suns | DEF | $135500 |
| Clay | Cameron | Gold Coast Suns | DEF | $115200 |
| Jarred | Ellis | Gold Coast Suns | DEF | $115200 |
| Louis | Herbert | Gold Coast Suns | FWD | $115200 |
| Henry | Schade | Gold Coast Suns | DEF | $115200 |