Western Bulldogs AFL Fantasy Prices 2014
Check out the Western Bulldogs prices and positions for AFL Fantasy in 2014. Can you find any value?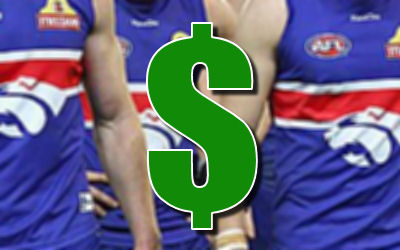 The Bulldogs might end up as one of the teams that offer up the least amount of selected players in AFL Fantasy in 2014. Defender Christian Howard ($135,500) provides some interest as one of the cheaper players on the list.
Click here for the AFL Fantasy Advent Calendar.
| | | | | |
| --- | --- | --- | --- | --- |
| Ryan | Griffen | Western Bulldogs | MID | $571800 |
| Matthew | Boyd | Western Bulldogs | MID | $563300 |
| Tom | Liberatore | Western Bulldogs | MID | $527000 |
| Adam | Cooney | Western Bulldogs | MID | $502900 |
| Will | Minson | Western Bulldogs | RUC | $498100 |
| Robert | Murphy | Western Bulldogs | DEF | $459600 |
| Brett | Goodes | Western Bulldogs | DEF | $428200 |
| Jarrad | Grant | Western Bulldogs | FWD | $399900 |
| Tory | Dickson | Western Bulldogs | FWD | $384800 |
| Luke | Dahlhaus | Western Bulldogs | FWD | $381100 |
| Daniel | Giansiracusa | Western Bulldogs | FWD | $379900 |
| Mitch | Wallis | Western Bulldogs | MID | $379100 |
| Koby | Stevens | Western Bulldogs | MID | $364300 |
| Clay | Smith | Western Bulldogs | MID | $361600 |
| Stewart | Crameri | Western Bulldogs | FWD | $352600 |
| Michael | Talia | Western Bulldogs | DEF | $350500 |
| Liam | Picken | Western Bulldogs | DEF | $348200 |
| Jackson | Macrae | Western Bulldogs | MID | $344400 |
| Tom | Young | Western Bulldogs | DEF | $340000 |
| Jason | Johannisen | Western Bulldogs | DEF | $312300 |
| Shaun | Higgins | Western Bulldogs | FWD | $305400 |
| Nathan | Hrovat | Western Bulldogs | MID | $288200 |
| Jordan | Roughead | Western Bulldogs | DEF | $281800 |
| Lachlan | Hunter | Western Bulldogs | FWD/MID | $271000 |
| Sam | Darley | Western Bulldogs | DEF | $264400 |
| Dale | Morris | Western Bulldogs | DEF | $260900 |
| Liam | Jones | Western Bulldogs | FWD | $260400 |
| Marcus | Bontempelli | Western Bulldogs | MID | $254700 |
| Jason | Tutt | Western Bulldogs | FWD | $245400 |
| Jake | Stringer | Western Bulldogs | FWD | $239000 |
| Tom | Campbell | Western Bulldogs | FWD | $217000 |
| Lin | Jong | Western Bulldogs | MID | $215300 |
| Mark | Austin | Western Bulldogs | DEF | $192400 |
| Ayce | Cordy | Western Bulldogs | FWD | $171400 |
| Easton | Wood | Western Bulldogs | DEF | $171400 |
| Fletcher | Roberts | Western Bulldogs | FWD | $153700 |
| Matthew | Fuller | Western Bulldogs | DEF | $151800 |
| Tom | Williams | Western Bulldogs | FWD | $148300 |
| Daniel | Pearce | Western Bulldogs | DEF | $139600 |
| Mitch | Honeychurch | Western Bulldogs | FWD/MID | $135500 |
| Christian | Howard | Western Bulldogs | DEF | $135500 |
| Alex | Greenwood | Western Bulldogs | MID | $115200 |
| Joshua | Prudden | Western Bulldogs | MID | $115200 |
| Jack | Redpath | Western Bulldogs | FWD | $115200 |