North Melbourne Kangaroos AFL Fantasy Prices 2014
Who is there to look at from North Melbourne? Can Liam Anthony crack the best 22? Is Kieren Harper a lock as a cheap forward? Are we destined for another year of Daniel Currie warming our ruck bench?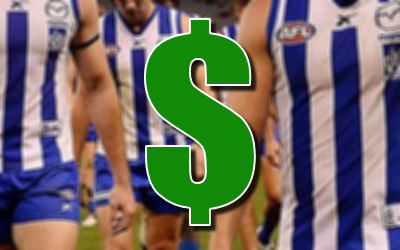 After a great fantasy start to his career, Liam Anthony ($221,100) comes in at a bargain price but can he get games? Also keep your eye on both Robin Nahas ($178,100) and especially Kieren Harper ($161,300) who could be cheap forward options.
Click here for the AFL Fantasy Advent Calendar.
| | | | | |
| --- | --- | --- | --- | --- |
| Jack | Ziebell | North Melbourne | MID | $513100 |
| Andrew | Swallow | North Melbourne | MID | $512000 |
| Brent | Harvey | North Melbourne | FWD/MID | $503400 |
| Todd | Goldstein | North Melbourne | RUC | $487100 |
| Nick | Dal Santo | North Melbourne | MID | $479200 |
| Drew | Petrie | North Melbourne | FWD | $464600 |
| Ryan | Bastinac | North Melbourne | MID | $463200 |
| Daniel | Wells | North Melbourne | MID | $450600 |
| Ben | Cunnington | North Melbourne | MID | $446300 |
| Sam | Gibson | North Melbourne | MID | $442500 |
| Scott D. | Thompson | North Melbourne | DEF | $421000 |
| Aaron | Mullett | North Melbourne | DEF | $402600 |
| Levi | Greenwood | North Melbourne | MID | $398300 |
| Lachlan | Hansen | North Melbourne | DEF | $391900 |
| Leigh | Adams | North Melbourne | FWD/MID | $389100 |
| Aaron | Black | North Melbourne | FWD | $384500 |
| Jamie | MacMillan | North Melbourne | MID | $373500 |
| Shaun | Atley | North Melbourne | DEF | $365800 |
| Cameron | Delaney | North Melbourne | DEF | $356100 |
| Nathan | Grima | North Melbourne | DEF | $355500 |
| Lindsay | Thomas | North Melbourne | FWD | $343900 |
| Scott | McMahon | North Melbourne | DEF | $323200 |
| Michael | Firrito | North Melbourne | DEF | $316900 |
| Robbie | Tarrant | North Melbourne | FWD | $275600 |
| Sam | Wright | North Melbourne | DEF/FWD | $262500 |
| Brad | McKenzie | North Melbourne | MID | $247700 |
| Luke | McDonald | North Melbourne | DEF/MID | $243900 |
| Taylor | Hine | North Melbourne | DEF | $231500 |
| Majak | Daw | North Melbourne | FWD/RUC | $226600 |
| Liam | Anthony | North Melbourne | MID | $221100 |
| Ben | Jacobs | North Melbourne | MID | $192400 |
| Trent | Dumont | North Melbourne | MID | $184300 |
| Robin | Nahas | North Melbourne | FWD | $178100 |
| Kieran | Harper | North Melbourne | FWD | $161300 |
| Ben | Brown | North Melbourne | FWD/RUC | $138200 |
| Mason | Wood | North Melbourne | FWD | $135900 |
| Taylor | Garner | North Melbourne | FWD | $135500 |
| Mitchell | Wilkins | North Melbourne | DEF | $122100 |
| Tom | Curran | North Melbourne | DEF/FWD | $115200 |
| Daniel | Currie | North Melbourne | RUC | $115200 |
| Tim | McGenniss | North Melbourne | MID | $115200 |
| Joel | Tippett | North Melbourne | DEF | $115200 |
| Kayne | Turner | North Melbourne | MID | $115200 |
| Eric | Wallace | North Melbourne | RUC | $115200 |
| Max | Warren | North Melbourne | DEF | $115200 |