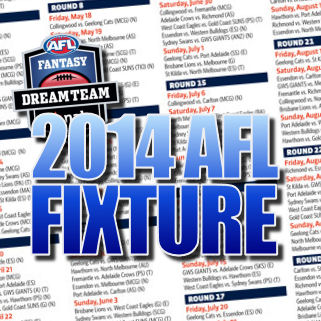 For those still firmly entrenched in the non-stop AFL machine, you'll know that this morning one of the crucial pieces of the DT puzzle has been connected for us – the 2014 Fixture has been announced. We now know a lot more about the fixture strength for each clubs, the way partial (and possibly rolling) lockouts will look, and most importantly, the Multi-Bye Rounds! Read on below for a brief look at what the newly-christened 2014 AFL Fixture means for you and your fantasy experience this coming season.
Click here for the full fixture.
Round 1
As you'd expect, Round 1 is the most important week in the AFL schedule – because that's when our teams get locked in for the remainder of the season. The first thing that you'll notice about the 2014 Round 1 schedule (see right) is that we'll be in the same boat that we found ourselves in this year, with the round split over two weeks.
What this means, is that we'll be experiencing another Partial Lockout at a minimum, and possibly even a full Rolling Lockout given that we'll be following 9 games taking place over 7 days of action. This makes for a tricky situation when it comes to finalising our sides – do we play it safe and select Rookie X, who plays in the Collingwood/Fremantle clash on the first Friday? Or do we gamble that our preferred Rookie Y gets a gig the following week?
For this reason, hopefully we get a full Rolling Lockout in Round 1 this year. It will afford us maximum flexibility when it comes to the delicate art of selecting a balanced squad that you'll be stuck with for the rest of the season!
MBRs
The Multi-Bye Rounds have been a big source of stress for us in the past, so it's natural that we take a very close look at the way that these weeks off will affect our potential team balance. Here's how they'll look this year –>
Yep, that's right. The MBR's will take place over Rounds 8-10 this year, rather than the Rounds 11-13 that we've been accustomed to over the previous years of MBR mayhem.  This is an excellent move for fantasy coaches I believe – we can now start to plan a lot more for the bye period in our starting squads with the MBRs so soon, plus our rookies have traditionally been ripe to cull around this time of the year. The upgrade-fixture dodge manoeuvre that we've been employing over the past two seasons (ie. trading out two R9 rookies for a R8 rookie and R8 Premium coming off their week off) will be even more effective here!
In terms of balance over the 3 weeks, it looks like it'll be much more even that last season (when Round 13 was a disaster for many!). The spread of weak and strong teams is even, with three 2013 finalists having the bye each week (with Essendon the 9th) and the traditional minions in Melbourne/GWS/Gold Coast all missing on separate weekends as well.
Positionally, it's not too bad either. We'll be hit hard in Round 8 in the midfield, with a bunch of Super Premiums in Swan, Ablett, Pendlebury, J. Selwood, Beams and Cotchin having the week off. On the flipside though, these guns will be excellent bye-dodging upgrade options in the following two rounds! Defenders also look thin in Round 10, with Goddard, Hibberd, Heppell, Ibbotson, Duffield, Grimes, Malceski and Hanley all Premium options in 2013 that'll miss this round.
Overall, it looks like the Best 18 system combined with a relatively balanced bye period should make for a considerably less painful MBR experience than we've suffered in the past.
Soft Runs
The AFL took serious steps this year to bring some order to the chaos that is unbalanced fixtures, an inherent consequence of playing just 5 teams twice.
Simply put, the AFL have pooled each club into 3 pools of six teams, based on their 2013 Ladder position. Each club will then play 1-2 double-ups against teams from each pool (in most cases). Obvious exceptions include Hawthorn (who take on all of Geelong, Fremantle, Collingwood and Sydney twice), and Melbourne, who only meet one Top 9 side from last season (Port) twice this year.
Was does this mean for DT? Not a lot. There'll still be teams with excellent runs at different parts of the year, before it all comes out in the wash as a more even fixture overall. Stay tuned for the more in-depth annual DT Talk Fixture Study closer to the season proper!
Lockouts
While presumably the full lockout will be the standard in 2014, there'll still be a huge amount of weeks where we'll be experiencing Partial/Rolling lockouts thanks to quirks in the fixture.
Not including the Geelong vs Adelaide clash in the middle of Round 1 (where we'll have a Partial/Rolling lockout anyway), there are five other occasions where we'll have a Thursday Night start – Rounds 2, 5, 9, 11 and 19. Add in Round 18 – the split round which effectively pushed the MBRs forward this season – and that's a grand total of 7 non-standard lockouts in 2014. Make sure you're on your toes this year coaches!
Other Notables
Three Monday games this year, in Rounds 5, 8 and 12. Sometimes these can be a pain, for be prepared for a drawn out fantasy experience on the weekends – particularly Round 5, where we'll have the Thursday/Monday night combo!
Sunday Night games. Round 1 will be the main experiment in the push for Sunday Night primetime – obviously, this means we'll have late lockout finishes on these nights. Rounds 1, 3, 11 and 15 are where these late Sunday starts will affect our end-of-round wrap ups.
Round 8 – Buddy vs Hawthorn! Grudge match, chuck it in the diary.
Round 23 opponents have been decided, but the schedule is yet to be determined as per usual.
Discuss the 2014 Fixture in the comments below!