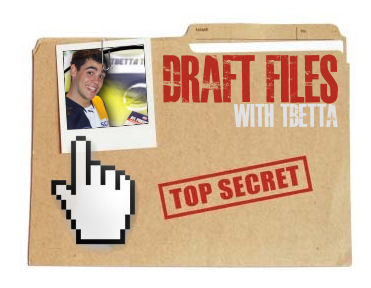 Injuries and suspensions rule the fantasy world this week – check out Round 6's Draft Files to find out who you should be seeking out to cover these players in both the short and long term!
Note: All references to leagues are based on a standard 12-team H2H Ultimate Footy league, with a 5-7-1-5 on-field structure and Captains disabled. All position eligibilities and ownership & drafted statistics are sourced from Ultimate Footy at the time of writing. If your League varies significantly, adjust the advice in this article accordingly.
Scorecard
With no Draft Files last week, I threw out a handful of possible Add options on Twitter (@Tbetta9) as a cheap substitute. As we'll come to expect, the results were very hit-and-miss – if they weren't, these players wouldn't be in the Free Agent pool after all.
Of that lot, I'd definitely be holding onto Palmer and Winderlich as a priority. I actually drafted Palmer as a speculative starter (wayward emergency at worst) in my personal league, and after a rocky start with the selection committee at the Giants, he's knocked out two very bankable scores in a row. Hopefully, this will continue in the near future, despite the Giants running into some stiffer competition than the Demons and Suns in the near future.
Winderlich (rested this week) is about as durable as Shaun Higgins, but it's very worthwhile taking the risk on his faulty body given that he's averaged 82 or more in the three seasons where he played over 12 games. The man just needs a clear run at it, and there's every chance that could happen in 2013.
The Replacements
Taylor Walker (ACL)
The second that Taylor Walker tragically injured his knee, things got a whole lot more difficult for the Adelaide Football Club. The man who would have picked up the slack in this situation – Kurt Tippett, once the talented foil for the man affectionately known as Tex – is now enjoying a paid vacation on the East Coast. It's fair to say that Jenkins, however talented he may be, doesn't inspire the same adjectives that could be used to describe Tex or Tippett; words like dominant, influential or unstoppable. He's going to need some help, and this is going to result in a boost in point to the luck individual who provides the relief. But who?
Thomas Lynch (90 and 82 in last two, 30% owned) has been scoring well in the past fortnight, but don't expect his role to change too much. Lynch is much better suited to a free-moving, third-tall type role than a key forward post, so expect the Crows to look elsewhere. Andy Otten (66.4 avg, 40% owned) filled the void when Tex turned his knee, and performed admirably, kicking 3 goals to go with 11 marks for 96 fantasy points. As impressive as this quick-patch was, Otten's best position is deep in the backline and that's where the Crows ideally want him. Shaun McKernan (9% owned) is the heir apparent, and might be worth an speculative add before the Thursday Teams come out and his perceived value skyrockets. McKernan kicked 5 goals in the SANFL at the weekend, and although he hasn't been a great scorer in the past, he also hasn't played in the absence of first-choice forwards in Walker and Tippett before.
Alan Toovey (ACL)
With Toovey going down with yet another ACL injury and Maxwell still on the sidelines, Brent Macaffer (60 avg, 21% owned) was promptly switched to defence from his customary third-tall forward role. He's been ordinary in that capacity to date, but I think a move to the third key defender could get him into the action, and critically, out of direct competition with Cloke and Lynch for supply in the forward half. Who knows, if he can sustain this role for a few weeks, he could even become back eligible in the near future.
Mitch Clark (Foot)
It's probably the understatement of the year to say that Melbourne will miss Mitch Clark for as long as he's unavailable, which is likely to be at least 8 weeks. Max Gawn (69.5 avg, 21% owned) has been serviceable in his absence, but such a showing won't reap the same rewards against tougher sides than Brisbane. There's still a gaping hole that needs filling there. Although I've traditionally proclaimed that he more resembles a boiled potato than a footballer, a fit Chris Dawes (40% owned) would certainly help the Demons' plight. My mail is that Dawes is 50-50 to return to the big time after a successful return in the VFL at the weekend; regardless, he'll be back next week at the latest and he warrants a anticipative add if he's somehow a Free Agent in your particular league. I give the man a bit of a hard time, but it's easy to forget that Dawes has averaged at least 65 for each of the past four seasons – start-worthy in standard 12-team leagues.
Under 500
BAC: Dean Terlich (B, 69.8 avg, 36% owned)
With 85 points against Lions last week, Terlich has boosted his average to almost 70 points, with a low of 63 in his last three. I watched the Lions game, and he was a designated rebounder for the Dees, used for the kick-outs as well as run-and-carry type extractions from defence. As a mature-age recruit, there is less chance of a sub vest and inconsistency than your traditional first-year player, so acquire with confidence. Obviously, job security is at an all-time high at the struggling Demons – it's his scoring you'll have to sweat on.
CTR: C. Bird (C/F, 38.3 avg, 39% owned)
If last week's 'Under 500' Mid suggestions in Palmer and MacMillan are still available, I'd be acquiring either of that pair as a priority. Otherwise, the undervalued Bird is a definite consideration, especially with his DPP forward eligibility. He scored 79 in his first game without being subbed last weekend, despite tagging Dal Santo his main priority. He's an immediate sub concern, but he's worth possibly stashing on the bench until we can better gauge his role and scoring ability in the long term.
RUC:  M. Bailey (R, 67 avg, 46% owned)
I suggested Bailey as ruck cover a couple of weeks ago, and he chose that weekend to get himself subbed out for 44. We can't forget that score followed an 81 and preceded 86 then 77 fantasy points at the weekend, so it's evident that he can score when left on the park. A solid back-up long-term.
FWD: J. Hill (F, 65.6 avg, 43% owned)
As I implied a fortnight ago, Hill is a massive front runner. He's only averaged 65.6 for the season, but the games that he really produced were against the Demons (82) and Port Adelaide (83). I mentioned the Eagles cakewalk run over the next six rounds (Bulldogs, Lions, Roos, Giants, Tigers then Saints) – Josh Hill could host a little points party over the next month and a half, and hopefully you're invited.
DEMONS: K.Lucas (C, 71.4 avg, 39% owned)
The general feeling with Lucas is that he's been disappointing so far in 2013, but a glance at his fantasy stats show otherwise. His last four totals have read 76, 78, 80 and 76, showing excellent consistency in that time. Given that teams score between 15-35% better against the Demons than other clubs, we can be optimistic that Lucas' output will spike this week – but get him in regardless!
SNEAKY: R. Petterd (F, 67.5 avg, 38% owned)
I'm hardly going out on a limb here, but Ricky Petterd will be awarded extra Back eligibility in the tri-weekly position updates. If your team is anything like mine, it's lacking depth in the backline. Petterd can help; and at worst, he's excellent B/F coverage off the bench. 87 points last week against Freo is encouraging for those coaches who might want to play him this week.
ROUGHIE: B. Ellis (B, 36.5 avg, 35% owned)
When Brandon Ellis is vested, he's a total week-killer. When he's allowed to roam free, he's Birchall-Lite, racking up possessions across half back as the Tigers utilise his elite speed and disposal. Will he continue to avoid the vest? That's a difficult assertion to make given that he was vested four games in a row, but Round 5's effort certainly didn't do him any harm. I'd speculatively bring him in and stash him on the bench until you're more certain about his JS, one way or the other.
As always, if you have any questions/feedback on the world of Draft-style fantasy, hit me up on Twitter at Tbetta9 or in the comments below. Good luck!