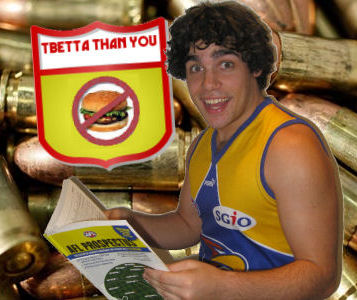 Round 3 scoring was like a war-time explosion, where the better scores came from the teams that avoided most of the shrapnel. We had untimely injuries, underperforming rookies, unwarranted faith holds and typically terrible trade-ins attacking our squads this week, which always seems to be the nature of a crucial Round 3. As a result, 'Par' was around 2000 this week, which would have earned you a weekly ranking of around 15,000. Yep, that's the high standards we set for ourselves here at DT Talk.
So, what can we take out of Round 3? Our issues were mostly concerned with Old School versus New Age trading strategies coming into the Round – so which won? It's early days yet, but YOLO-style trading has definitely paid off thus far, with many coaches making cash as well as a few points with the trades they pulled this week. One man in particular typified the potential that this fresh trading mentality possesses – and he's first up in this week's Polling section…
3. Justin Westhoff (140)
In theory, I really liked the idea of trading in Westhoff. Obviously, after scores of 100 and 154 in the first two rounds, he was going to make us some serious coin. Secondly, most of us had players like Zorko (disappointing) and Karnezis (not playing) that warranted fixing, so you wouldn't be going out of your way by jumping on the Hoff. And finally, he averaged almost 80 points for the last two seasons – which meant that you'd expect to earn some points while you waited for his price to plateau. Now this is the key, and is the main distinction between himself and someone like Charlie Dixon (59.4 avg in 2012) or Tom Liberatore (77.7 avg in 2012, but in a tougher midfield market), other popular money-makers this week that just didn't have the same runs on the board.
In reality, I vomited in my mouth a few times when I realised I actually traded someone like Westhoff into my side – it just goes completely against every lesson we've learnt from playing DT over the last half a decade.
History will go on to show that The Hoff dominated in the Showdown; kicking a somewhat wasteful 4.4 four to go with 24 touches for a massive 140-point score. Not only did he shoot up $68.8k this week (3rd highest increase of all players, including rookies), but he still has a BE of -20 for Round 4. To put the cherry on top, he's also the highest-averaging player this season with 131.5 DT per game, 5 points clear of breakout midfielder Andrew Swallow. What a start to the year…
2. Ollie Wines (126)
I'm not going to make a stupid 'Wines' pun like every other writer out there – I'm just going to back off and let him breathe. He deserves nothing but praise in the meantime, scoring a huge 126 points in a game that befit a 150-game veteran than a mere 3rd-gamer. Given his start, most coaches had him on the field, bestowing us not only the pleasure of adding an unexpected ton to our weekly total, but also delivering an incredible $91.3k profit.
1. Dustin Martin (144)
I jumped off Martin just hours before the Round 1 lockout, and let's just say I'm regretting it a little this week. Besides the superhuman effort from Westhoff, Dusty has the highest average of any forward-eligible player with 105 points per game. This is mostly thanks to a coming-of-age 144-point score this weekend, a game where he displayed possibly his first sustained 4-quarter effort. If he can do that each week, watch out.
Honourable Mentions: S. Selwood (142), L. Hodge (135), D. Cox (132), K. Cornes (128), A. Swallow (123), T. Goldstein (114), Josh J Kennedy (113), P. Hanley (108), N. Fyfe (108), H. Hartlett (107), D. Roberton (102), A. Mullet (98), A. Monfries (90), M. Jones (86), C. Sinclair (68).
3. Second Year Stars
I've written about the Rockliff Effect (where a player regresses significantly the year after posting their first premium-quality fantasy season) in the Bullets a few times this pre-season, so obviously I am aware of the phenomenon and try to avoid it like Scott Lucas did his right boot. So how can it be that I picked both two second-year players in Greene and Zorko in my initial squad?! I must be the fantasy equivalent of Brad Scott, because I've been suckered into picking two players suffering from a high dosage of the very infection I swore to avoid.
Greene had just 49 in Round 3, which puts him a whopping 43 points below his 2012 average of 96 points per game. Likewise, Zorko's 51 has his 2013 average 35 points in arrears of his debut season. Horrible stats. That's the trouble with having a break-out season; the opposition notices, and you're suddenly copping more attention than ever before.
2. Walking Wounded
As a community we cop injuries on the chin every week, but it's normally pretty rare to have more than 2 or 3 fantasy-relevant casualties in the same weekend. Enter Charlie Dixon (red-vested for 66, ankle), Travis Varcoe (12, shoulder), Jonathon Patton (15, ACL), and Matthew Kreuzer (21, broken thumb). The latter three were all above 15% ownership before the round kicked-off, meaning that a large chunk of trades will be falling under the 'LTI' bracket this week.
1. Andrew Carrazzo (45)
Thank God Carrazzo wasn't granted defender eligibility this season, because a lot more coaches would be livid at the scores he has dished up so far. A 58-point average so far puts him miles back on what he's achieved fantasy-wise for the past six seasons (averaged 82 or more per game each year), which suggests that his scoring while tagging under Malthouse might not be what it once was. Those who have him in Draft Leagues are justified feeling cheated where Carrots is concerned.
Dishonourable Mentions: J. Watson (65), J. Pittard (28), J. O'Meara (54), J. Selwood (66), M Pavlich (49), Ja. Roughead (67), K. Jack (59), G. Ablett (105).
Over the past couple of years, some of the biggest break-outs/fantasy surprises have been Tom Rockliff in 2011, as well as Shane Tuck and Brock McLean in 2012. What do they have in common? They all averaged the Triple Trouble. That's when a player notches at least 25 disposals, 5 marks and 5 tackles in a game – obviously, to do that over a whole season is a remarkable feat. To put that in perspective, scoring the most basic Triple Trouble (25,5,5) with a K:H of 1 – that's 98 DT points right there.

*Note: 2012 averages exclude subbed games where player played less than 3Q.
This got me thinking – who's going to be that surprise packet this year? No-one saw Tuck or McLean coming… Maybe the Triple Trouble could help us unearth the next underrated DT goldmine?! Below is a summary of the players who are currently averaging that Triple Trouble, guys that aren't too far off it, and even a few other players that I believe have what it takes.
Most of the guys on that list are popular fantasy players already, but there are a few surprises. Andrew Swallow is definitely one that has come on in leaps and bounds this season, so it's no surprise that he's averaging the Triple Trouble. We all know Stanton is a tireless worker, so it's no surprise to see him filling up the stat sheet. Hodge has just played the two games, so we'll wait to we see another game or too before we get excited.
No, the big shock on the list is Pearce Hanley, the only non-mid to even get close. He's just scraping in, and it's doubtful that he'll keep it up, but as a Defender this is a great indicator of scoring ability and definitely puts him on the radar for our first Backline upgrade.
Brad Ebert, Callan Ward, Travis Boak and David Armitage are a handful of players who haven't scored at a Super Premium level until now and therefore have snuck under the radar, but can certainly bridge the gap if they sustain these kinds of numbers. What do you think? Who'll be the Brock McLean or Shane Tuck of 2013? Let us know in the comments!
Much has been said about Dustin Martin's 'ability' (read: brain-exploding-ly frustrating habit) to get off to a great start, only to fade out of games. This is certainly reflected in his fantasy scoring – I don't know how many times I've fist-pumped to Dusty's 60+ half time score, only to scream the TV down while he crawls to 80 by the completion of the match.
As I said in the Polling section, Dusty played his first 4-quarter fantasy game this week, slamming the breaks on an alarming trend that was beginning to become his legacy. Is this a one-off or can he sustain his considerable influence for an entire game, on a regular basis? Only time will tell. What I'm more concerned about, is whether Dangerfield is becoming the 2013 Halfway Harry… Check out his stats to the right:
As a Dangerfield owner, this really worries me. Basically, he has to score 70 points in the first half to top the ton at this rate. We'll keep an eye on this in the coming weeks, but seriously Danger – run a game out big fella! That 66% of score coming in the first half is eerie consistent…
Have you noticed any Halfway Harrys this season? You know the deal – use the comments section below!
Bubble Boys & Benched Bucks
Last week our big trade dilemma came down to philosophy – do we take the old school trading approach and trade in a reliable Keeper (points), or do we take risks with bolters on the bubble for a couple of weeks (cash)? It was such a hard decision I considered quitting and playing one of the mobile casinos at www.EasyMobileCasino.com. However I'm glad I decided not to give up. This week, my trading mentality is conflicted between two similarly polarising strategies – to go for the cash, or bank the points while we can.
Specifically, I'm talking about how much cash we have in the kitty. I know a lot of coaches traded in Rookies/Bolters (missed rooks, Moloney, Westhoff, JJK) before their price-changes, many of them for mid-pricers or Premiums (K. Stevens, Lucas, Toumpas, Greene, Zorko, Danger, Karnezis, etc.) and therefore bank $150k+ in cash. Obviously, that's the right call as getting in the best rookies and fixing up your big mistakes is more important in Round 3 than having as much firepower on the ground as possible.
But with rookies like Terlich (-70BE), Crouch (-61BE), Sinclair (-53BE), and Rowe (-63BE) about to burst, what do we do? Take the rookies while they're on offer to generate as much cash as possible, or do what we've in previous season and try and turn that cash into points as soon as we can – such as a Karnezis à Chapman instead of Rowe/Sinclair, or Kommer à Montagna instead of Crouch, for instance?
I have a feeling that whichever track you wander down while greatly influence the fate of your squad over the entire season. I tried crunching the numbers, but it requires a lot of assumptions and there's just a such a wide range of possibilities that it became pointless – it will have to be a case of trial and error, then…
If I've lost you or you have no idea what I'm talking about, take my personal situation as an example. I have $199k sitting in the back from previous downgrades. Now, Kommer ($141k – suspended for two weeks) will go to Crouch ($109k), leaving me with a $231k surplus before my second trade. I then have two options:
1. Old School Methodology
Trade Karnezis ($239k) up to a Premium like Dustin Martin, leaving me with petty change in the bank but with a stronger on-field unit. Obviously, I miss out on a sure-thing cash-cow like Sinclair or Terlich.
2. The Stock Market Approach
Trade Majak Daw ($109k) for Sinclair ($105k), leaving me with a worrying $234k in the kitty for possible upgrades next week. The obvious disadvantage is that it doesn't make my team any better in the short-term – as Sinclair will be coming off my bench regardless – not to mention that I'd still have a $239k hack sitting on my bench doing nothing.
As I type this out, I find myself leaning towards option two. There are still many more numbers to crunch and scenarios to envisage, but money is fast-becoming the theme for 2013 so I'm thinking the "short-term pain for long-term gain" approach could be a winner… What do you think? Will you focusing on the dollar signs, or banking the points while you can? Let us know in the comments!
Man, that's tough. I guess this is what all the extra trades are for! If it were me, I'd trade your most valuable asset in Kreuzer as a priority, as you simply can't have all that cash rotting on your bench. Goldstein is a great option at a similar price, while Leuenberger is a big consideration from a value perspective if you don't already have him.
After that, it comes down to how much cash you have and what options are open to you in the forward line. I'd go either Varcoe to a Premium (will require around $250k), or Patton down to a Sinclair/Rowe on the bubble and turn a bad injury into a positive money-making venture. Obviously, the second option would put you in a good position to upgrade Varcoe next week. Good luck whichever way you go!
As I alluded to earlier, it's probably the opposite – Rookies are more important than ever! With so many trades, there's now an element of who can make cash the quickest so that they can attain 'complete' teams as soon possible.  Obviously, Rookies are the easiest and most reliable sources of cash we have, so farming them where and when we can has become even more crucial to our overall success.
The Westhoff/Moloney/Dixon situation was unique as their first price changes were compounded after two big weeks, making trading them in more than double as effective as it would usually be (as any big score they get from now on will raise their price before you can buy them). Obviously, when there are no rookies on the bubble and no LTI's to worry about, guys like Westhoff come into calculations, but it a significantly less effective trade than bringing in that rookie just before they start to fatten up.
Following on from the previous tweet, it's never too early. However, new rookies definitely take a priority, generally speaking, so maybe this week isn't the best time to bring in a Premium? You should always be looking to improve your team, so whenever there are no promising rookies about to experience their first price fluctuation – that's the time to pounce. This could be as early as next week!
That's all for the Bullets this week, besides one huge consideration – who's playing the Demons?! He says as his mouse hovers over the trade button…. Unfortunately, it's just the GWS Giants. Toby Greene has been a massive disappointment to date so I wouldn't touch him with a ten-foot stick, unless it was hard and repeatedly in the head.
Callan Ward, on the other hand, has been in excellent form, averaging a shade over the ton. He's a similar type of player to Scott Selwood, a tough, hard-working inside mid, and given what Scooter did to the Demons (142 DT points), Ward is my bet to have a day out. At $503,400 with a BE of 79, there are worse options out there – and at 0.6% ownership, he'd certainly be unique!
Until next week.