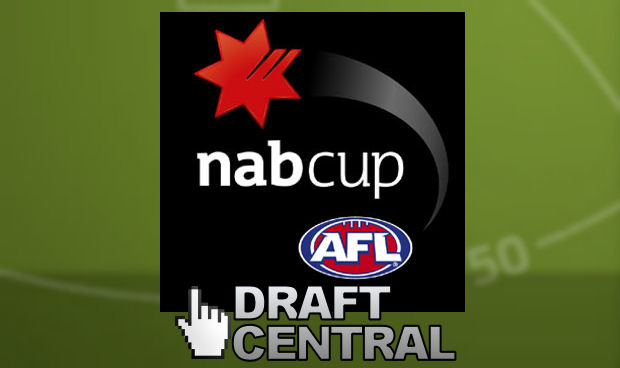 Welcome to the third edition of the weekly NAB Cup review – written with your Draft team in mind. The more actual footy we see, the more our expectations and opinions of fantasy players change as a whole – clever coaches will use this to their advantage.
So let's look beyond the kicks, marks and tackles and into what really makes your Draft-style league tick – perception!
Note: All references to draft value are based on a standard 12-team H2H Ultimate Footy league, with a 5-7-1-5 on-field structure. If your League varies significantly, adjust accordingly. Also, A huge thanks to Dream-Stats, Fanfooty and Fantasy Freako for all their data!
PREMIUMS
Jimmy Bartel – Scored 114, 100 DT/100min this pre-season. Geelong have supplied us with high-scoring half forwards for years, so it should be no surprise that fantasy royalty in Bartel has slipped into this particular niche without a hitch. He collected 28 touches along with 7 marks, 4 tackles and 2 goals in the Cats demolition of flag fancies Adelaide, all off a HFF. Like Geelong as a premiership threat, Bartel isn't done just yet, and demands serious consideration once fellow forwards Franklin, Cox and Rockliff are off the table.
Patty Dangerfield – Scored 124, 123 DT/100min this pre-season. 31 possessions, 5 tackles and 3 goals later, and all my fears about Dangerfield suffering from the 'Rockliff Effect' have floated away. Danger showed that even when Adelaide gets pumped he can still be productive, at times wearing his Judd cape with lone midfield efforts. If you were nervous about taking him late in the first round or early in the second, you can rest easy. He's simply untaggable – which means plenty of points, plenty of the time.
Heath Shaw – Scored 91, 90 DT/100min this pre-season. Talk about a perfect role for a particular player. Gaff off the left wing, Suckling from a kick-out and Shaw playing the loose man across half back all fall into this category.  Heater was close to BOG on Sunday, cutting off every West Coast thrust forward with a counter-punch of his own. Shaw looks incredibly fit, motivated and he has the perfect role for fantasy – 22 of his 26 possessions were by foot. Obviously, Shaw can be a coach's biggest headache with his history of brain explosions, but the upside is just so tempting. Shaw should be taken amongst the first 5 or 6 defenders if his pre-season so far is any indication of the year ahead.
Brent Stanton – Scored 108, 107 DT/100min this pre-season. Stanton is another footballer who has a negative stigma attached to him in fantasy circles, but there's no denying that the man can score. As a result, he'll probably slide past pick 20, even though his fantasy passport suggests he should be a top 12 selection; even accounting for positional scarcity. He's on track for another belter of a year, so if you get the opportunity in the 3rd round, pounce!
SLIDERS
Taylor Walker – Scored 30, 40 DT/100min this pre-season. Tex was absolutely pummelled by his namesake Harry Taylor at the weekend, which doesn't correlate at all with the pre-season wraps coming out of the Crows' camp. Seeing as Geelong went all beast-mode on Adelaide, it's to be expected that the key forward would have a down game, isn't it? Let everyone else be fooled by a poor pre-season showing and get him on the cheap in the 7th or 8th rounds.
Jobe Watson – Scored 50, 59 DT/100min this pre-season. Brownlow hangovers are just myths – see what Dane Swan did last year? It was a career-best (fantasy-wise) for the Pig, so don't let that deter you from picking Jobe close to where he ought to go. Watson has had a lukewarm NAB Cup so far to say the least, which means he's slowly and sub-consciously sliding down the pecking order in terms of rankings for most coaches. With positional scarcity in mind, he isn't showing enough to justify a 1st round pick, let alone an early 2nd. If others in your league choose to go down the Midfielder then Def/Fwd/Ruck one-two combo with their first pair of picks, then you could see him slide even further. He's a genuine bargain with a late 2nd/early 3rd round pick.
Travis Cloke – Scored 28, 55 DT/100min this pre-season. For someone with so much talent and potential, Cloke certainly does find ways to appear to be a very ordinary footballer. His full-time total of 28 is even more disappointing when you consider that he still kicked two goals. I find it very hard to justify a 5th-round pick on him, but if you notice that he's still around by the 8th, then you have to consider him on a risk-reward type basis. At least you'll know he'll pump the minions, like his scores of 125 and 147 versus the Giants and a hobbled Bombers late last year.
SLEEPERS
Chris Masten – Scored 113, 110 DT/100min this pre-season. Things haven't always been roses and rainbows with Masten and myself, but a combination of a break-out 2012 and a dramatic increase in his disposal efficiency (and therefore a decrease in my urge to kill) has him in my good graces. That's not the case for many. Whether it is due to his haircut history, his beard, his tattoos, his terrible handball or even his incredibly good-looking missus, it doesn't matter – he'll still go underappreciated. His pre-season has been exceptional by his standards, and he is a good chance to push his average into the mid-90s. And yet, he'll likely still be sitting there after pick 140, while stuffed potatoes like Harbow, Guerra and Goldstein have already found themselves homes with desperate coaches. Keep an eye on how the draft pans out, and you could get a 90+ averaging midfielder sandwiched in between two 70-point defenders, like Dan Nicholson and Brodie Smith, or something.
James Kelly – Scored 124, 135 DT/100min this pre-season. Kelly has averaged 94+ for the past three seasons, quietly getting it done in a star-studded Geelong engine room. However, he doesn't quite have the 'brand name' power that other Mids in that bracket might, so he often slides criminally in draft-style leagues. His 124 DT points was skewed with a huge 11 tackles, so don't expect this kind of output each week. You can, however, expect 80-120 points to anchor your side on a regular basis. He may not be flashy, but he's reliable; and you'll probably be able to get him after pick 80, despite being strictly a top 30 midfield option.
David Armitage – Scored 98, 118 DT/100min this pre-season. Armitage is a classic example of the quiet achiever. He fits right in next to Rosa, Tuck, Cross, Kelly and Simpson as players who dot the I's and cross the T's, but never get asked for autographs. Armitage actually broke out last year, jumping from a 68 average up to 89. Not that anybody would know. If I was stuck in the 16th round looking at picking either Robert Murphy or Armitage, then I'm intuitively siding with the name recognition and taking Murphy, despite him likely averaging 20 points less this year. This happens in every draft – be the guy that picks Armitage!
Jarryd Blair – Scored 87, 124 DT/100min this pre-season. He may have one of the most average salads on show at this early point in the season, but he's also one of the most prolific scorers so far. Blair spent a fair chunk of his on-field time as an inside midfielder, playing the extraction role (11 handballs versus 6 kicks) with aplomb. If he can continue to earn this midfield time once Ball and Thomas are back out there, then the spike in disposals and tackles will make him worth considering as a 2nd or 3rd forward.
Michael Hibberd – Scored 70, 97 DT/100min this pre-season. Hibberd has looked very fantasy-friendly so far in the NAB Cup, making an unexpected blip on my draft radar. Soft-tissue concerns and a role with limited fantasy potential had me discounting him, but I like what I'm seeing this pre-season. He's been playing the marking interception role so far, which has seen a couple of +6 combos pop up on the stat sheet that normally wouldn't. As a result, I'm looking him for my last on-field Defender slot, as he has the potential to average high 70's in this role.
TREAD CAREFULLY!
Harry Taylor – Scored 124, 102 DT/100min this pre-season. With 31 touches and 9 marks, Harry was clearly the BOG in the trashing of Adelaide. Before you start thrusting him up your draft order, remember that he only had more than 21 touches twice last season. He averages enough to be a starter in most sides, but coaches need to be wary of his low scores – last year, he failed to reach 70 points in 11 of his 21 outings. I'd advise looking elsewhere.
Sharrod Wellingham – DNP, 90 DT/100min this pre-season. He didn't play on the weekend, but news that he'll miss at least the first two weeks of the season filtered through from club level to the media. That's basically three weeks out, one or two with the sub vest (you know, to 'manage' players) and its Round 7 before he's even getting a full game. In saying that, Wellingham was fantastic in his only NAB Cup game, and can't be forgotten when you're looking for high-scoring forwards. While it's a no-brainer to slide him down your rankings a little, remember that Premierships are won in September, not May.
Lachie Whitfield – Scored 95, 105 DT/100min this pre-season. I'm always wary of picking rookies in draft-style leagues, because of the high probability that they'll be 'managed', or 'rested' or 'whatever' during the season. There're always exceptions to the rule however, such as Heppell and Greene (to an extent) in recent seasons. Along with Toumpas and Wines, Whitfield is a strong chance to break the mould. His 105 DT/100min is right up there with the best in the league, so the numbers suggest he's a chance, too. I wouldn't commit a 'starting' pick to him, but if he's available once your field has been filled, keep an eye on Lachie as a speculative bench pick.
There's your draft-style movers and shakers from NAB 2. Did anyone burst onto your DT radar in NAB 2, but isn't quite worth a spot in your salary cap side? That's where draft-style fantasy comes to the fore! Let us know who caught your eye in the comments!