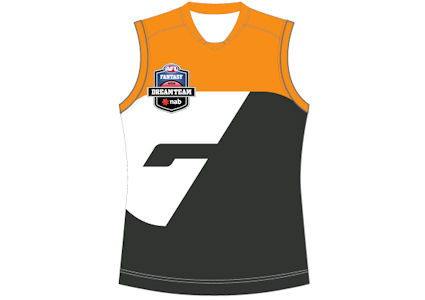 This series of 'club preview' posts are written by DT TALK regular contributors choosing their 5 players they have on their watchlist from the respective club. These aren't who we think will be the top 5 highest scoring players… and are not necessarily in order. They are just our opinions of the 5 players who we have on our watchlist heading into the 2013 season.
GRIFF'S FIVE FROM THE GIANTS
1. Lachie Whitfield – $183,700 Midfield
The third number one pick at the Giants (following on from Patton & Scully) there is a very good reason the kid from Dandenong ended up on top of the draft pool. Averaging 23 disposals per game and two goals per match in the NAB u18 Championships, he is ranked elite for his ball use, especially going forward.
Even better, Lachie loves to kick more than handball, and when his kicks end up in score assists and forward 50 entries (both rated elite by champion data), he's going to get games. In games he has played which were covered by Champion Data, he scored at least 80 points (Supercoach system) in 31 of 34 games. How many games will he play? Who knows, but if he continues to feed Patton & Cameron the ball lace out, again and again, Sheedy won't want to drop him. Consider.
2. Toby

Greene

– $495,700 Midfield
Let's get one thing straight. Toby Greene will not suffer the much hyped second year blues. Toby has blitzed the preseason, leading the entire GWS playing list in the first 3km time trial, as well as sand dune sprints. He had 30 or more disposals nine times last year, and his run home reads as a veteran premium. From rounds 14 to 23 he scored: 91, 125, 121, 80, 101, 86, 146, 109 & 113. That's an average of 110 in the final seven rounds of his debut season. The first five rounds of which were against the Swans, Hawks, Crows, Dockers & Pies; when GWS were getting smashed by a near 100pt average!
He won't be tagged because his ball use isn't valuable enough, and he won't be behind other more experienced midfielders in the Giants line-up because, well, there aren't any other than Ward & Scully, who he played most games with last year. His ball-use isn't great, but when all he has to do is get it to Coniglio, Whitfield or Scully, it doesn't matter. He scored 83 from just over a half of football against the Lions, and has to be taken seriously. Toby Greene will average over 100 this season, from a possible 20 to 22 games, and could go close to a 110 average. Consider.
3. Setanta o'hAilpin – $157,700, Ruck / Forward
Big Irish was dropped by Carlton in a fight for the last spot on their list at the end of 2011. Picked up by the Giants who desperately needed a mobile ruck/utility player, o'hAilpin's debut couldn't have been worse, going down with a knee injury after scoring 34 points in the first half. He is under-priced, and a little under-done, but he kicked three goals in the Giants intra-club game and had four score assists.
His presence up forward allows Cameron and Patton to play off their man with a little more ease, and it also means Giles can rest forward with less impact at centre clearances  He won't set the world on fire, but for a player who should play most games, carry that Ruck/Forward link, and go close to his 2011 average of mid 70s. Watch.
4. Jonathon Patton – $183,300 Forward
Let's make this simple. Here you have a number one draft pick, who is basically at the same price as if he was drafted this year, but he has had a full preseason after being played well and truly under-done last season. Yes he is a key position prospect, so his scores will jump from 90s to 40s, but he is there to make money, and GWS will play him every chance they get.
Patton comes with a risk, but if he strings a few good games together, his price will rocket. And yes, with two trades you could trade him in before that happens, but only if you have the coin to trade him in; for example going from Neade ($108,500) to Patton will cost a cool $75k. It's easier to start with him and then trade him out if it's not working, than to do the opposite. Consider.
5. Callan Ward – $501,300 Midfield
The GWS co-captain was brilliant last season, winning more clearances, tackles and possessions than any other player in orange and taking home the Giants Best and Fairest. This season we should see Ward continue his rise as a workhorse inside midfielder who takes no prisoners. In 2012 we saw his average jump from 81.7 at the Bulldogs to 97.4 at the Giants, and in 2013 we should see it jump again, well over 100.
Coming into just his sixth season, and with 74 games under his belt, Wards midfield dominance is only just beginning. Whether it will be enough for you to take a punt on him in your starting line-up is up to you, but if he is still around in your Elite/UF drafts in the lower rounds, you've snagged yourself a bargain. Watch.
OTHERS ON THE WATCHLIST:
GWS is all over the shop with midpriced players. Sheedy's dedication to rotate players last year means you'll be paying an inflated price for just about any second year Giant. One exception to this is Josh Growden ($108,500 – Midfield / Forward) who missed last season with a broken leg. He was up and running by round 16, but the Giants see huge potential in him and don't want to rush him back. A hip clean-out in December has stalled his preseason, but the elite ball user should break into the side and when he does, he may be the seasons best downgrade target.
Anthony Miles ($346,400 – Midfield) is on a few watchlists with the ball magnet a Dream Team pig in the making, but be warned; he only played seven games last season and six of those were when Coniglio & Shiel were out. He will have to work very hard to break into the top 22 and cement his place. With any luck he will.
Whether you think he is worth one million a season or not, you won't have to fork that much out to get Tom Scully ($380,700 – Midfield). He's bulked up a lot since last season, where he played a very effective run-with role. It's easy to forget that this will just be Scully's fourth year in the AFL system, and last season he match Trent Cotchin in Champion Data ranking points for a third year player. Look for similar improvement this year from the recruiters son.
If you're after bargain players, Kristian Jaksch ($134,200 – Defender / Forward) is the pick for me. Jaksch (pronounced Jacks) is a utility player who can swing forward or back, but has been training with the defenders group. A minor knee complaint has left him out of the NAB until now, but he should be available this week.
At this point Patton is in and out of my team on a daily basis, Greene is in and out based on if I want to risk Ball or Embley or not, and o'hAilpin & Whitfield seem settled on my bench. It'll be a year of big improvements in Western Sydney this year, and that only bodes well for Dream Team.
FOLLOW ME IN THE TWITTERVERSE: @RLGriffin85 and share your thoughts on the Greater Western Sydney Giants, or you know, whatever.