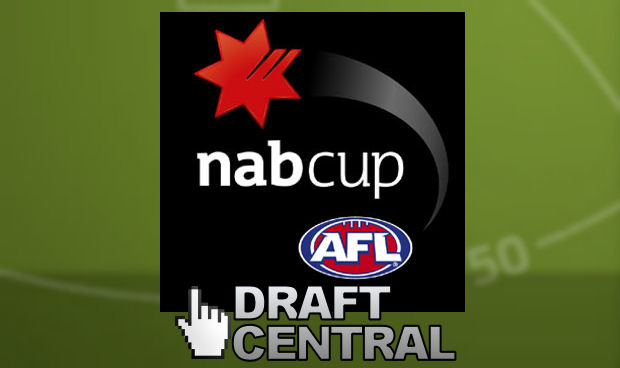 A week can be a long time in football. So what's changed after this first week of the NAB cup?
In this article we will review the weeks events from a draft game perspective, from what premiums caught our eye to which possible sliders we'll be monitoring and a few players who are giving us something to think about.
PREMIUMS
As the name suggests, these are the players who will go early in most drafts. So if you see any of these players being ignored as the draft goes on then you'll want to snap them up before someone else realises.
Joel Selwood – Scored 23 and 48. Leading one of the youngest Geelong teams in recent memory, Captain Selwood set the example to follow. Hard at every contest and a smart footballer, he is also one of the few players who averages over 100 against their first 3 opponents this year. Has been overlooked in the first round of most mockdrafts so far but will be a steal in any other round.
Matthew Boyd – Scored 58. Incredible score for effectively under half a game of football. He is a tireless runner who pushes himself to try and influence every contest in some way. Should definitely go in the first round of any respectable draft.
Brendan Goddard – Scored 46 and 55. As we all watched on to see if changing clubs would have an effect on Goddards scores, he did not disappoint. Lets hope that he can keep this going because the fact that he can be selected as a back makes BJ one of the most valuable draft players.
SLIDERS
These are players who, based on their previous years average, would not be listed very high on your predraft lists.
But due to new circumstances such as change of club and/or role within their team, they may be on the verge of breaking out. (think Ivan Maric last year)
Picking these players can be risky, but if you've got a hunch that they'll go big they can be a bargain in the later rounds.
We call these players 'Sliders' because they keep sliding down the draft list to the later rounds.
Clinton Young – Scored 37 and 32. Moving from Hawthorn to Collingwood as a free agent over the preseason, Young has wasted no time showing his new team what he is capable of. As long as he can avoid injury I see no reason why he can't average over 80 playing the outside mid role while his higher profile team mates take all the attention.
Arryn Siposs – Scored 35 and 2. We're excusing the 2 as it seems all players who played two games in the heat on Sunday suffered. He averaged 63 last year but if you take out the games he wore the dreaded vest then his average would be 80. This should be encouraging enough but it looks as though he is the man stepping up to fill the Goddard sized hole in the Saints line up so he could definitely be worth a pick.
Nick Suban – Scored 33 and 26. I know that he has burnt a lot of us before but Fremantle seem intent on building Suban into a midfielder. He showed some very encouraging signs in both games. Keep an eye on him over the preseason and if he's still available towards the end of your draft then you can decide whether he's worth the gamble.
TREAD CAREFULLY!
These are players who come with baggage. Whether it's injury or suspension you'll have to decide whether they are worth the risk.
Steve Johnson – Stevie J has given in to temptation and joined the list of players who have taken a shot at Hayden Ballantyne. He will miss the first round but will still go quite high in most drafts. Just remember that if you do pick him he will be riding your bench in round 1 so choose cover carefully.
Aaron Sandilands – The big 211 has strained one of his massive hamstrings against the Cats. He will be out for the next 8 weeks meaning his return will be either round 3 or 4. Unfortunately Sandilands hasn't been too lucky with injury lately and it's been awhile since he's played a full season, so there is a good chance that even if he returns in round 3 you may find him missing more games throughout the season. This could be an interesting time to try 'handcuffing'. Handcuffing is where you pick the player from the same team who steps in when your gun is injured. In this case that would be Jon Griffin. Jon Griffin has an average score of 80-90 in games where Sandilands isn't playing. So with this plan you will draft both Sandilands and Griffin, playing Griffin anytime Sandilands misses a game.
Brodie Smith – Whether or not Smith was due for a breakout season can be debated, but I don't think he would of gone very high in many drafts if at all. Unfortunately he has broken his collarbone this weekend and will miss between 8 – 12 weeks. The plus side for us coaches is that he will be sitting on the free agency list during this time, so when he returns keep an eye on him. If he seems like he is going to fulfill his dream team potential this year then snap him up.
While we're on players with 'baggage', I'd like to remind you all about 3 other players. Brent Harvey, Campbell Brown and Kurt Tippett. These players all have suspensions carrying over from last season. Harvey and Brown will be available to play in round 7 and Tippett in round 12.
Depending on how many players your league has decided to select in each squad, there is a good chance that these players will be overlooked in your drafts and end up on the Free Agency list. So remember that they are there and try to bring them in before they come back.
That's all from me for now but keep working on your pre-draft lists. Remember that if anything goes wrong during your live draft (for example your laptop battery dies or internet cuts out) and you don't make your selection with in your allocated time period, the computer will automatically select the next available player on your list. So it is imperative that your list is up to scratch!
As always you can catch me killing time on twitter @Anthonydsmith86