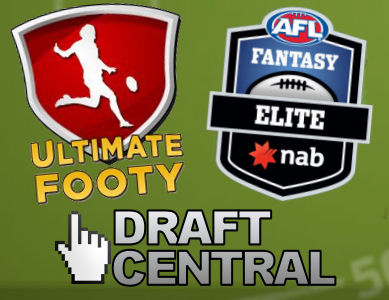 Thanks to a largely AFL-fuelled push into a larger fantasy market, Draft-style AFL fantasy leagues have been the talk of the pre-season. If you're looking to get involved in Draft-style fantasy this year, this article is designed to help you choose the provider that will best suit your needs.
QUICK HISTORY
Draft-style fantasy is not a new concept, and has been played in Australia in many different forms and iterations for decades. While we're all accustomed to the Salary-Cap competitions such as Dream Team and SuperCoach, Draft-style is actually the main type of fantasy sport played in the US, home of the largest fantasy sports industry on Earth. Some of the biggest companies in the world, such as ESPN and Yahoo!, run a variety of competitions across the NFL, NBA and MLB sporting codes. To say that draft-style leagues and fantasy sport in general is just a hobby is both ignorant and incorrect – and the AFL have recognised that and chosen to try and expand the market in Australia.
As I said earlier, draft-style AFL is not a fresh concept – it just hasn't had the backing of the Salary Cap competitions to date. Most recently, Assistant Coach subscribers were able to play DT Pro for the past two seasons (a basic draft-style game that wasn't terribly popular in the end, due to a lack of customisability and the dreaded pay-wall), while fantasyfooty.net.au was a popular free Draft site prior to halting their service in 2012. With the AFL Fantasy Elite launching this season, an AFL-funded, re-branded, expanded and free version of DT Pro, things are about to heat up in the draft-style world. Ultimate Footy has been the leading provider of US-style leagues for Australian football in recent years, and now that they've teamed up with The Age (and therefore Fairfax), it's about to get interesting in the battle for fantasy coaches!
So who should you spend your hours playing with? Let's check out both providers, head to head.
THE FACTS
Most of the important features and toggle-able options are outlined in the table below. Simply click to enlarge.
If you don't know what some of them mean – don't worry, I'll go through the most important differences in a minute. Otherwise, leave a comment and I'll explain it in more detail.
INTERFACE
ELITE: First time coaches will instantly be attracted to the AFL Fantasy Elite site because of it's familiar web design (very similar theme to Dream Team) and an implicit trust in the brand. The sidebar is instantly recognisable from DT, and the location of search bars, lockout indicators, etc, are all intuitively easy to find. For beginners who can't be bothered investing time into exploring the site, this will be very tempting.
UF: On the other hand, Ultimate Footy has now combined with The Age which has given them a huge boost in functionality and aesthetics. Those who have played the ESPN fantasy games will instantly recognise the simple-yet-effective theme, especially when it comes to creating and maintaining your league.
NUMBER OF LEAGUES
ELITE: Unfortunately, Elite only offers the ability to be involved in one Draft league per account. If you want to play with a second group of mates, you'll need to create another email and account.
UF: With the one basic Ultimate Footy account, you can participate in up to 4 different leagues. Very handy for the fantasy addict!
SQUAD SIZES AND STRUCTURE
ELITE: While you can still customise the size and structure of your Elite side, there are still only limited options available. In Def-Mid-Ruck-Fwd/Bench format, there are 7 options:
I'm pleasantly surprised that Elite have given us even this much flexibility, but unfortunately they've made the team structures smaller than usual. Every draft league I've played in has at least 24 players per side, which means that you get down into the nitty-gritty of the mid-tier players. No AFL team is complete without role players, and neither should fantasy sides in my opinion. Keeping the squad sizes small is probably a tactical move by Elite to make sure each team is saturated with 'Star' players, rather than have beginners lose interest by having to choose between Jake Batchelor and Lachie Henderson in the 23rd Round – I can definitely see the appeal in that!
UF: Ultimate Footy caters to both beginners (who might enjoy a smaller league as a taste tester) and the more experienced crowd who prefer larger, AFL-structured squads. Both the squad sizes and structure are completely customizable, letting you make the side that you want. This year, I want something like a 5-7-1-5/8 structured league, and with Ultimate Footy, I can have it.
SCORING SYSTEM
ELITE: The default and only scoring system is the classic Dream Team set-up. Why change a winning formula, hey?
UF: Again, Ultimate Footy are completely customisable in this area, giving you the power to assign any value to a range of raw statistics  If you want a goal to be worth 9 points instead of 6, and don't want to include Frees Against in your scoring system, then consider it done.
Additionally, with Ultimate Footy you can play Category-based fantasy, where you compete against your opponent in a range of categories (most category wins in a round gives you a victory), rather than the point-scoring system we're accustomed to.
FIXTURE FLEXIBILITY
ELITE: Those who have already investigated the Elite site may have noticed that you can only have an even draw. For instance, if you have 12 teams in your league, you can only play each team once before finals. Add in four finals, and that's only 15 games for the year. So if you want your league to finish in Round 23 with the rest of the fantasy fraternity, you'll have to start in Round 9 – hardly convenient.
For this reason, I strongly suggest creating 10-person leagues for AFL Fantasy Elite. This will allow you to play 22 games for the season (starting in Round 2), playing each other team twice plus four finals. Additionally, there is no option to skip the MBRs over rounds 11, 12 and 13, making it Russian roulette for your league over these rounds.
UF: I'm starting to sound like a broken record, but Ultimate Footy is much more customisable in this area. Not only can you skip the MBR rounds (which I highly recommend – absolute chaos), but you can have uneven fixtures, just like the AFL. You can even manually edit the fixture, creating Rivalry Rounds if you like!
PICK ORDER
ELITE: Like DT Pro, the draft order is randomly generated an hour before your draft goes live. While this is a very fair way of doing it, the downside is that it gives coaches a limited amount of time to plan their draft strategy – especially for the critical first two rounds of selections.
UF: Similarly to Elite, Ultimate Footy gives you the option to randomly generate the draft order. However, the League Commissioner can also manually set the draft order for whatever reason. Perhaps you want to have a 'mugs-away' system, where the coach who won the wooden spoon last year gets first pick, and so on. Or maybe, you'd rather do something akin to the lads in 'The League' (highly recommended viewing), who, to date, have used a kids' sack race and held an impromptu race through airport security to determine the draft order.
You can also trade draft picks in Ultimate Footy, if that's something your league wants to entertain. Simply manually agree to a trade and the League Commissioner can update the individual draft picks as needed.
DEFAULT RANKINGS
ELITE: In the weeks leading up to your draft, you'll need to update your pre-draft rankings. Basically, these rankings are used to determine your preference for players; and for Auto-Pick Drafts, this is how your squad will ultimately be drafted. For Live Drafts, it will serve as your 'cheat sheet' over the course of the draft, particularly handy for when the clock is running down and you haven't made a decision yet.
With Elite, the default pre-draft rankings are last year's average. As such, many players who should be taken in the first half of the draft will appear much further down your list – I'm looking at guys like LeCras, Embley, Moloney, Kennedy, Yarran, Ball and Knights just to name a few. These are only the extreme examples – basing a players fantasy worth on their last year of football means you'll have to spend some time ironing out the wrinkles.
UF: The default rankings order for UF is projected scoring. Quoting the site; "It factors in player performance over the last few seasons, potential improvement or deterioration as well as average draft position from other drafts". While the default list shouldn't the treated as a little black book or anything like that, it gives coaches a good idea of where a player should be taken – effectively, the wrinkles have already been ironed out for everyone, and there shouldn't be any huge surprises because a coach literally forgot a handy player was still available due to unedited rankings.

EMERGENCIES
ELITE: There are two options with Elite – no emergency system, or Auto-Emergency. Simply, if one of your selected on-field players is a late withdrawal or does not play for any reason, you will get the score of your lowest scoring emergency. This is system works best with small benches obviously, and in the end it's better than nothing.
UF: With Ultimate Footy there are a couple of options. No emergency is still an option, but I hate how coaches can be left out to dry with late withdrawals. The best option is a Dream Team-style emergency system, where you can nominate a player to cover each individual line. It will then be the fault of the coach if they choose not to capitalise on this system with depth in each position.
Obviously, one downside of this system is when you have two players in the same position both withdraw. This is where using a General Emergency system can help, with one or two of your bench players can be assigned EM1 and EM2, and can cover any position. League Managers beware – this system can be exploited, so make sure the league is clear and what can and can't be accepted in terms of general emergencies.
POSITIONAL ELIGIBILITIES
ELITE: All players in the Elite pool are assigned identical eligibilities to Dream Team, which follows Champion Data's classification.
UF: Players, at a minimum, will have the same eligibilities as the Champion Data standard, but also an additional 57 secondary eligibilities have been assigned to various players and for various reasons. This means that the Defender and Forward eligible pool especially increases in both size and quality, and hopefully doesn't have you playing Joshua Bootsma every week because you can't find a decent Defender.
It's very important that you note which players have these extra abilities; Scott Selwood was a Defender last year and Luke Shuey was a Forward, heavily rewarding the astute coaches that picked them up based on their extra positional eligibility. You'll see below that Carrazzo and Zaharakis are two players who have extra eligibilities on top of their Champion Data Midfield status.

Ultimate Footy also offers the option for in-season positional updates. Every three weeks, the powers-that-be analyse player trends and update deserving player eligibilities. Note that a player's current positional status will never be removed, only added to. We used this setting in our league last year and it was an awesome game-changer – personally, I had Hartlett become a Defender mid-year, as well as gaining the option to play Jude Bolton as a forward.
VERDICT
It's probably no surprise that I recommend Ultimate Footy as your first-choice draft-based fantasy service provider. The added customisability in many key areas is the result of being the best in the business for years, and makes for an awesome fantasy experience. This is without even considering the perks of the PLUS package, a paid add-on that gives the League Commissioner even more control over your league, draft and results.
That said, I'm very pleased to see the improvements that AFL Fantasy Elite has made since DT Pro; There is still plenty of improvement to come though – because as they say, Rome was not built in a day. It should still be very popular with beginners who want to dip their toes in the world of draft-style fantasy, as the familiarity of the site should make them feel comfortable in unfamiliar terrain.
Which site will you entrust with your draft league in 2013? Let us know in the comments, and why!
Tweet me at @Tbetta9 for all things fantasy.