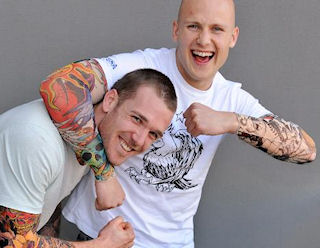 If you are reading this then chances are you're a full blown Dream Team addict like myself. It's nothing to be ashamed of, wear it proudly. We all share that same feeling when the season ends and suddenly it is X amount of days till the new season starts. It doesn't matter what number X represents, it's still too damn long!
So it was at this moment, when X seemed like the longest number possible that a friend suggested I try Dream Team for the English Premier League to fill the void. I decided to accept his invitation, live among these different fantasy coaches and study their methods from the inside.
This new experience has done just enough to hold the AFL cravings at bay and at the same time proven to be quite educational.
They began teaching me their ways and I found that we were not so different, until I learnt of their trade system.
In this fantasy game, you are given 1 free trade every week. If you don't use that trade you can keep it for the next week, however you may only ever hold 2 trades at once, encouraging you to trade every week whether you need to or not as you'll always get another trade to replace it. This effectively goes against everything we use to believe in AFL Dream Team, where our trades are laced with fear and doubt. (Do I really need this upgrade? What if there's an injury? What if I run out before finals?)
But what these coaches do is trade players in and out depending on upcoming fixtures. For example, your goalkeeper receives more points when he keeps a clean sheet (has no goals scored on him). So if your keeper is playing a strong team likely to score, you'll trade him out for a keeper playing against a weak team unlikely to score.
So now armed with this information and the fact that our trading system has now been changed to 2 use them or lose them trades per week I've worked out a few examples of how we can adapt this tactic to use in our game.
I'll start by applying it to this years big question, Ablett or Swan?
Now while this isn't the only factor to consider, you can now use it to add weight to your pros and cons list. We're looking at who they play in the first 3 rounds and what their average past scores against these teams are.
Gary Ablett Jnr $642,500
St Kilda – 85.3
Sydney – 104.8
Brisbane – 104
Predicted 3 round average of 98
Dane Swan $688,100
North Melbourne – 101.3
Carlton – 109
Hawthorn – 106.7
Predicted 3 round average of 105.6
So in this example, Dane Swan would come out on top as the better player to start the season with.
We could also use this tactic to find players we may not have considered before based on their fixtures. I've noticed a lot of coaches in the 'My Team' section have chosen Marc Murphy who is by all accounts an absolute gun.
Mark Murphy $522,000
Richmond – 98.6
Collingwood – 95.3
Geelong – 100
Predicted 3 round average of 97.9
Carlton have a pretty tough start to the season, especially if you compare it to Saint Kilda's
Leigh Montagna $498,100
Gold Coast – 99.6
Richmond – 95
GWS – 128
Predicted 3 round average of 107.53
Nick Dal Santo $471,200
Gold Coast – 110.6
Richmond – 93.6
GWS – 96
Predicted 3 round average of 100
Both are slightly cheaper options too.
In this example I'd probably choose one of the Saints boys, then trade them out after the GWS game in time for Murphy vs West Coast, who he averages 104.1 against.
So that's pretty much the idea. Hope this helps you play the right guns when they're primed to fire.
For now I must return to the English Premier League wilderness.
As always, hit me up on twitter @AnthonyDSmith86 to continue the conversation. Cheers!